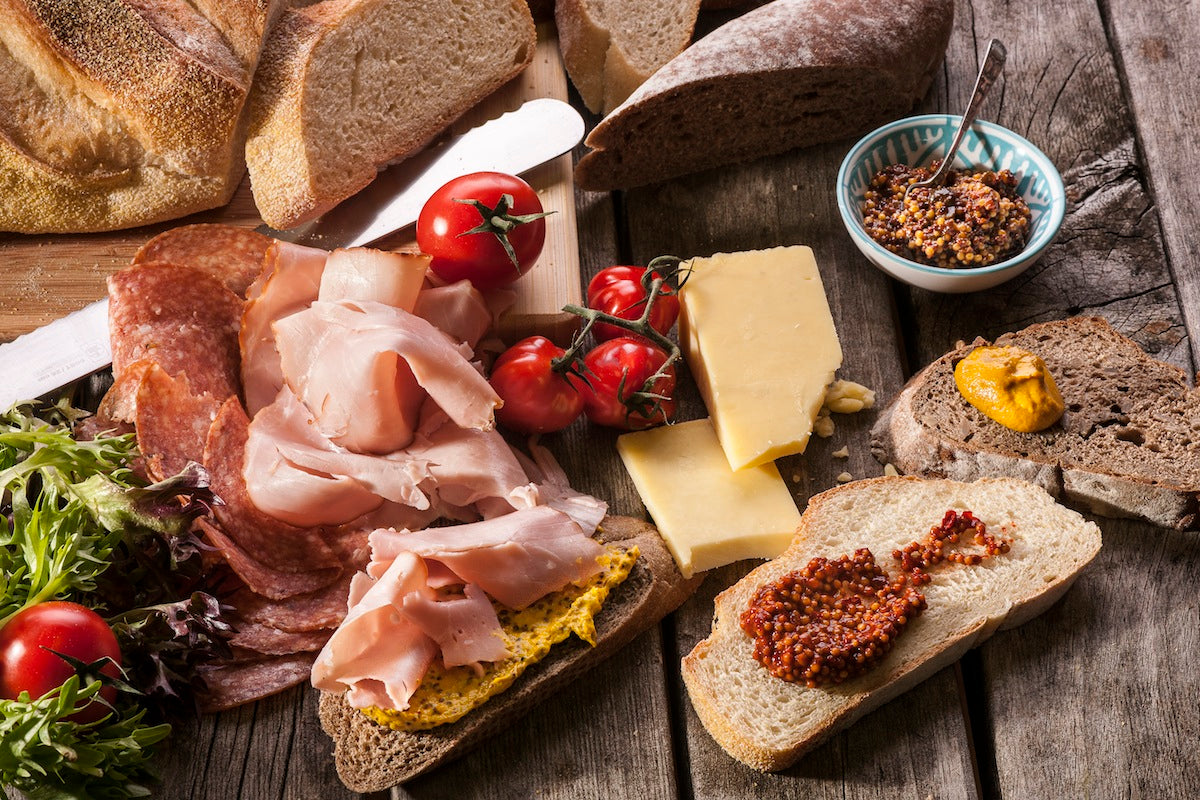 Meet The Locals - Hill Farm Preserves
Hill Farm Preserves make a wide range of small batch artisan condiments and preserves from 100% natural ingredients. They even work with Brand Tasmania Ambassador Tetsuya Wakuda to make unique wasabi mustard for retail under his exclusive label. All their product labels feature hand painted artwork by a local Tasmanian artist to capture the beauty of the ingredients used.
Karin Luttmer is the third owner of Hill Farm Preserves however had worked within the business for several years before purchasing it. Many of the original award winning recipes are still under production today, as well as new ones created by Karin.
Hill Farm Preserves 'Pub Mustard' is featured in the Feb/Mar 19 'Smokin' Sizzle'
Discovery Box
.
Image: The Advocate
What's your food philosophy?
The key to success with food manufacturing is to use the best ingredients and be consistent. Every time. Staying true to what you say the products are, is just so important.
What was your inspiration behind starting Hill Farm Preserves?
The Hill Farm brand has been around for many years. I am the third owner, having purchased it from Carolyn Nichols in early 2016. I worked for Carolyn for seven years before purchasing the business from her, I knew it well and wanted to grow it. Many of the original recipes are still under production today, as well as some new ones I created.
Can you tell us a little about the region you farm in and how it influences your product and flavours?
North-west Tasmania is renowned for its incredibly fertile agricultural farmland, reliably high rainfall and stunning natural landscapes. The Hill Farm Kitchen is located on the farm that grows the GM-free canola seeds for our cold pressed oil range and Tasmania's only yellow mustard crop that features in our seeded mustard range. We are surrounded by farmland, national park and close to Bass Strait. Hill Farm products are made without added artificial colours, flavours or preservatives and is in perfect alignment with the natural Tasmanian brand values.
Out of all your beautiful preserves, do you have a favourite?
Dragons' Breath Mustard reminds me of the traditional Dijon mustard I grew up with and love. I like the less sweet mustards and this one has no sugar.
As a small batch producer, what's the most challenging aspect to your job?
One of the biggest challenges is the balance between pursuing business growth whilst remaining a producer of premium small batch products and managing production costs efficiencies. Labelling is labour intensive but scale of production determines when capital investment in labelling automation is warranted. Manufacturing in regional Tasmania presents other issues regarding freight - both cost and reliability.
And the most rewarding?
I enjoy the personal relationships that have developed over time with distributors and customers. It's very rewarding to hear how much our customers love the look and flavour of our products and I see it reflected in repeat custom and growth in our sales network both domestically and in our export markets.
If we looked inside your fridge what would we find?
Unashamedly, you would find a fridge full of a wide range of Hill Farm mustard, Tomato Relish, Caramelised Onions and lots of salad ingredients. I always have tomatoes in the fridge!
What's your favourite season for food and why?
Without a doubt it's summer because of all the beautiful fruit. We are so blessed here in Tasmania to have access to an exceptional array of quality berries and stone fruit that taste amazing!.
What is one thing you couldn't work without?
My business success depends on a great team, and I've surrounded myself with terrific people who share my passion for the business.
What are your BIG goals for 2019?
I have owned the business for nearly three years and made significant changes to how the product range is presented, without changing the premium quality. We secured new export markets late last year into Hong Kong, Singapore and Sri Lanka (on top of nearly two decades in Japan) and now it's time to consolidate and build the brand in those markets. It's exciting times ahead for Hill Farm Preserves!
If you weren't a food producer, what would you be doing?
I love taking photos so I'd probably be a photographer. I am very lucky to be living in a house overlooking Bass Strait so there is never a dull moment as far as scenery and wildlife is concerned.
What advice would you give to someone whose considering launching their own food business?
Do plenty of research beforehand, stick to what you are best at an seek support and guidance for the aspects that aren't your strengths and step out of your comfort zone!
If you could have any celebrity /renowned chef cook you dinner, who would it be?
My mum is my celebrity chef and I dearly miss her cooking as we live oceans apart so I'd choose her, every single time.
What would your ultimate BBQ feast be?
Chicken and veg skewers and good homemade burgers. But if I'm being honest, in my opinion a good BBQ has to have a big range of salads, the meat is secondary. And condiments are a must!
To discover more and connect with Hill Farm Preserves click below:
Website: www.hillfarm.com.au
Instagram: www.instagram.com/hillfarmpreserves
Facebook: www.facebook.com/hillfarmpreserves