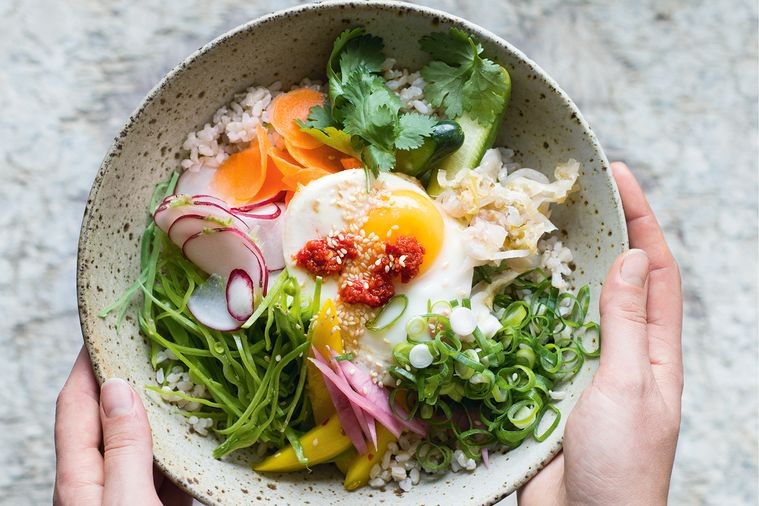 Exclusive recipe by Cornersmith: Bibimbap for Meat Free Week
Looking for a delicious Spring inspired meal for Meat Free Week? Look no further than this fresh and tangy Bibimbap recipe. The team at
Cornersmith
and
Meat Free Week Australia
have given us this very special EXCLUSIVE recipe extract from Cornersmith's Salads & Pickles cookbook.
If you want to learn more about Meat Free Week, read our previous blog post
here
.
Cornersmith Bibambip Recipe - Cornersmith Salad & Pickles cookbook
Ingredients:
250 g (9 oz) medium or

short-grain brown rice

1 teaspoon salt

30 g (3/4 oz) butter

4 free-range eggs

2 spring onions (scallions),

thinly sliced

4 radishes, thinly sliced

10 snow peas (mangetout),

cut into very thin strips

pickles*, such as ½ cup Zucchini Pickles (page 51) and/or ½ cup Pickled Ginger Carrots (page 153) and/or Turmeric Pickled Mango (page 42) fermented vegetables, such as ½–¾ cup Kitchen Scrap Sauerkraut (page 192) or Fermented Vegetables (page 46)

*

Pickles can be substituted with good quality store bought products
To finish:
60 ml (2 fl oz/¼ cup) brine from your pickles and ferments

4 teaspoons Chilli Sambal (page 63)

1 teaspoon toasted sesame seeds (see page 206)

½ cup picked coriander (cilantro) leaves (optional)
Method:
Wash the rice well, then drain. Place in a saucepan and cover with water, to twice the height of the rice. Add the salt and place over medium–high heat. Bring to the boil, then reduce the heat to low. Cover and very gently simmer for 45 minutes.
Remove the lid and check if the water has been absorbed. If there is more than a tablespoon of water left in the bottom of the pan, drain it off. Take the rice off the heat and let it stand for 10–15 minutes with the lid on.
Place a large frying pan over medium heat. Add the butter. When the butter starts sizzling, crack the eggs into the pan and cook them to your liking; we like the yolks a bit runny, to break them through the rice bowl.
Meanwhile, fluff the rice with a fork and place in four shallow bowls. Arrange your raw, pickled and fermented vegetables in a ring shape around the rice, keeping the middle free for the egg.
When the eggs are done, place one in the centre of each salad. Season with salt. Drizzle the pickling/fermenting brine evenly over the salads. Garnish with the chilli sambal, sesame seeds and coriander and serve.
Serves 4
This recipe was supplied from Cornersmith for Meat Free Week 2018. The campaign runs from 24-30 September in support of Bowel Cancer Australia. See
meatfreeweek.org
to sign up.
Experience the #tasteoflocal with our upcoming 'Spring Harvest' Discovery Box