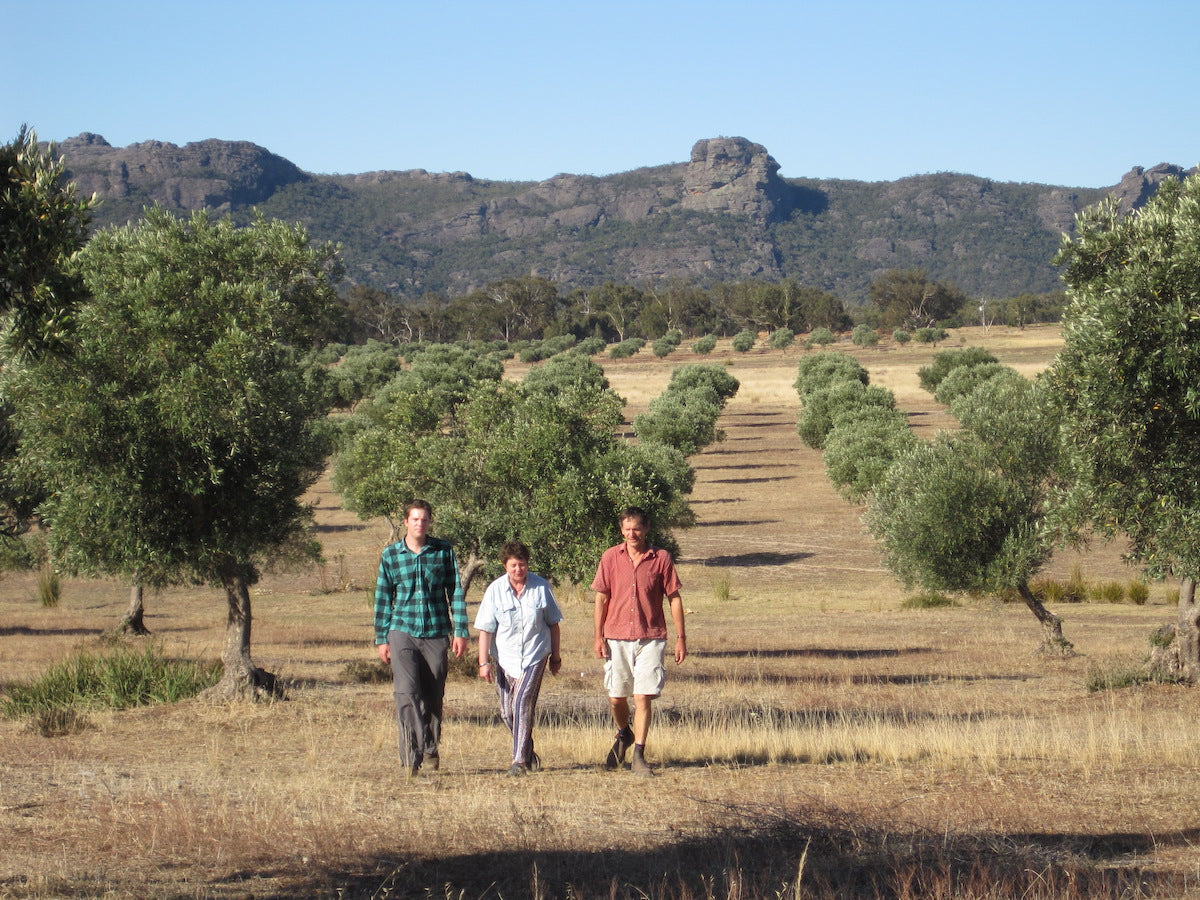 Meet The Locals - Grampians Olive Co
Grampians Olive Co is one of Australia's oldest groves. E

stablished in 1943 it remains 100% family owned and run by two generations of the Mathews; Andrew and Susan and son Greg. They do everything themselves from tree to bottle - controlling quality at every stage before finding its way into your kitchen! 

Greg shares with us the history of the grove, their business journey, what dryland farming is and how covid19 has impacted them in our interview below:


>> Grampians Olive Co's Signature Olive Oil is featured in the Summer 2020/21  Discovery Box

 
Image credit: Grampians Grape Escape
What's your food philosophy?
Quality over quantity. Quality ingredients always shine through.
How did your family come to be the proud custodians of what is now known as Grampians Olive Co?
 My family have always been drawn to the Grampians area and happened to see the olive grove for sale in 2008, a time when we were looking to make a change and had also recently experienced freshly pressing olive oil in Italy.  We are passionate custodians of the long and proud history of olive oil production in the beautiful Grampians in North Western Victoria and are proud that our efforts produce consistently award winning products.
*Grampians Olive Co. is a throwback to our grove's original name from 1943 "Grampian Olive Plantations Co." and combines our two former labels (Toscana & Grampians Olive Estate). We made this change in 2015 to reflect the beauty of the unique Grampians location in which our products are grown and produced, as well as reconnect with our roots and better communicate the origin of our products.
Can you tell us a little about your organic low yield dryland farming?  
Our grove is dryland farmed (solely reliant on natural rainfall - no irrigation) so back in the 1940's when our grove was planted, a traditional wide spacing (10x10m) was used so the trees have extra space to spread out their root systems and draw water whilst avoiding competing with each other. The wide spacing also provides breathing space for air circulation which helps prevent fungal diseases; very important for organic production.
The sandy soil, underlying mountain bedrock and relatively low rainfall we receive (about 400mm annually) further reduces yield, but also contributes to the beautifully concentrated fruity flavour of our oil - our average yield is 1 litre of organic olive oil from 7 kg of olives, per tree. 
We are proud to produce a low yield of higher quality organic olive oil. 
As a small batch producer,  what's the most challenging part of your job?
Getting everything in the right balance - juggling our limited capacity with increasing customer demand and family/home life. 
Image credit: www.australianextravirgin.com.au
And the most rewarding?
Positive feedback from our customers always brightens our day and makes everything feel worthwhile.
If we looked inside your fridge, what would we find?
At the moment - homegrown rainbow chard, brassicas, carrots and broad beans, organic meats, a selection of cheeses. Also oIives of course, but not olive oil - that is best kept in the pantry!
What do you love most about Summer and why?
In Summer we make the most of the extra daylight, spending the cooler evenings outside gardening and playing with our children. 
What is one thing you couldn't work without?
Coffee! My brother Roger roasts Australian grown coffee in our farm shop in small batches.
If you weren't a food producer, what would you be doing?
Probably growing something else, like ornamental plants and flowers.
How has covid-19 impacted you? Have you had any aha moments from this experience?
Despite being one of the oldest olive groves in Australia, our heritage trees have never seen a year like 2020! Firstly we harvested one of our lowest crops ever this year (due to heat and dry conditions around flowering time late 2019). Due to covid our farm shop/cafe has been shut since February, along with most of our hospitality customers. Thankfully we have continued to receive great support via our website, stockists and hamper producers. 
We have learned that quality organic produce continues to be valued by our customers in challenging times.
What advice would you give to someone who is considering launching their own food business?
Ensure you derive intrinsic satisfaction from operating the business in itself - not from the apparent external successes or otherwise. Also don't be afraid to change your strategy along the way to suit you and your customers' needs.
If you could have any celebrity/renowned chef cook you dinner, who would it be & why?
Deidre Baum (a local legend) - exquisite Mediterranean inspired cuisine with perfectly matched flavour combinations.
What would your ultimate last supper be?
A home cooked Italian feast.
To discover more and connect with Grampians Olive Co click below:
Website:  www.grampiansoliveco.com.au
Insta: www.instagram.com/grampiansoliveco
Facebook: www.facebook.com/grampiansoliveco