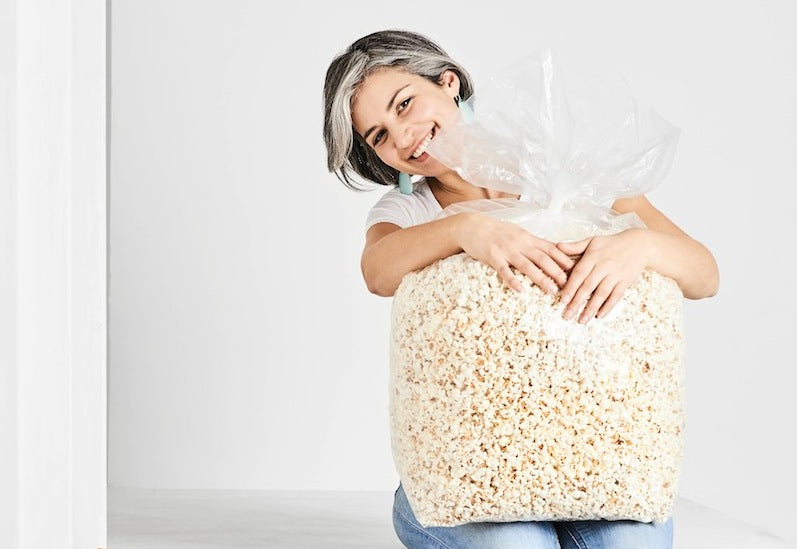 Meet The Locals - Crackle Corn
Creator Katherine Yerondais is a Melbourne based pastry chef whose commitment for perfection has resulted in the Caramel Popcorn treat that refuses to compromise.
In this interview, Katherine shares with us her beautiful food philosophy, why Summer is her favourite season for food and the most interesting new flavoured popcorn she's working on.
Crackle Corn Caramel Gingerbread Popcorn is featured in our Dec/Jan 18'
Discovery Box
.
What's your food philosophy?
From my heart - to my hands - to the food.
I'm passionate about the food I create. My goal is always to produce food that makes your heart sing and your toes curl in delight!
There's that saying, 'the secret ingredient is
love
', and I truly believe this. When I eat food that is made from a small producer, I can tell if the product is made from love or not. It gives you that feeling of euphoria, like falling in love for the first time.
Products that are made from passion, from the heart, to the hand, then to the food that we eat, fuels our bodies and souls. It is something that has been lost along the way of big chain supermarkets and fast food convenience.
It is so important to that we all make the conscience effort to pay attention to the food that we eat and where is comes from. Eating less, better quality and products that is consciously produced, is the way of the future.
What was your inspiration behind starting Crackle Corn?
I've been a pastry chef in Melbourne for the past 12 years learning and creating under some major influences, and I was at a point in my career where I was craving to produce something for myself and focus on a signature product.
As a Pastry Chef, my specialty was recipe development and I liked the 'blank canvas' concept of popped corn, it gave me total creative license and endless limitations of the flavour I could create.
I'm currently working on a Thai Red Curry Caramel and it's shaping up really well. It's got this great balance of sweet and heat from the chillies without masking the aromates which gives the caramel this amazing depth of flavour. I hope to release it sometime next year.
As a small batch producer, what's the most challenging aspect to your job?
Time Management…..there ain't enough hours in a day
When I started Crackle Corn, I originally thought it would be this little side hobby…. part time thing that could give me 'work, life, balance'. Fortunately/unfortunately, Crackle Corn was this overwhelming instant success, ha!
I tried to hold the business back and keep it on a small 'part time' scale for as long as possible, but the demand from my customers was much too great. My customers craved to see more of it and have it better accessibility in shops and online.
At the moment, Crackle Corn is going thru a really busy period where we have just expanded into its own commercial premises, catering for bigger events and expanding into food service catering.
Thru all this hard work, we have just landed a major contract that should see our operations expand next year. This will give me the opportunity to employ other passionate people and change my role in the company from 'work horse' to 'mentor' and hopefully achieve that 'work, life, balance' I've been aiming for.
And the most rewarding?
I love hearing people crunch and munch my popcorn….Does that sound crazy?
Working at the markets and events, I love selling direct to the customer. I love watching them try my popcorn for the first time, hearing the crunch of the light and crisp Crackle Corn. Witnessing their faces light up and eyebrows rise as the flavour kicks into their senses. This is what drives me to not to compromise on the time consuming methods it takes to make the product, and to always focus on that important whole mouth feeling which delights every customer.
If we looked inside your fridge what would we find?
Working at the markets you get to meet all the other makers, and you realise just how creative we can all be. I love products with amazing flavour profiles.
I currently have:
'Tomato and Kaffir Lime Chutney' from Eat me Chutney in Sydney
. Amazing Indian inspired chutney made by a mum and son team who rescue bruised and ugly organic vegetables and turn them into something spectacular.
'Jerk Marinade and Mustard' from Little Brixton in Melbourne.
There is not enough quality Jamaican cuisine in Melbourne. The brand Little Brixton is the closest thing I've found that pair that Jamaican aromates with the fresh herbs so well. Each bottle packs a flavour punch and just brightens up my midweek meals and summer BBQs
'
Chai Harder, chai concentrate' from Chai Addict in Melbourne.
I'm the kinda gal who will drink a thousand cups of tea a day. I love the convenience and flavour profile that this Chai gives me. The Chai Harder also has this kick of chilli that always surprises and delights me each time I drink it. It gives me this warm hug feeling that we all need on those particular days.
What's your favourite season for food and why?
SUMMER!
Stone fruit, melons, tropical fruits, figs, ice cream, pavlovas with passionfruit, BBQ's, picnics, beach eats, fruity icy cocktails, gin and tonics…. need I say more?
Sunshine fuels our bodies and soul and I can't get enough of it!
What advice would you give to someone who's considering launching their own food business?
There is nothing easy about making and selling food.
I hear all the time people who want to 'sea change' into the food industry. And I always strongly advise them not too.... This will either deter them or make them want it even more.
The food industry is not just making a few things and selling it. There are so many costs, rules and regulations to follow.It really hard and ongoing work, and if your not passionate and don't have the drive, it can end up costing you more money than its worth.
Having said that, if you ignore all my advice and still wanna pursue a business in hospitality, well then the key is to stay focus on the message, stay patient, never give up, and setbacks are only building blocks to help you build the business into the empire that it will become.
What is one thing you couldn't work without?
My passion.
It might seem silly and trivial, but when I'm personally not feeling it in the kitchen… I pack up and go home.
I find if I'm distracted, heart broken, feeling stressed or unwell, then it impacts on that batch of Crackle Corn and the product ultimately suffers.
When I'm in that bad head space, it just seems everything wrong starts to happen…. you start burning, spilling, misplacing things….. It's definitely not worth the drama. A better option is always to start fresh tomorrow!
It's the understanding of the passion and respect you put into your product is what the customer can ultimately feel when they are consuming it.
What are your BIG goals for 2019?
Survive and don't lose my head!
With whatever the next year brings, it is always important to remind yourself of what you initially intended to achieve by starting the business.
Having worked in kitchens for so long, I am a true witness to how poorly most kitchens are run, physically, mentally and emotionally. It'll be nice to employ a team of keen peeps and teach what it truly means to cook for others and what a privilege it is that people continue to purchase Crackle Corn as their go-to treat.
A really proud moment will be me seeing my business fully financially sustainable, having team members I can call my family and Crackle Corn to become more recognisable brand.
Everything else will be considered gravy!
If you weren't a food producer, what would you be doing?
A rally car driver. Hahahaha! …….true story.
What would your ultimate last supper be?
French Fries and honey ice cream (separately or course)
….I know I should say something profound like,' freshly made warm ricotta with home grown figs and maccora vinocotto'…. but like everyone else, I'm a child at heart and when it's your last supper, well…. who's counting the calories!
To discover more and connect with Crackle Corn click below:
Website: www.cracklecorn.com.au
Instagram: www.instagram.com/cracklecorn
Facebook:
www.facebook.com/cracklecorn