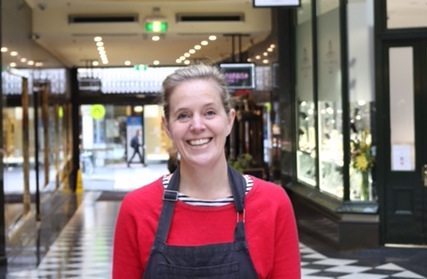 Meet The Locals - Chocamama
Chocamama, founded by Louise Hannell in 2015, specialises in Australian made premium chocolates and confectionery. Mixing up the old and new, Chocamama reflects iconic Melbourne favourites, from their "Hosier Lane" graffiti bar series, the T.V Mix, to their premium chocolate tram. They have fun with chocolate and we love that!
In this interview, Louise shares with us the best advice she was given when starting out, what the most challenging part of her job is and whom she admires and looks up to plus more. Enjoy!
Chocamama's 'T.V Mix' was featured in the August 17'
Discovery Box
.
What's your food philosophy?
Quality before quantity.
What was your inspiration behind starting Chocamama?
After having a 5 year break from the industry (and a couple of children) I felt Melbourne CBD needed a more modern and contemporary take on traditional chocolates & confectionery. Chocamama was born with this is mind. Fun and funky name.
What's the best piece of business advice you were given when starting out?
People always come back for quality.
What's your first memory in the kitchen?
Cooking cakes at home with no recipe. All I can recall is you had to eat them while warm as they set like a brick.
As a small batch producer, what's the most challenging aspect to your job?
Time management. The smaller the business the more you take on yourself personally, and there are only so many hours in the day. Time management is critical as you grow and employ more staff.
And the most rewarding?
We can offer new flavours and combinations overnight and have them in store the next day testing in the marketplace. It's great being versatile and being able to adapt to new trends so quickly.
What's been your biggest achievement to date with Chocamama?
Providing a comprehensive range with colour and interest. People always remark Chocamama is a store they visit every time they come to Melbourne.
Name a person whom you admire or look up to?
My mother. Instilled a love of food and how good food make simple occasions so memorable.
Favourite season for food?
Spring - So much energy about in Melbourne. Football, Spring Racing Carnival brings a great foodie vibe to our City.
What would your ultimate last supper be?
Oysters and Champagne Keep it simple and go out with a bang!
To discover more and connect with Chocamama click below:
Website:
www.chocamama.com
Instagram:
www.instagram.com/chocamama_
Facebook:
www.facebook.com/chocamama