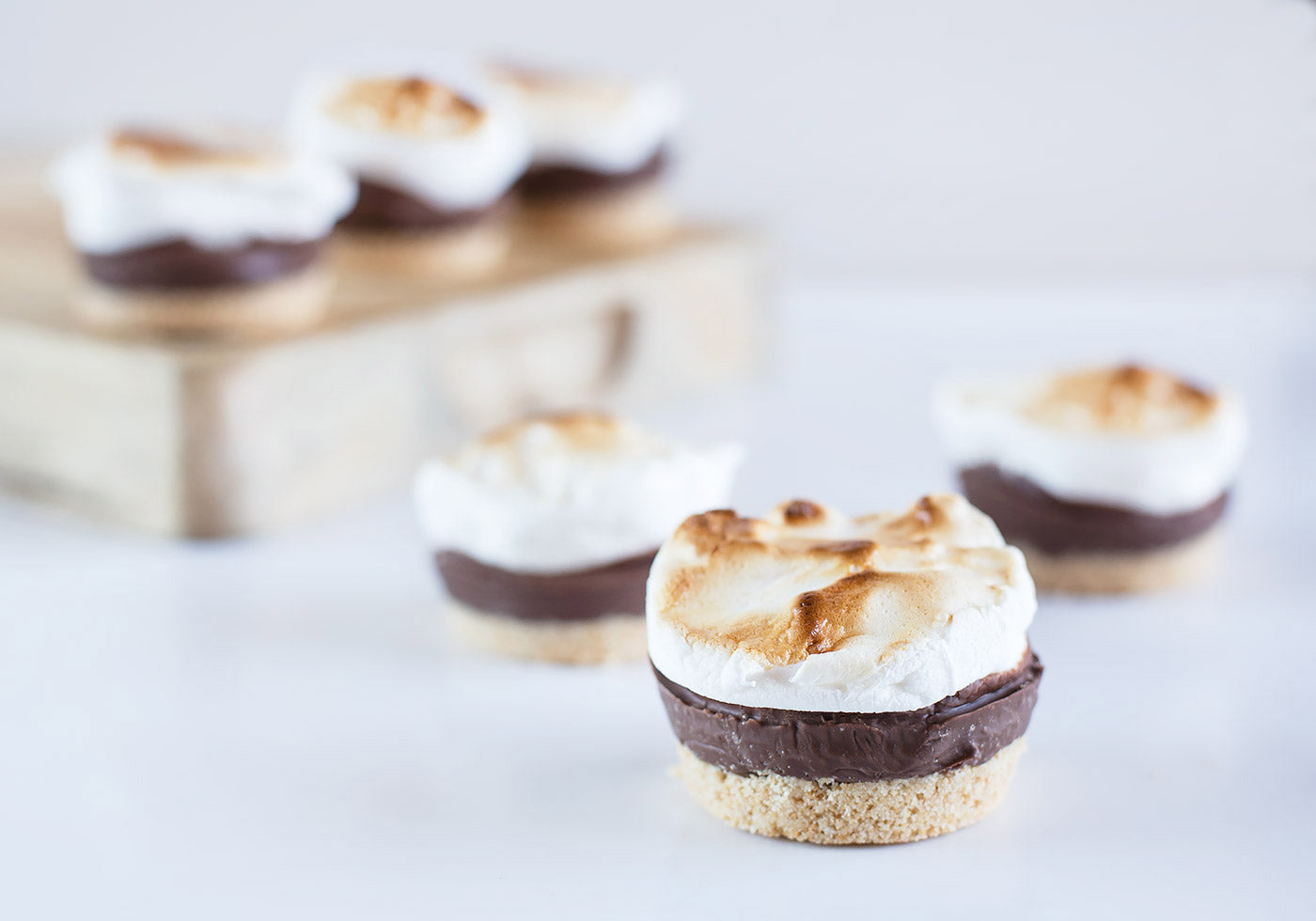 No Bake Mini Smores Cups
We recently had the absolute pleasure in teaming up with one of Australia's top food bloggers, Sarah Shrapnel of Love Swah for our 'Decadent Desserst' themed Discovery Box. Sarah has shared with us some awesome baking tips and a delicious no bake (and no fuss) Mini Smores Cups recipe which utilises two of the amazing local products inside this box - the gold award winning Mount Edna Dark Chocolate by Charley's Chocolate and Black Pantry gooey pillowy marshmallows
Sarah – better known as Swah – is a dessert-loving graphic designer, blogger and master baker from Sydney. Her blog, Love Swah, is dedicated to celebrating life's simple pleasures. Swah hopes to inspire her readers or simply make them smile with her love for graphic design, travel, baking tips and delicious dessert recipes. Love Swah's uber chic aesthetics and creative recipes are due to the fact that Sarah is a working graphic designer, something that aids her creativity. Thank you Sarah for sharing this sweet recipe with us!
No Bake Mini Smores Cups
Ingredients:
1/2 cup (60g) crushed plain sweet biscuits*

30g butter, melted

1/2 cup (80g) dark chocolate

20g butter

3 large marshmallows, halved
Method:
In a food processor, finely crush the biscuits. Add in melted butter and pulse until combined.
Press the biscuit mixture into the bottom of 6 mini muffin tray holes (or 3 large muffin tray holes) and put in the fridge to set.
Meanwhile, combine the dark chocolate and butter and microwave in bursts of 15-20 seconds on medium until smooth and melted.
Divide the chocolate mixture evenly over the biscuit bases.
Gently press a halved marshmallow into each S'mores cup and return to the fridge to set.
Once set, toast the marshmallows using a cook's blowtorch until are brown and crunchy. If you don't have one, place the tray under the oven grill for 30 seconds to 1 minute until golden.
*Granita, Digestive or Marie biscuits will do the trick.
Please note we've adapted the quantities of the original recipe so our Discovery Box customers can use the Charley's chocolate and the Black Pantry marshmallows inside their box. Simply double the ingredients (using other high quality products) to make a bigger batch.
Recipe courtesy of Sarah Shrapnel from Love Swah
As seen in our August
2017 mini zine, tucked inside the Discovery Box:
Experience your very own Discovery Box now and discover the #tasteoflocal.