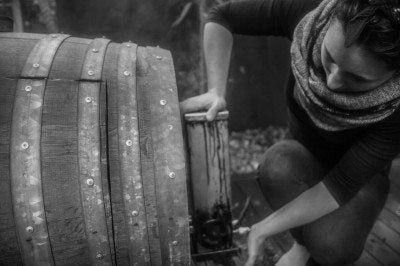 Meet The Locals - SMALT
SMALT is primarily a producer of smoked salt. Using premium salt flakes and rock salt, the team gently cold smoke the salts using locally grown and pruned apple wood chips to impart a delicious smoky flavour. SMALT now also make three delicious flavours of fudge using their smoked salt to create a really unique flavour.
In this interview, co-owner Bonnie tells us their inspiration for starting SMALT, what the most challenging aspects are of being a small batch producer and what success means to her.
SMALT's 'Salted Caramel Fudge' was featured in the August 17' Discovery Box.
Bonnie with cold smoker and barrel
What's your food philosophy?
At SMALT, our food philosophy is to use local, ethical and sustainable practices and products. Our cold smoked salt has four key ingredients: salt, apple wood smoke, time and love. We dedicate the same love and time to the production of our fudge, Each small batch of fudge is mixed by hand and then individually hand wrapped using biodegradable materials. It' a slow process, but one that provides great joy and can be quite meditative.
What was your inspiration behind starting SMALT?
My partner and I have always been lovers of salt and smoked goods. We searched for a local smoked salt product but couldn't find one that we loved, so we decided to try to make our own. The fudge was an afterthought! The SMALT-ed caramel fudge started out as a condiment for customers to dip into our SMALT salts on our market table. Each time customers dipped the fudge into the salt, they would exclaim - "Wow! Do you sell the fudge as well?" So the fudge varieties became the next SMALT products.
What's the best piece of business advice you were given when starting out?
We have collected a number of brilliant mentors and friends along this SMALT journey. They truly have been an endless source of inspiration and knowledge. I guess the best piece of business advice when we were starting out was to hang in there, don't lose your product vision and don't let it become a chore!! Staying true to yourself and being realistic about your business and personal capabilities really helps especially when faced with the reality of rapid growth.
As a small batch producer, what's the most challenging aspect to your job?
Personally, the creation of the vast amounts of fudge is definitely a challenge. As the fudge is all made to order and cooked in small batches (30 bars at a time) - I can find myself standing over a pot stirring for hours on end. The repetitive nature of the cooking and wrapping process can be quite painful towards the end of a full day of cooking and wrapping. Due to rapid business expansion this year - we are researching other kitchen appliances and wrapping methods that will hopefully reduce the physical strain.
And the most rewarding?
The most rewarding aspect of having a small business is hearing customer's feedback. I especially love seeing people's reactions towards our products at our market stalls, especially the first-time tasters!! Some people are so surprised at the intense smoky aroma of our salts that they let out unexpected (verbal) sounds that are always amusing to both of us. My favourite reaction to date - was from a fellow stall holder at a past market, who came running across the venue yelling and screaming and then hugged me around my middle saying "Finally!! Real Fudge!!! Thank you! Thank you!! Thank you!!"
What's been your biggest achievement to date with SMALT?
Great question – SMALT continues to have daily achievements – those moments that make you stop and look around and really take it all in and realise how much happens daily and how much customers and suppliers allow this success. Without brilliant customers and amazing suppliers – our business may not have lasted long and continued to grow so quickly – so Thank You - One and all for your SMALT support and love! It is truly a very humbling experience.
What does success mean, or look like to you?
Success to me is business and personal balance. It's a product or service that allows the creator/s to continue creating or delivering their product/service without it becoming a chore. This is definitely a tricky task when you are faced with a rapidly expanding business – to somehow remain in love with what you provide and what you set out to achieve is a massive success in my eyes.
Chocolate or Cheese?
I actually like to combine both in the one mouthful! I have a very flexible palette and love to push it into new flavour realms whenever I can.
Red or White wine?
Red wine - But I make my own Kombucha and prefer a glass of that most nights.
What would your ultimate last supper be?
A wooden board covered in an assortment of local smoky charcuterie and local cheeses = Bliss.
To discover more and connect with SMALT click below:
Website:
www.smaltcoldsmokedsalt.com
Instagram:
www.instagram.com/smalt_cold_smoked_salt
Facebook:
www.facebook.com/smaltsmokedsalt