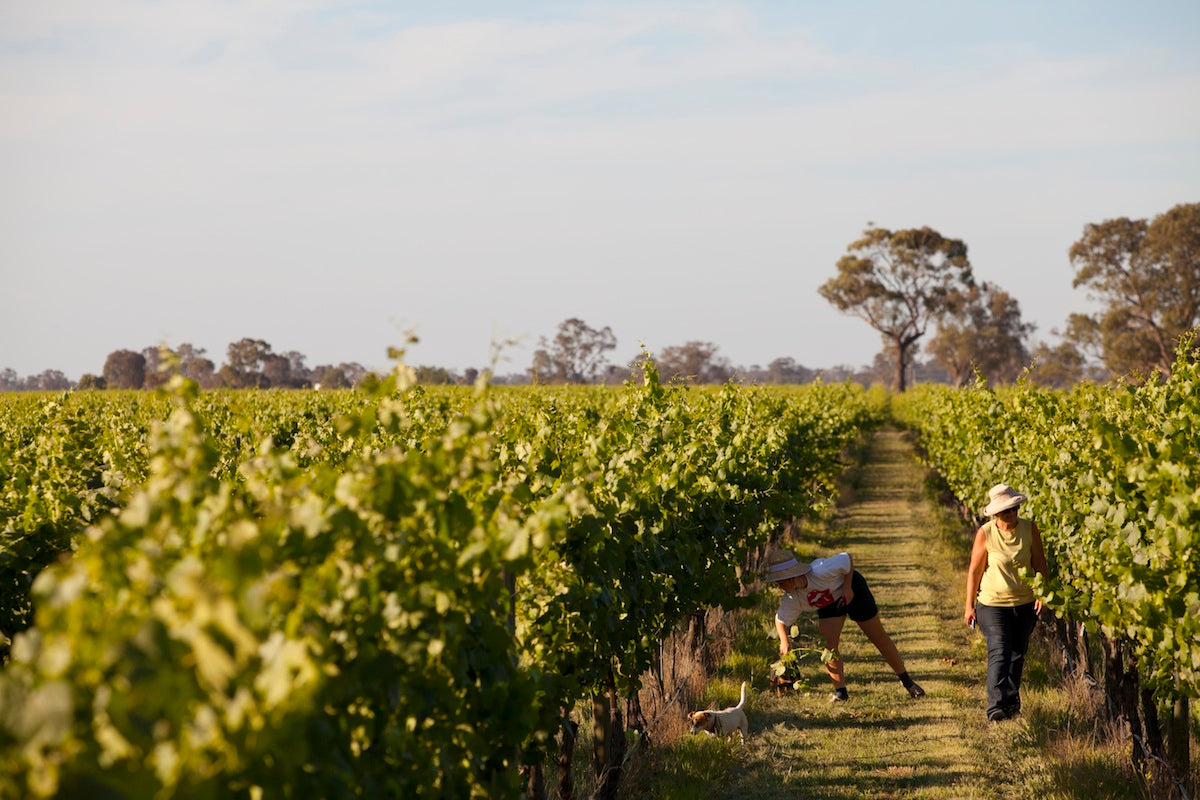 Meet The Locals - Box Grove Vineyard
Box Grove Vineyard founder and head winemaker, Sarah Gough, produces Mediterranean style wines and incredible Verjus found inside our most recent Discovery Box from her vineyard in Central Victoria's Nagambie Lakes subregion.
"I am a winegrower and mother. I grow grapes a little like I try to raise my children - nurturing them along, letting them develop their individual characters and voices and trying to gently restrain their more unruly traits!" says Sarah.
In this interview Sarah gives us a lesson on Verjus and how it differs from wine plus shares what it's like as a woman working within the wine industry.
Box Grove Vineyard 'Verjus' is featured in the Oct-Nov 17'
Discovery Box
. (limited boxes left)
What's your food philosophy?
To grow the best grapes and make the best wines I can from my vineyard. To listen to the voice of the fruit from my vineyard and nurture that through to finished wines. And to share those wines (and Verjus) with friends and family.
You've held some fantastic positions within the wine and food industries, including Chief Wine Writer for The Age, Public Relations & Media Liaison for Brown Brothers and being a board member of Melbourne's Food & Wine Festival, what was your inspiration in starting your own business, Box Grove Vineyard?
I wanted to put down roots, to grow and make something myself. In spite of the heart ache that can come after a severe drought of a snap frost, when all your year's work can just disappear overnight, it is still the most satisfying thing I have done, ever. I have joined a community, raised my kids in the country, in the fresh air and sunshine, and worked with the rhythms of the season and felt the satisfaction of handcrafting some wines literally from the ground up.
As a small batch producer, what's the most challenging aspect to your job?
There are two main challenges, one from frost, flood or drought and the affects they can have in the vineyard. We can only make nice wine if we grow good fruit. Making it is simple, I just try and capture the flavours developed in the vineyard.
The other challenge lies in the marketing and packaging and distribution. Creating a niche for my myself and my wines in a very crowded and noisy and cluttered market is not easy. Especially growing and making wine from such little known varieties. (But these varieties suit my soil and my climate.)
I must say, the Verjus has been a real point of difference for me, a way of opening a dialogue with chefs and food interested people.
And the most rewarding?
Seeing the beautiful wines you can craft from fruit you have grown and seeing people enjoy them. Letting the fruit sing and harnessing that voice into something you can enjoy with a meal with family and friends.
As we write this you're about to fly to London to attend the 2017 Australian Women In Wine Awards. Can you tell us a little more about this event and what it means to you?
There are about 56 women winemakers going over to London to show our wines to the UK Trade and the Public. I think Wine Australia, the body organising the promotion, want to show that there are some really interesting wines being made in Australia, wines that are elegant and complex and that go well with food and are not the big rich commercial wines that we developed a reputation for in the late 1990s.
There are some very well known women going over, Prue Henschke and her daughter from Henschke wines , Louisa Rose from Yalumba who has headed up their winemaking team for a long time, and Rose Kentish from Ulithorne who was a finalist in the Gourmet Traveller Winemaker of the Year award and is doing some really interesting things in Mclaren Vale and France. But many are small, like me, putting our toes in the UK market for the first time. The UK is nervous about Brexit and those implications, the pound is low, yet people are still eating out and enjoying themselves, the trade are quite resilent and positive about the future.
There are a lot of women in the wine industry now. I have been lucky with some great mentors, male and female. I just think women work better in a collegiate sense. We also understand that people working with you have kids who get sick from time to time or need to work hours that suit their families, if you can work with those factors, you can develop a great team and very loyal employees.
What's your favourite season for food?
I suppose Autumn and Winter, you can create some great flavoursome slow cooked dishes then.Spring is also lovely after all those heavier dishes winter, to get fresh new season asparagus or home grown broad beans or snow peas and use them in a salad or pasta is great. And then Summer is great for quick easy and tasty salads, using warm tomatoes straight off the vine or fresh salad leaves and barbecues….. so I guess I am saying I love all the seasons. You can enjoy different wines in each!
What's been your biggest achievement to date with Box Grove Vineyard?
Again I hate to sound trite but I would say that it is developing the Verjus and seeing Chefs like Ben Shewry at Attica embracing it so warmly. There has been a very warm reaction to it here in the UK too!
What is one thing you couldn't work without?
It might sound trite but I would say a good extra virgin olive oil - peppery and savoury on a salad on meat before you roast it…. and of course Verjus, the two make such a great and simple salad dressing with a splash of olive oil and a splash of Verjus. It is also great in marinades, even a Summer spritzer with some soda and a twist of lime or crushed Kaffir Lime leaf.
Can you give us a little lesson on Verjus and how it differs from wine?
Verjus literally means green juice. It is made from half ripe grapes. We hand pick Roussanne grapes just after Veraison when the more firm white grapes start to soften and red grapes start to turn red. (We would pick Roussanne for white wine about six weeks later.) We then crush them, put them in a tank (away from any stray yeast cells which could start a fermentation which we don't wan!) and chill the tank of juice. This settles out the lees (the pulp that makes the juice cloudy) and then bottle it. It is simple but exacting) We try and get the Verjus bottled before vintage proper has started to eliminate the chance of a rogue fermentation starting. Verjus is still juice, not a fermented product like wine or vinegar.
Would your ultimate last supper be?
Something simple and seasonal, a glass of chilled champagne some beautiful ham or a risotto wth truffles, or a beautiful omelette made from fresh farm eggs. Fish freshly caught and cooked, things like that with a fresh salad from the garden and Verjus dressing!
To discover more and connect with Box Grove Vineyard click below:
Website:
boxgrovevineyard.com.au
Instagram:
www.instagram.com/boxgrovevineyard
Facebook:
www.facebook.com/boxgrovevineyard