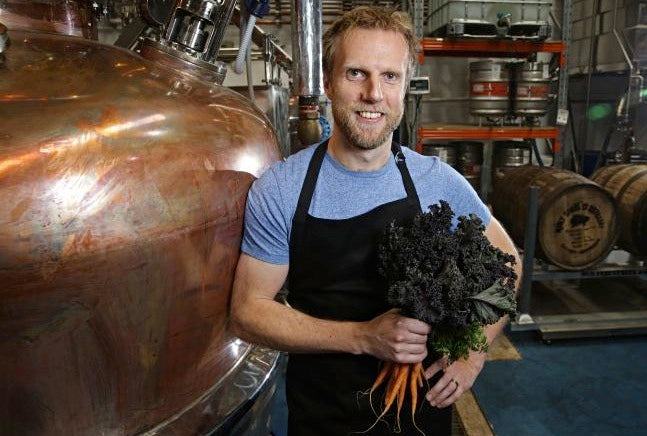 Friday Foodie In Focus - Arum Nixon
Have you ever wondered if the food is hot or cold when judged on MasterChef? Arum Nixon, our favourite MasterChef contestant, spills the beans + more in today's Friday Foodie In Focus interview.
Arum recently curated our Oct/Nov 17' Discovery Box with his favourite pantry essentials so we were incredibly excited to spend some time with him & ask those burning questions we are all dying to know the answers to. Thanks to some additional questions from our food loving community, you can get a real sense of what it's like to be on MasterChef. We hope you enjoy this special FFIF interview as much as we loved putting it together.
Image Credit: Ten
What's your food philosophy?
I like to see cooking as
curating
more than
creating
. When you see cooking like that, it makes you really think about the produce you use – the food you make is only going to be as good as the ingredients you use! I love cooking (and eating!) honest, wholesome food; finding the best produce you can and taking that bit of extra time and care to make it as delicious as possible. I'm definitely not a big fan of all the fancy 'chef-y' things like foams and gels. Understanding where your food comes from is also a big part of this for me, especially eating things in season and produced locally wherever possible.
What's your first memory in the kitchen?
I don't know about the first, but I have a lot of childhood memories of helping my mum in the kitchen growing up. She was one of those amazing people who made just about everything we ate from scratch, and we'd all chip in to help. As a kid, I particularly enjoyed baking – which is funny, because I don't really have a sweet tooth as an adult!
What led you to entering MasterChef?
Good question! As a foodie, I've always watched the show and been jealous of the amazing experience they guys had – so one day thought I'd give it a go. But I never thought I'd actually get on – I just treated every stage of the process as an experience to enjoy
What advice would you give to someone who's considering entering?
Do it!! And enjoy the journey when you do – even if you don't make it beyond the first audition round, you've been part of MasterChef and cooked for some of the most respected foodies in the country. Not everyone can say that!
Arum's Beef with Celeriac, Black Pudding, Macadamia & Pernod. Image credit: Ten
(Community Question) What was your most memorable moment on MasterChef?
Two moments stand out for me, and thinking about them still makes the hairs on the back of my neck stand up… The first was when I got my apron; I genuinely didn't think it would be me, right up until it was announced. To do it the hard way made it all the sweeter! And the second was when I had the chance to cook off against a professional chef for a place in Finals Week. That whole week I was on such a high – winning my first mystery box, being mentored by Shannon Bennett, getting into the Top 3 and then winning the soufflé challenge – and the moment I put on the chef's whites was pretty special.
Are there any moments you'd rather forget?
I'm not easily embarrassed, but the bits I'd rather forget about are actually the bits that were pretty tough about being on MasterChef. We filmed for nearly 6 months, with a quick break at Christmas, and over that time you only get really limited contact with the outside world – you can't even leave the house except for filming, and you only get two phone calls per week! It's hard being away from your usual support network, and I definitely missed my wife in particular.
(Community Question) When it comes to the judges tasting each dish, is the food still warm or is it cold?
This is the one question everyone wants to know – I get asked all the time! And the answer – most often it's cold. The judges have actually tried everything while you're cooking, so it doesn't make much difference to them, and there's often a big gap while everything is cleaned and reset. It can easily be a couple of hours! Any sauces are reheated and anything frozen is kept cold though.
(Community Question) What did you and the other contestants do in between filming? Was there much down time and were you allowed to leave the house?
There wasn't much down time at all, and we couldn't leave the house except for filming. But we did have a gym and a table-tennis table – the latter saw a lot of very competitive games!
(Community Question) For the mystery box challenges, were you given more time than what was shown onscreen to come up with a dish? Such extraordinary meals were created with such little time to plan.
No we didn't – when you see us lifting the box and panicking, it's because we were! I was amazed how close the show is to what really happens – there are no recipes under the bench, no-one helping you just off camera, no pre-warning about the challenges…
What's next for you?
Yes, I've got quite a few things on the go at the moment! In the short term, I'm working on some different pop-up events around Sydney, and I'm hoping to find a venue to run something for a longer period of time next year. I'm also doing some consulting work with food brands, putting to good use my experience from my previous life in marketing as well as my passion for food. It's all an exciting new challenge!
Arum at one of his pop up events. Image credit: Daily Telegraph
Favourite season for food and why?
Probably autumn. I love the sort of food that comes into its own as the weather gets colder, and there are some great fruit and veggies around at that time too. Blackberries are my favourites!
If we looked inside your fridge what would we find?
It's quite a mix, from the usual basics like milk, cream and butter, to tubs of things I'm working on like sauces. As well as quite a few bottles of wine… for cooking, of course... I'm lucky to have a great veggie shop and butcher around the corner, so I usually buy things fresh the day I want to use them.
What would your ultimate last supper be?
This is hard – there are so many things I love to eat! But it'd have to be a roast dinner with all the trimmings. Surrounded by family and friends, it doesn't get much better.
To discover more and connect with Arum click below:
Instagram:
www.instagram.com/arumnixon
Facebook: www.facebook.com/ArumNixonAU
Discovery Box curated by Arum Nixon