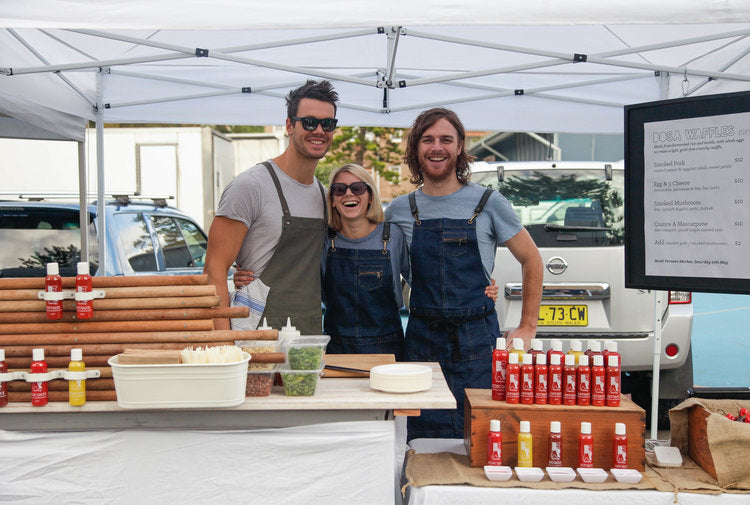 Meet The Locals - Bear Brewing
From what was initially meant to be a beer brand, Bear Brewing became Australia's first range of naturally fermented sauces, brewed from whole veg.
Founder, Matt Taylor's, fascination with fermented products such as sauerkraut and sourdough eventually led him to creating the award winning business that now prides itself on producing the 'bear' necessities in life - sauces that nourish the body and feed the soul.
Matt shares with us the challenges of being a small batch food producer, what his ideal last supper would be (we're loving the sound of this one!) and gives advice to those who may be looking to launch their own food business.
Bear Brewing Kimchi Sauce was featured in our June/July 18'
Discovery Box
.
What's your food philosophy?
Food should be enjoyed! Keep it natural and remember that the ultimate reward of cooking is eating.
What was the inspiration behind starting Bear Brewing?
I
have always made sourdough breads and sauerkraut but I wanted to get a different perspective and explore the possibilities of bread and beer in particular. Whilst on holidays I read 'the art of fermentation' and I came away from that book with so many ideas! Our range is the result of trialling many combinations, but we don't want to be too challenging and so we have kept it pretty simple.
Bear Brewing actually started out as a brand name for Beer! We thought it would be good branding (and fun) to personify different beer styles with different types of bears. It could still work and naturally fermented beer and cider is still in the pipeline. When we decided to pursue the fermented sauce range we thought we keep the name but designed the logo to be interpreted as bare to reflect the nature of the sauce.
After only two months of launching Bear Brewing in 2017, your hot sauce won a Silver medal and your Spicy BBQ Sauce won Bronze at the Australian Fine Food Awards! What did this mean to you and your business so early on?
It was certainly a surprise to get such a good result! The hot sauce was 1 point away from a gold so fingers crossed for this year. It was a huge boost for the business, it gave us the instant recognition to our very small customer base at the time, but also made it easier for us to enter the retail space as it is such a reputable award. It also gave us the confidence to keep going.
What makes your range of sauces so special?
I believe there is no other sauce like ours in the market. Even worldwide we seem to be pioneers.
As a small batch producer, what's the most challenging aspect to your job?
The most challenging aspect has to be finding potential stockists to be able to grow. I'm a chef, not a salesperson and it was hard to have retailers take you seriously and give you a chance.
And the most rewarding?
Getting a distributor (or 3). It means we have made some right decisions along the way and taken risks to be rewarded, and when someone else believes in our product as much as we do, that is amazing.
If we looked inside your fridge what would we find?
You would find a whole lot of half empty Bear Brewing sauce bottles, a lot of fresh veg, fresh strawberry compote for the croissants I'm working on. It's usually not very full because everything in this house gets made from scratch and eaten pretty quickly!
What is one thing you couldn't work without?
Coffee. It gives me the (very brief) chance to reassess what I'm doing and if i can be doing it better.
What's your favourite season for food and why?
Probably winter. There is nothing more satisfying than spending a whole day prepping a wood-fired oven to bake the weeks bread and then a roast just in time for dinner.
If you weren't a food producer, what would you be doing?
I think I would be in agriculture if I didn't have this passion for manipulation of food (and eating). But the love and interest for growing food came from working with food. Otherwise, all I ever wanted to do was be a fighter pilot but I was too tall.
What are your BIG goals for 2018??
Well, it was to secure a distributor.
What advice would you give to someone whose considering launching their own food business?
Cash flow is so important to survival I think, and sometimes you need that time to make the impact that you want and need.
What would your ultimate last supper be?
I wouldn't be able to decide until the day, but I would definitely finish with a bit of opera cake, and a croissant with a coffee and then wash it down with a bottle of Bollinger.
To discover more and connect with Bear Brewing click below:
Website: www.bear-brewing.com
Instagram: www.instagram.com/bear.brewing
Facebook:
www.facebook.com/bear.brewing.au