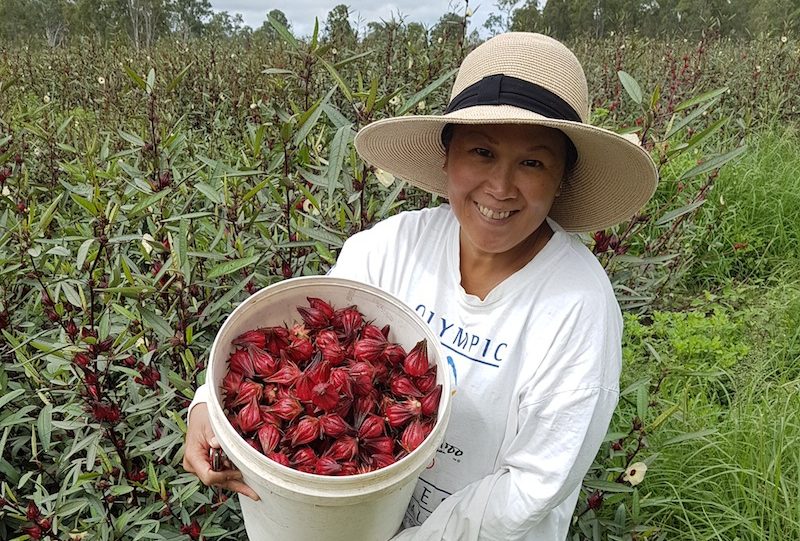 Meet The Locals -CC's Kitchen
Born in the Philippines, CC's passion for food and cooking started at a young age, influenced by a family of home grown cooks. In 1987, CC moved to Australia with her parents and 2 siblings. It was in early 2011, CC decided to chase her dream and launched CC's Kitchen to produce products which take you back in time – a time before preservatives and artificial flavourings and colourings – when food went straight from the garden to the pot to the plate.
In this interview, CC shares with us her big goals for the year ahead, why she uses the unique Rosella fruit in her products and the one thing she couldn't work without.
CC's Kitchen Rosella Chilli Jam was featured in our April/May 18'
Discovery Box
.
What's your food philosophy?
We believe in making good food that are made with old-fashioned love. Flavour is enhanced by using fresh ingredients with no preservatives, artificial flavours and colours.
We grow majority of the fresh produce used in our products. We live and breathe the concept of 'From Paddock to Plate'.
What was the inspiration behind starting CC's Kitchen?
Over 7 years ago, I pursued my food dream and started CC's Kitchen. Born in the Philippines, food is central to family and special gatherings. I vividly remember my maternal grandmother cooking all the time and she utilised ingredients from our little vegetable garden. Later, influences from my Mother and Uncle has inspired me to cook too.
As a home cook, I wanted to share cooking from the heart meaning offering food that I will serve for my family. Full of fresh produce, texture and tasty. Creating new recipes are something that I am passionate about.
Since I married my husband, farmer Greg Petersen, and moved to the farm, I got to understand the challenges of farming. I experienced produce left in the patch or imperfect produce thrown into the paddock as a huge waste. Then I started saving all these produce and used them in my cooking. From 4 products now we carry about over 60 different items depending on the season. Sustainability farming is the only way.
Can you tell us a little about the region you farm in?
Petersen's Farm is located at Woolooga, 45kms North West of Gympie. Our region is very proud of our diversity being our greatest asset. We have large and small scale producers/farmers from fresh produce, livestock, fishing, nature and tourism. There has been a continued increase of artisan producers . We find value adding as a vital aspect of our business. We get creative by utilising produce that will commonly end up back in the paddock due to imperfect/ugly produce or prices from the markets are very low.
Part of your delicious product offering is the unique Rosella range? What inspired you to use Rosella fruit in your foods and what makes it so great to work with?
The Rosella tart taste, luscious deep red burgundy colour and health benefits are the reasons I started getting more adventurous with creating new products. I honestly believe there's so much you can do with it. It so versatile that Rosella product could be savoury and sweet.
Rosella Jam is by far the most popular and loved product out of our jam range. Being a very old-timed spread, every jar sold, every spoonful spread on a scone or a piece of toast bring back a happy memory of a child picking Rosellas from the bush or their backyard. Time spent with Mum or Grandma shelling and making the jam - Priceless! No other jams resonates a wonderful feeling of love and happiness. At CC's Kitchen we sell LOVE IN A JAR! It sounds corny but it's true.
Processing any products using Rosella is quite labour intensive from picking, cooking and preserving stage. Therefore, it's not commonly available in supermarkets and mainstream shops. Being farmer and producer we found a niche market, a gap we can fill and satisfy demand.
As a small batch producer, what's the most challenging aspect to your job?
Our small approved commercial kitchen has reached capacity. We can only produce what we can on the day due to our wide range of preserves, we cannot produce fast enough. But we overcome this by being efficient and work smarter. Eventually we will build a bigger facility to accommodate increasing demand for our products.
And the most rewarding?
The freedom to work and live here in the farm. The boundless opportunities and freedom to create, inspire and aspire. The story of the Farmer and the Cook lives on.
The feedback, support and encouragement from our customers are our rewards.
If we looked inside your fridge what would we find?
Bottles of tasters -jams, chutneys, pickles and sauces
Fresh vegetables and fruits
Bottles of water and kombucha
Rosella Iced Tea
Eggs, butter
What is one thing you couldn't work without?
Passion - it's the reason why I do what I do.
What's your favourite season for food and why?
Summer is the start of our Rosella season. At this time, there are mangoes, pineapples, chillies and all asian vegetables available for picking and cooking.
Autumn is the harvest time for our butter beans, gem squash, snow peas, red bora, shelling peas, cabbages, tomatoes and tomatillos. It's also the time for our annual Big Rosella Festival, celebrating all things rosella!
What are your BIG goals for 2018?
Building our new bigger commercial kitchen here at the farm.
More outlets/retailers/stockists in major cities
More online presence/sales
What would your ultimate last supper be?
Filipino inspired dish - Fried fish, steamed kangkong, eggplant fritter, okra, fluffy jasmine rice, lemon and soy sauce dipping sauce. Plus eating with my hands, yum!
To discover more and connect with CC's Kitchen click below:
Website: www.ccskitchen.com.au
Instagram: www.instagram.com/ccs.kitchen
Facebook:
www.facebook.com/ccskitchen