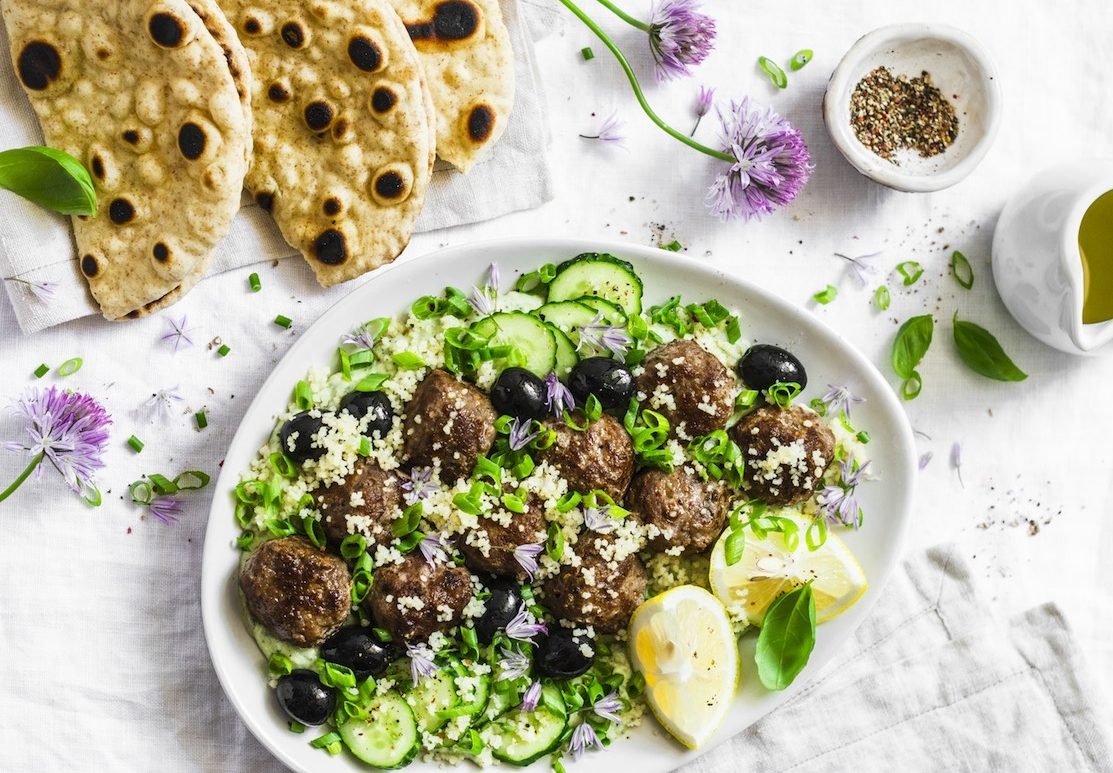 Lemon Lamb Meatballs with Rose Harissa sauce and Freekeh Salad
Food is better when shared with friends, which is why we love this zingy Lamb Meatball dish as it makes the perfect sharing meal.
Here at Foodies Collective it's our mission to introduce you to beautiful new foods made by passionate local producers and this recipe not only uses 1 of our talented partner producers, but 3! Each of these were featured in the 'Spring Harvest'
Discovery Box
.
Lemon Lamb Meatballs with Rose Harissa sauce and Freekeh Salad
Ingredients:
Meatballs:
500g lamb mince

1 Kingfisher Citrus Preserved Lemon quarter, pulp & white pith removed. Finely chop the rind.

2 garlic cloves, minced

60g panko breadcrumbs

1 TB extra virgin olive oil
Sauce:
2 TB Josh & Sue Rose Harissa

1 lemon, juiced

2 TB extra virgin olive oil
Freekeh Salad:
250g Greenwheat Cracked Freekeh

2 spring onions, thinly sliced diagonally

1 cucumber, sliced

Handful of black pitted olives

Handful of fresh mint leaves, chopped

2 TB Greek yoghurt (optional)
Method:
Preheat oven to 220 degrees celsius.
In a mixing bowl add the preserved lemon, minced garlic, lamb mince, panko breadcrumbs, olive oil and a generous pinch of salt and pepper to a bowl. Mix thoroughly until fully combined. Divide the mixture into 24 and roll them into meatballs.
Add the meatballs to a lined baking tray and place in oven for 10-15 min or until cooked through.
Meanwhile, rinse the freekeh, then add it to a pot with plenty of cold salted water and bring to the boil over a high heat. Reduce to a simmer and cook for approx 20 min or until tender but with a bite, then drain.
For the sauce, combine the rose harissa paste with the juice of 1 lemon and 2 tbsp olive oil in a large bowl. Once the meatballs are cooked, remove the meatballs from the oven and add them to the bowl of rose harissa sauce. Gently mix the meatballs into the sauce until fully coated.
Finally, in a large bowl, mix together the freekeh, cucumber, spring onions, black olives and mint. Season with salt and pepper.
To serve, spread the freekeh salad on a platter. Top with the meatballs and drizzle with any leftover rose harissa sauce and Greek yoghurt (optional).
Serves 4.
Recipe by Kate Willbourn-Trevett.
As seen in our exclusive 'Spring Harvest'
2018 mini zine, tucked inside the Discovery Box:
Experience your very own Discovery Box now and discover the #tasteoflocal.