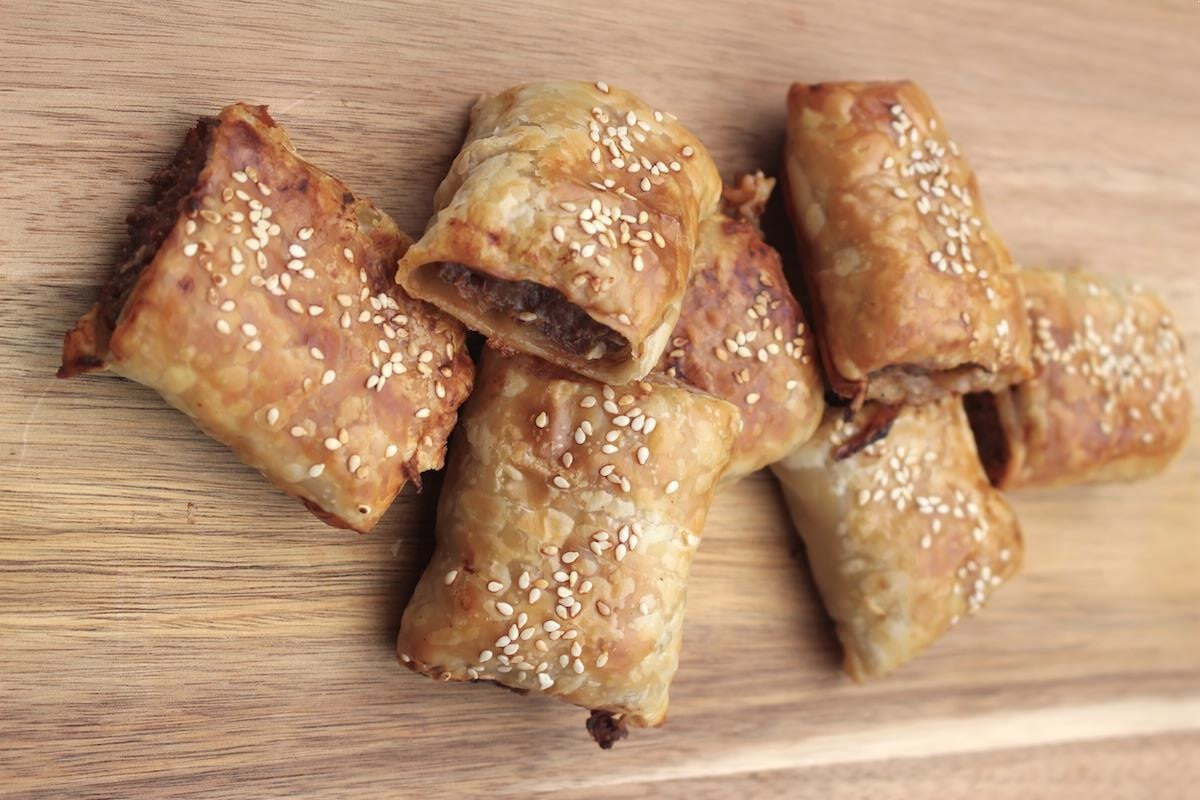 Zingy Homemade Sausage Roll Bites
These sausage rolls really are ideal picnic grub or make perfect bite-sized savoury delights to serve at your next party.
Today I was meant to attend the annual Sydney Food Bloggers Christmas Picnic. Being the new kid on the block, I was really looking forward to meeting my fellow food bloggers (aka obsessed foodies) for the first time. The only problem was, Sydney's weather had other plans. Just as I removed my specially made pork sausage rolls from the oven, the sky opened. Like me, these golden bites didn't make it past the kitchen, much to the delight of hubby.
Whilst I couldn't share these goodies with their intended recipients, I thought the next best option would be to share this super quick and easy recipe with you dear reader.
Homemade Zingy Sausage Roll Bites
Pork Sausages 500g, meat removed from casings
Veal Mince 500g
Olive Oil 1 TB
Brown Onion 1, finely chopped
Garlic Cloves 2, minced
Lemon 1, zested
Ground Cumin 2 tsp
Ground Coriander 1 tsp
Smoked Paprika 1 tsp
Rosemary leaves 1 TB, finely chopped
Pine Nuts 1 TB, toasted & roughly chopped
Egg 1
Ready-made Puff Pastry 4 sheets, thawed
Egg Yolk 1
Milk 1 TB
Sesame Seeds 1 TB, heaped
Preheat oven to 200 degrees Celsius. Heat the olive oil in a frypan and place over a low heat. Add the onion and slowly cook until soft and tender (approx 5 mins). Next add the garlic, cumin, coriander and paprika. Cook for a further minute or until fragrant. Set aside. In a large mixing bowl, add the veal mince, sausage meat, rosemary leaves, pine nuts, lemon zest and egg. Now add the slightly cooled onion mixture and using your hands, mix thoroughly, ensuring all ingredients have combined. Season with salt and pepper. Cut each pastry sheet in half (you should now have 8 individual pieces). In the centre of each piece, create a line of sausage filling (in a log shape). In a small bowl mix together the egg yolk and milk. Using a pastry brush, brush the edges of each piece of pastry. Fold the edges over the filling to it's neatly secured, like a parcel. Cut each log of pastry into four bite-sized pieces. Place on a flat baking tray lined with baking paper. (Don't overcrowd the tray, use a second tray if required). Brush the tops of the bites with the egg wash and sprinkle with sesame seeds. Place in oven and bake for 25 mins or until the pastry is golden brown & flaky.