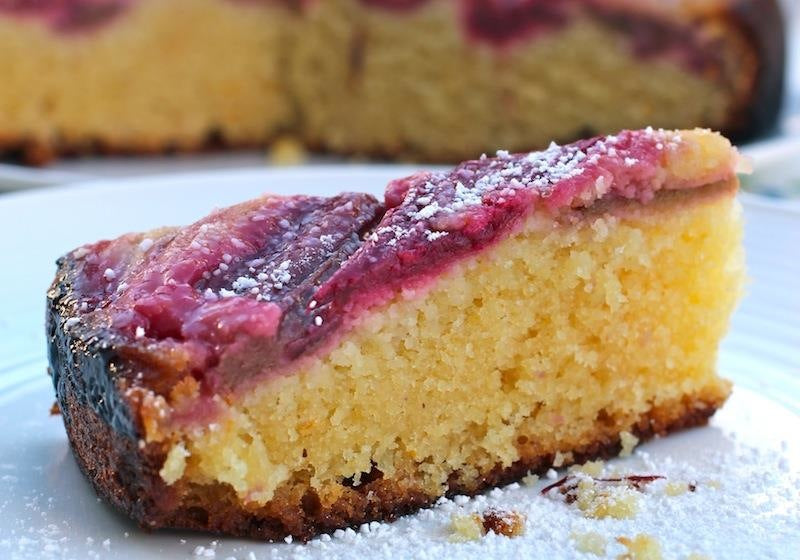 Upside-down Rhurbarb & Blood Orange Cake
(One of our fave older posts...feel free to scroll down for the recipe)
Happy Halloween all! I have to be honest & say that we've never been a huge fan of Halloween. It's never really been a huge event in Australia, but as I sit here & write, I can see families swarm the street, walking hand in hand with their beaming young off-spring (probably grinning from all the sugar) happily sharing some valuable time together. Whilst my hubby and I have decided to enjoy our first few years of marriage child free, I have to say it looks fun out there! To acknowledge this event & to provide a little treat for us adults, I thought I'd share this gooey, buttery, blood red crowned cake with you.
Ingredients:
Rhubarb 8 sticks, washed
Butter 250g, at room temperature, roughly chopped + little extra to grease tin
Caster Sugar 1 ¼ cups
Blood Orange Juice 2 TB
Vanilla Extract 2 tsp
Blood Orange Zest 1 TB
Eggs 3
Almond Meal 1 cup
Self-Raising Flour 1 cup
Milk ½ cup
Icing Sugar, for dusting
Vanilla ice-cream or double cream, to serve
Preheat oven to 175 degrees Celsius. Grease a 22cm high-sided cake tin lined with baking paper. Trim rhubarb stalks to fit cake tin (refer to picture). Sprinkle 2 TB's of the caster sugar and the blood orange juice in the base of the cake tin. Snuggly fit the trimmed rhubarb stalks into the base of the tin, flat side down. In a large mixing or food processor bowl, place the butter, remaining caster sugar, eggs, almond meal, vanilla, zest, flour and milk. Using a food processor or hand held mixer, combine all ingredients together to make a thick and creamy batter. Top the rhubarb stalks with the cake batter, smoothing it out evenly. Place the cake tin on the middle shelf of the oven. Bake for 50 mins, then cover with a piece of foil and continue to cook for approx. 20 mins or until a skewer inserted into the centre of the cake comes out clean. Remove from the oven and allow to cool slightly. When the cake is luke warm, carefully turn out the cake, upside down on a wire rack. To serve, dust the cake with icing sugar and with a large dollop of vanilla ice-cream. *You can substitute the Blood Orange for any other type of orange.
Recipe is inspired by Real Living Magazine, Australia