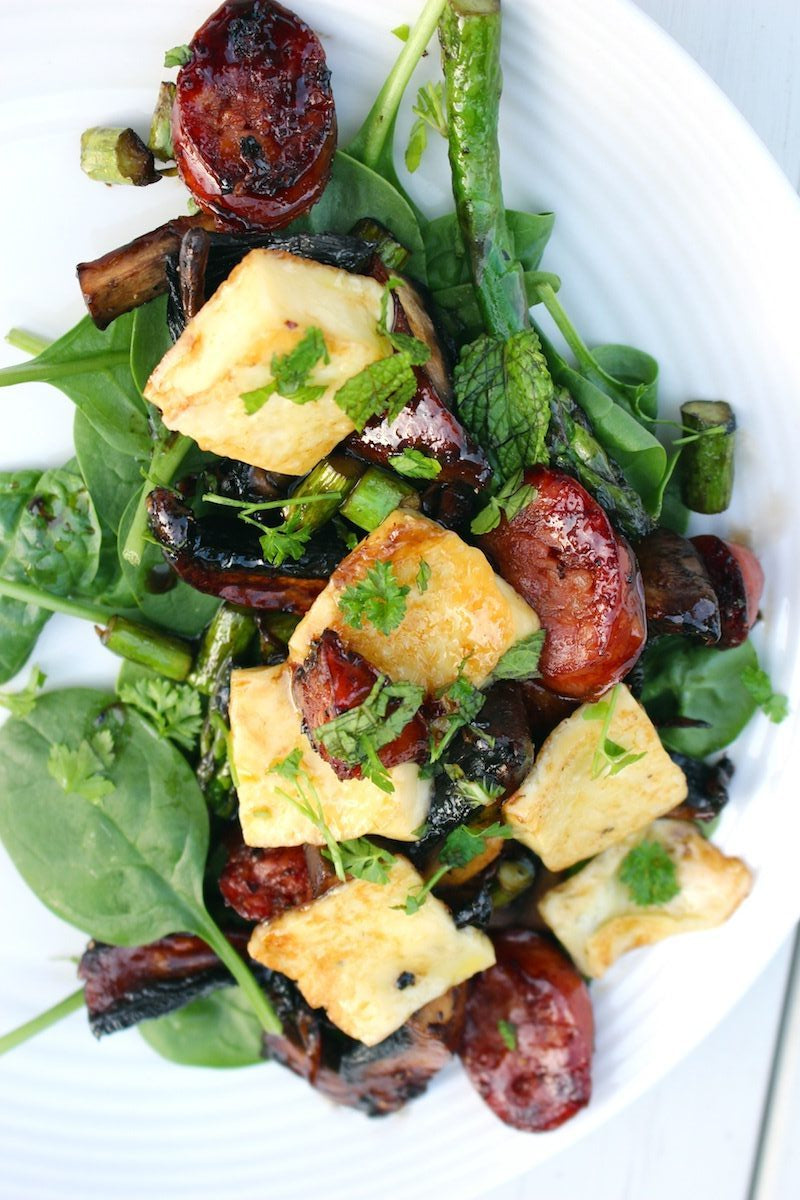 Sweet and Sticky Haloumi and Chorizo Salad
This chorizo & haloumi salad is the perfect meal for one, but can easily be scaled up to feed a family.
Quick side note: If you're new around here, a huge HELLO to you! Our mission is to help foodies like you discover the best Australian made artisan foods every season. 4 limited edition boxes a year delivered to your door to enjoy! You can check out our ABOUT US page or come say hi on Instagram @foodiescollective 
"I loooove haloumi, especially when it's served with chorizo which quite frankly, is a marriage made in heaven. This salad is gutsy and full of flavour, yet feminine with its hint of honey and fragrant herbs. If you need to bulk it up, you could add some roasted pumpkin or tender chick peas. It's a quick and easy recipe, ideal to whip up after a long and busy day at work". Kate - Chief foodie, Foodies Collective. 
Ingredients:
Chorizo Sausage half, cut into 1cm thick pieces (approx 60g)

Haloumi 4-6 bite sized pieces

Asparagus Spears 3, trimmed & roughly chopped

Portobello Mushroom 1 large, chopped into thick wedges

Baby Spinach Leaves large handful, washed

Caramelised Balsamic Vinegar 2 tsp

Honey 1 tsp

Extra Virgin Olive Oil 1 tsp

Parsley leaves 1 tsp, chopped

Mint Leaves 1 tsp, chopped
Method:
Firstly place the baby spinach leaves in the centre of a dinner plate and put aside.
Place the slices of chorizo in a dry frypan (no oil) over a medium-high heat. Cook for 1 min on each side or until they start to brown. The natural oil of the chorizo will be released throughout the cooking process. Keep this in the pan as it's packed with flavour.
Add 1 tsp of the caramelised balsamic vinegar and shake the pan to coat the chorizo well. Next add the mushroom and asparagus spears. Cook for a further 2 mins, mixing with the chorizo. Push the chorizo, mushroom and asparagus to one side of the pan, adding the haloumi cheese to the open space. Cook the pieces of haloumi for approx 30 secs on each side or until golden. Add the remaining caramelised balsamic vinegar, olive oil and honey to the pan. Toss until all ingredients are covered well with the sweet & sticky sauce.
Season with salt and pepper. Serve immediately on top of the bed of baby spinach leaves with a sprinkling of fresh parsley and mint.
Serves 1 happily (but can be increased to serve a gathering of friends or family)