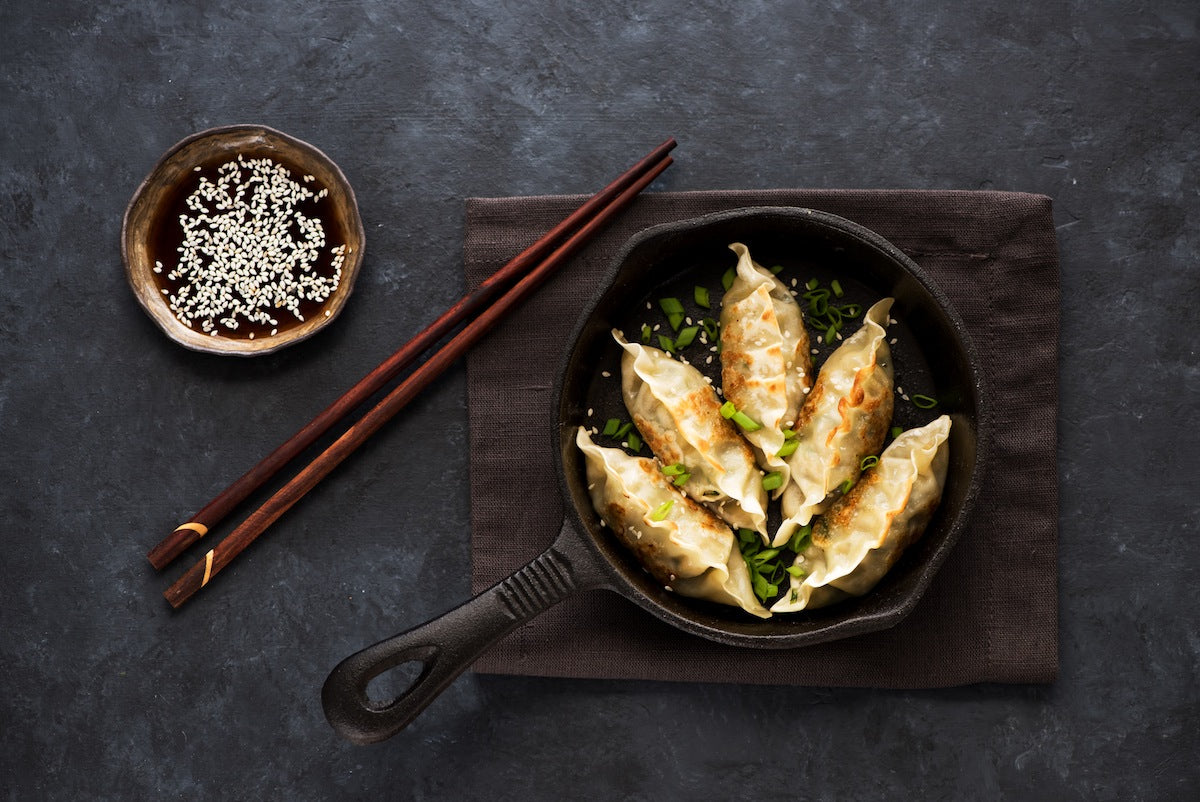 Zingy Ginger & Pork Pan-Fried Dumplings
We love a recipe that gets the whole family together. This is a great one to involve your little ones, helping them to learn more about food, cooking and to just have some fun with it. The end result is a fun shared eating experience for everyone.
These zingy ginger & pork dumplings are served with the delicate & fragrant NOGO Ginger Sauce, found inside the latest
Discovery Box
.
Zingy Ginger & Pork Dumplings
Ingredients:
30 dumpling wraps (gow gee pastry)

250g pork mince (can also be chicken, beef or prawn)

1/4 cabbage (common), finely chopped

1/2 cup oyster mushrooms, diced

1/2 tb soy sauce or tamari

1/2 tb sesame oil

1/2 tb garlic infused olive oil

1/4 tsp chilli flakes (optional)

1/2 bunch spring onion (green part only), finely chopped

2 tb

NOGO Zingy Ginger Sauce
Method:
Dumpling fillings:
Heat garlic infused olive oil in pan, add cabbage, half of the spring onion and oyster mushroom and season with salt and pepper. Cook until wilted. Transfer to a large mixing bowl and set aside to cool for 10mins.

Add pork mince, chilli flakes, soy sauce, sesame oil, NOGO Zingy Ginger Sauce and the remaining spring onion to cabbage mixture. Mix until well combined.
Wrapping dumplings (see below for handy step-by-step images):
Place a ball of ½ tablespoon of filling in the centre of the dumpling wrapper. Brush wrapper's edges with water.

Fold wrapper in half and pinch the centre.

Wet reverse edges with water and fold 3 pleats.

Repeat on the other side.
Cooking dumplings:
Heat oil in large pan, place dumplings with flat side down and cook until bottom becomes golden brown.

Pour ¼ cup of water and close the lid immediately to let it steam for 2-3 minutes until dumpling wrapper is cooked.
Serve your delicious ginger & pork dumplings with NOGO
Zingy Ginger Sauce
, soy or tamari sauce.
Makes 30 dumplings.
Recipe courtesy of Kako Choi who is a fully accredited Practising Dietitian (APD) with a real passion in dietary management of Irritable Bowel Syndrome (IBS), particularly the use of the Low Fodmap Diet. #fodmapspotter
Experience these dumplings & your very own Discovery Box now. #tasteoflocal.