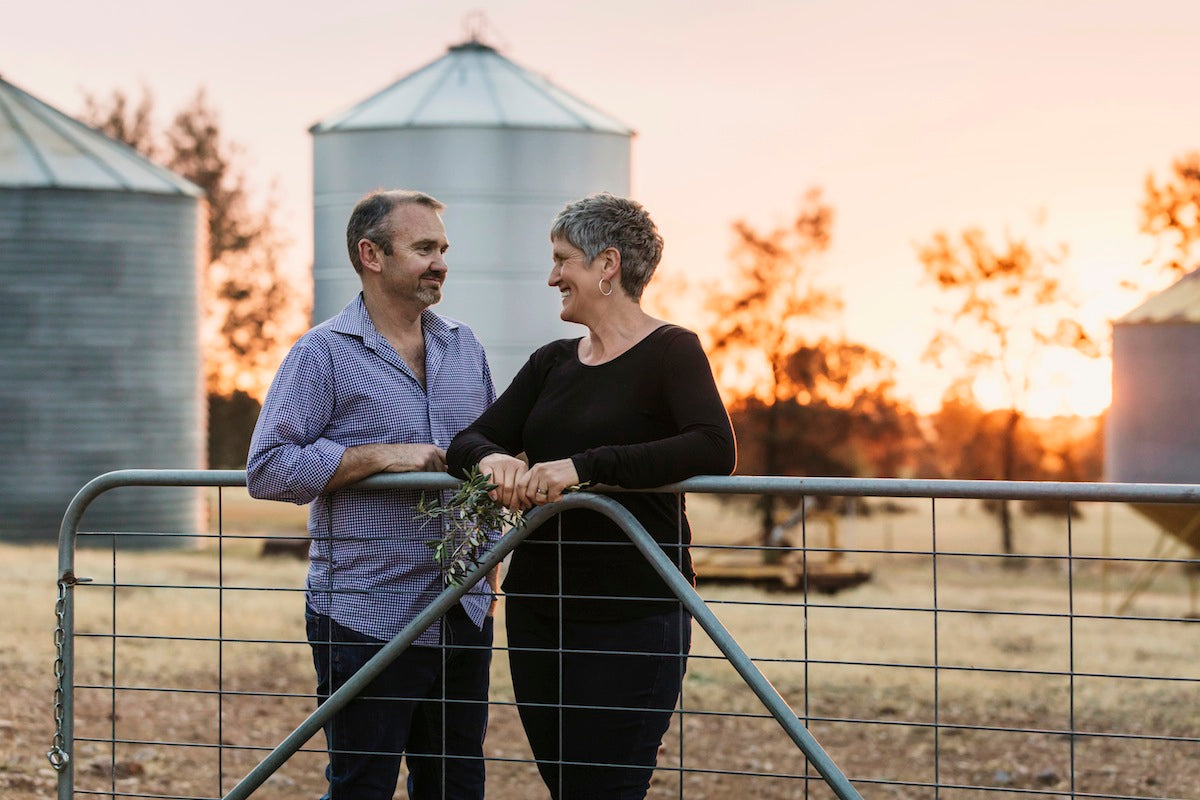 Meet The Locals - Brushwoods
Meet Kendra Kerrisk, a woman on a mission to reestablish the connection between farmer and you, the consumer. She's also the founder of the family operated business Brushwoods who produce freshly rolled oats and the most beautiful and natural extra virgin olive oil.
Their journey as food producers began in 2007 with the purchase of their first farm. But, things really started to get exciting in 2014 when they purchased a farm that just happened to have a rather neglected olive grove on it. Learn more about their story in our interview with Kendra below.
Brushwoods fresh Rolled Oats are featured in the new June/July 19 'Winter Feast!'
Discovery Box - try them for yourself!
What's your food philosophy?
Keep it real!! I believe in minimising processed food as much as possible - the fresher the food the 'realer' it is and that's where the magic happens. I also love how great food connects people - it brings them together physically and it creates conversation. When that conversation happens between producer and consumer the respect given to the food increases dramatically and that can't be undervalued.
What was the inspiration behind starting Brushwoods and its name?
The truth is that Brushwoods started when we purchased a farm which just happened to be home to a rather neglected olive grove. We had to make the decision about whether to keep the grove or to bulldoze it. The foodie in me wouldn't let it go to waste and so the journey as food producers began.
We had to come up with a name that had an origin, that paid respect to the physical location of where it all started. It also had to leave the door open to other foods just in case we decided to do the whole Maggie Beer thing. Our farm is on Brushwood Road and our nearest settlement is Brushwood. Whilst most people would have no idea where Brushwood is at least it was a talking point for the locals. They say you should conquer your own backyard before you take on the world and by using the name Brushwoods we found that our own backyard owned our brand as much as we do.
Can you tell us a little about the region you farm in?
We say that we live in a Bermuda Triangle. We are in the Wagga Wagga Shire, our postal address is Coolamon and our physical address is Ganmain - it means that we can claim all three towns as being ours. We are based in the Riverina which is known as a real food bowl. Climatically it is subject to extremes, rather cold and dreary winters and extremely hot and harsh summers.
As a small batch producer, what's the most challenging aspect to your job?
Probably trying to open doors. I find that potential stockists, chefs, bakers and cooks are so crazy busy that they don't answer emails and catching them on the phone is near impossible. Stopping in for face to face calls works where possible but is not practical geographically for most. I would love to be able to really connect with more stockists and chefs without making a nuisance of myself.
And the most rewarding?
Definitely hearing the feedback from our customers. I love that they love what I love!! I really feel so honoured to be putting such gorgeous ingredients in people's pantries and I love seeing their creations and hearing their feedback.
If we looked inside your fridge what would we find?
Loads of fresh fruit and vegetables. Never many left-overs as I have to teenage boys who are like bottomless pits. And cheese - what is the world without cheese?!!
What's your favourite season for food and why?
Summer. I love beautiful salads and outdoor entertaining!! Well, actually maybe spring before the flies and dust take over making outdoor entertaining quite unbearable.
What is one thing you couldn't work without?
Comfortable shoes. I just hate not being comfortable, it distracts me.
A lot of people are hesitant to work with family, how do you make it work (and keep the peace!)
Ha ha - mostly we don't work together on a day-to-day basis. My husband actually has full time paid employment off-farm which probably helps him to keep his sanity. To be honest, I try and run the business with minimal impact on any of the family. It is only at harvest and pruning that I call for all hands on deck for a day or two.
If you weren't a food producer, what would you be doing?
Well, I was a scientist before I was a food producer. Maybe I would still be doing that. Although, I love helping people so I reckon that if I couldn't be a food producer I would be a doctor in a little country town. The romantic type that can do house calls and have a clinic in the front rooms of a country home.
What advice would you give to someone whose considering launching their own food business?
Dig in and make it happen. There is nothing more rewarding than knowing that you are helping to feed a nation with nutritious, safe and wholesome food.
What would your ultimate last supper be?
I am simple at heart and I love nostalgic foods so I would have to say a lamb roast rubbed with rosemary and olive oil and served with mint sauce, roast potatoes and steamed greens. Follow that with a spiced apple crumble. Yes, get in my belly!!
To discover more and connect with Brushwoods click below:
Website: www.brushwoods.com.au
Instagram: www.instagram.com/brushwoodsaustralia
Facebook: www.facebook.com/brushwoods