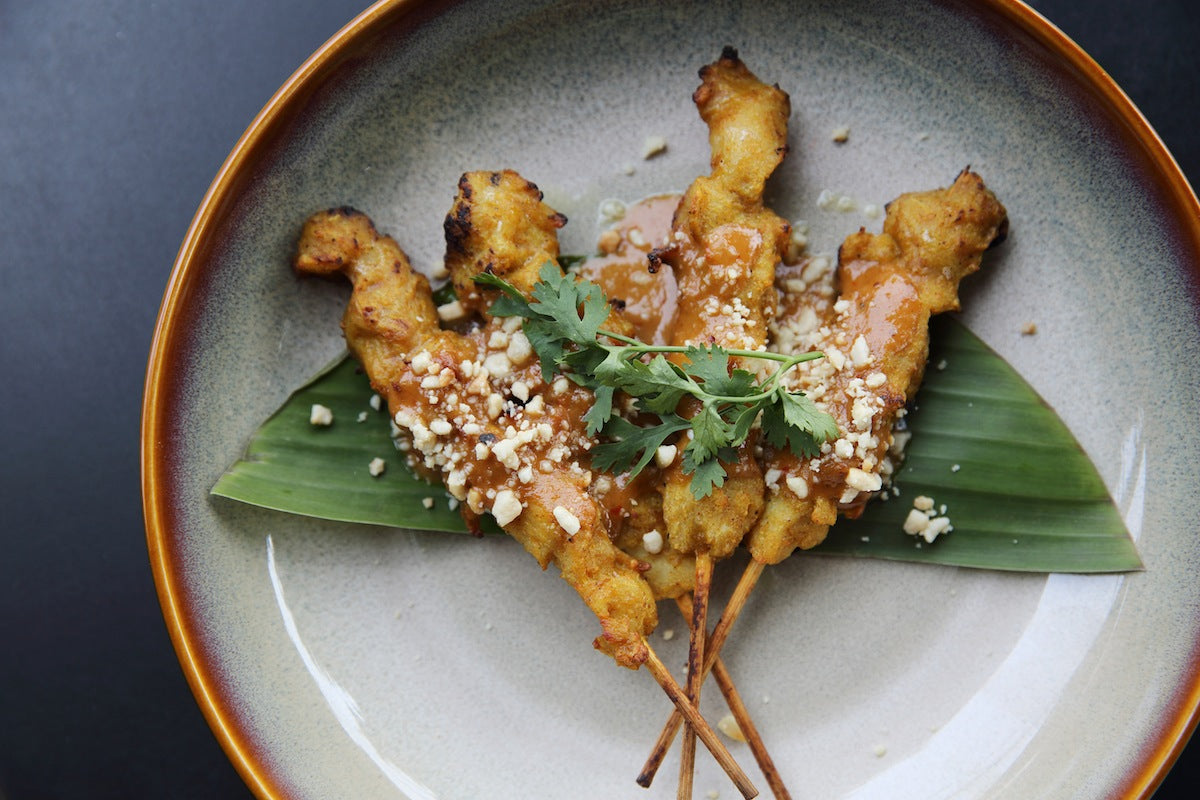 Traditional Satay Chicken Skewers
After partnering with the guys from Eighteen Thousand Islands, we asked them to share with us (& you!) their way of making the most delicious and authentic chicken satay skewers. So here it is!
"These satay skewers are based on a more traditional Indonesian size rather than the large kebab style skewers you'll find at many Australian backyard barbies."
The peanut packed Satay Sauce by Eighteen Thousand Islands is one of the star products inside the 'Wok On!'
Discovery Box
.
Chicken Satay Skewers
Ingredients:
1kg of boneless free range chicken thighs (much more tender than breast which dries out really fast)

30 x 20cm (8 inch) bamboo skewers

3 tb of

Eighteen Thousand Islands Kecap Manis

½ jar of

Eighteen Thousand Islands Satay Sauce

¼ of a lemon

Pinch of salt

Pinch of pepper

Fried shallots to garnish
Method:
Skewering:
In a large bowl or container, soak the bamboo skewers, fully immersed in water for approximately 10 minutes. This will help prevent them burning on the BBQ later. Dice the chicken into small pieces no larger than 2cm by 2cm. Small pieces will cook quicker on the char-grill or bbq, remain tender for longer and also strike a great balance with the peanut sauce. Thread 4-5 pieces onto each skewer, keeping the pieces touching at the pointy end of the stick. The meat should take up about a third of the bamboo skewer. This leaves plenty of stick to grip and rotate when it comes to barbequing.
The Marinade:
This is a really simple mixture to brush over the chicken once it's skewered. It'll give them a nice flavor but won't compete with the peanut sauce – only complement it. In a small bowl place the kecap manis. Squeeze the lemon into the bowl and add a pinch of salt and pepper. Add a tablespoon of water and mix. Brush the mixture over the chicken and leave for at least 5 minutes.
Char-grill or BBQ:
To achieve the ideal smoky flavour use a BBQ with charcoal. As that is often impractical, any BBQ will still produce good results. Place your chicken skewers so that the meat is over flame and the exposed stick is overhanging the edge of the BBQ ensuring it won't get burnt. As the chicken pieces and skewers are small, it should take no more than 6 minutes (rotating occasionally) to cook the skewers. This will obviously depend on the power of your BBQ. If you're using charcoal, have a fan handy to encourage flame if required.
The Sauce:
Open the jar of Eighteen Thousand Islands Satay Sauce and stir well with a spoon. Heat your desired amount gently on low heat for approximately a minute, taking care not to burn it.
Serving:
As soon as the chicken is ready, lay them in a single layer on a large serving plate. Pour the sauce evenly over the top and garnish with fried shallots. Serve with steaming hot white rice, extra kecap manis to taste and Eighteen Thousand Islands Chilli Sauce to spice things up! Makes 30 skewers. Serves 4-6
Recipe courtesy of Eighteen Thousand Islands
As seen in the exclusive 'Wok On!'
2019 mini zine, tucked inside the Discovery Box:
Experience your very own Discovery Box now and discover the #tasteoflocal.