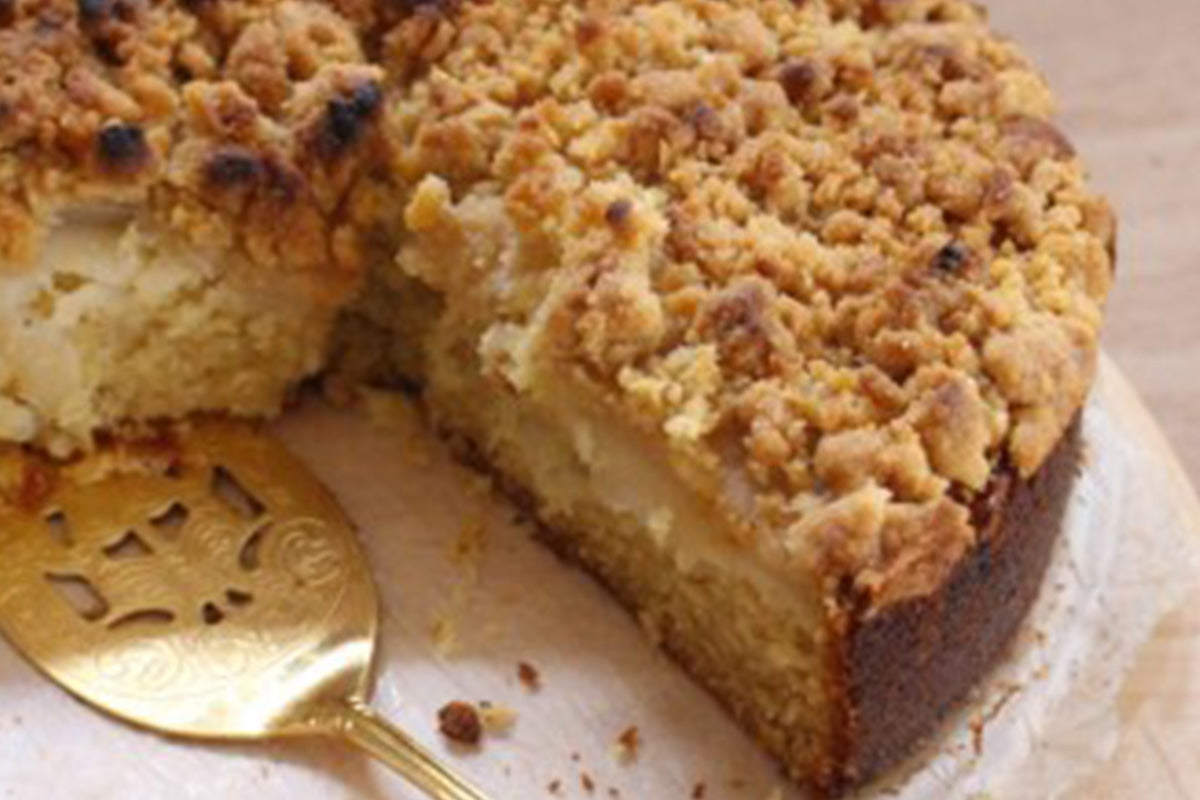 Apple Crumble Cake
A bubbling, freshly baked apple crumble topped with a generous dollop of creamy custard is one of my most gratifying desserts. The combination of the crunchy sugary topping with tender pieces of spiced apple is proof opposites attract. However now that we're well and truly into Summer, it's not entirely suitable for these hot balmy days. Without having to forfeit this delicious sweet and spicy crumbly dessert for an entire season, this Apple Crumble Cake is the perfect substitute, a merging of two much-loved indulgences.
Apple Crumble Cake
Butter 145g softened
Raw Caster Sugar 1 cup
Vanilla Extract 2 tsp
Eggs 2
Self Raising Flour 2 cups
Cream 1/2 cup
Milk 3/4 cup
Granny Smith Apples 3, peeled, quartered, cored & sliced thinly
Raw Caster Sugar 1/2 cup (extra)
Plain Flour 3/4 cup
Ground Cinnamon 1/2 tsp
Butter 75g cold, chopped
Preheat oven to 180 degrees Celsius. Line the base of a 24cm springform tin with baking paper and grease sides with a dab of softened butter. First up is the cake batter. Place the remaining softened butter, sugar and vanilla in a large mixing bowl. Whip for 5 mins until light & fluffy (you can either use an electric mixer with a whisk attachment or a hand held electric mixer). Add the eggs, one at a time, mixing thoroughly to combine. Add 1 cup self raising flour, stir to combine. Add cream and milk, beat to incorporate. Add remaining self-raising flour and stir until just mixed through. Pour cake batter into lined tin and top with slices of apple. Place apples around the rim, working your way into the centre (all facing the same direction-see pic). For the crumble topping, place the extra sugar, plain flour, cinnamon and butter into a small mixing bowl. Using your fingers, rub the butter into the dry ingredients to create a crumble like texture. Pour crumble on top of the apples. Place the cake tin on the middle shelf of the oven and bake for 1hr 15 mins until the cake is cooked & crumble is golden. (Check the crumble topping throughout to ensure it doesn't burn. If it's browning too quickly, place a piece of foil over the cake). Unleash the sides of the cake tin & allow to cool. A perfect accompaniment to this Apple Crumble Cake is either a dollop of double cream or a scoop of your favourite vanilla ice-cream.