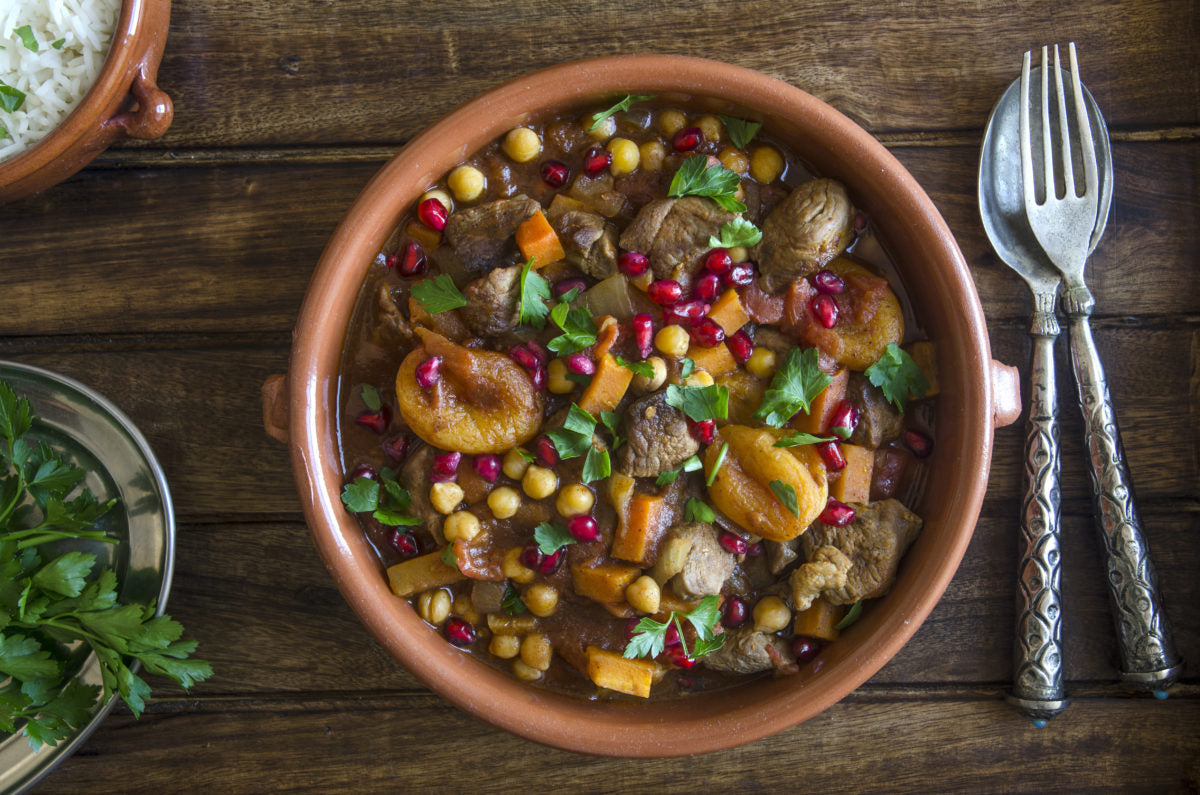 Chickpea & Lamb Tagine
This Chickpea, Lamb Tagine is our kind of comfort food. Warm, hearty & nourishing. It's also a one 'pot' kind of meal which is perfect for a lazy Sunday afternoon. On the flip side, served in a proper tagine with all the optional garnishes, it's a pretty impressive dish to serve at a dinner party, particularly in the middle of Winter alongside a fruit bottle of red wine. This recipe is really enjoyable to make, enjoy!
Chickpea & Lamb Tagine
Ingredients:
Paste
4 garlic cloves
2 shallots, finely chopped
1 long red chilli, chopped
stalks & roots from large bunch of coriander, finely chopped
Everything else
1.2kg diced lamb
1 TB Olive Oil
4 tsp ras el hanout spice mix
450g carrots, cut into bite sized chunks
200 brown onions, cut in half and sliced
6 small waxy potatoes, peeled and cut in half
400g sweet potatoes, peeled and cut into large pieces
1 400g can whole tomatoes
75g dried apricots (tip: look out for sulphur free, naturally dried)
2 TB honey
1-1.5 lt good quality chicken stock
1 lemon, zested
3 bay leaves
1 tsp sea salt
450g Pangkarra retorted chickpeas*, drained
Large bunch of coriander leaves, for serving
1 pomegranate, seeds for serving (optional)
Natural yoghurt, for serving (optional)
Fresh lemon wedges, for serving (optional)
Method:
For the paste, crush and grind all ingredients in a mortar and pestle until you have a paste like consistency. Alternatively, blitz all ingredients in a mini food processor. Heat olive oil in a large casserole dish and brown the lamb in batches for 2 mins over a high heat or until lightly coloured. Remove and set aside on a plate. Add paste and a little more olive oil into the casserole dish and gently fry over a medium heat for 2 mins. Add the ras el hanout spice mix and cook for a further minute. Toss in the carrots, onions, potatoes, sweet potatoes, tomatoes and apricots, turning over till the vegetables are coated with the paste and spice mix. Return the lamb to the dish, add honey, lemon zest and stock to just cover the lamb. Add bay leaves and 1 tsp salt. Bring to the boil, then reduce to a simmer. Leave uncovered for 1.5 - 2hrs. Give everything a good mix through every 20-30 mins, adding more stock if needed. Just before serving, stir through the retorted chickpeas and cook for a final 3-5 minutes until the chickpeas are heated through. To serve, top with pomegranate seeds, coriander leaves, dollop of yoghurt and lemon wedges. Also delicious on a bed of rice or fluffy couscous (why not try it with your From Basque With Love Moroccan couscous?). *If you can't find Pangkarra retorted chickpeas, substitute with other premium quality chickpeas.
Recipe by Kate Willbourn-Trevett
Serves 6-8
As seen in our
June
2017 mini zine, tucked inside the Discovery Box:
The Pangkarra chickpeas were featured within the June 17' Discovery Box. Want to discover & experience delicious local gems just like this? Order your very own Discovery Box now!