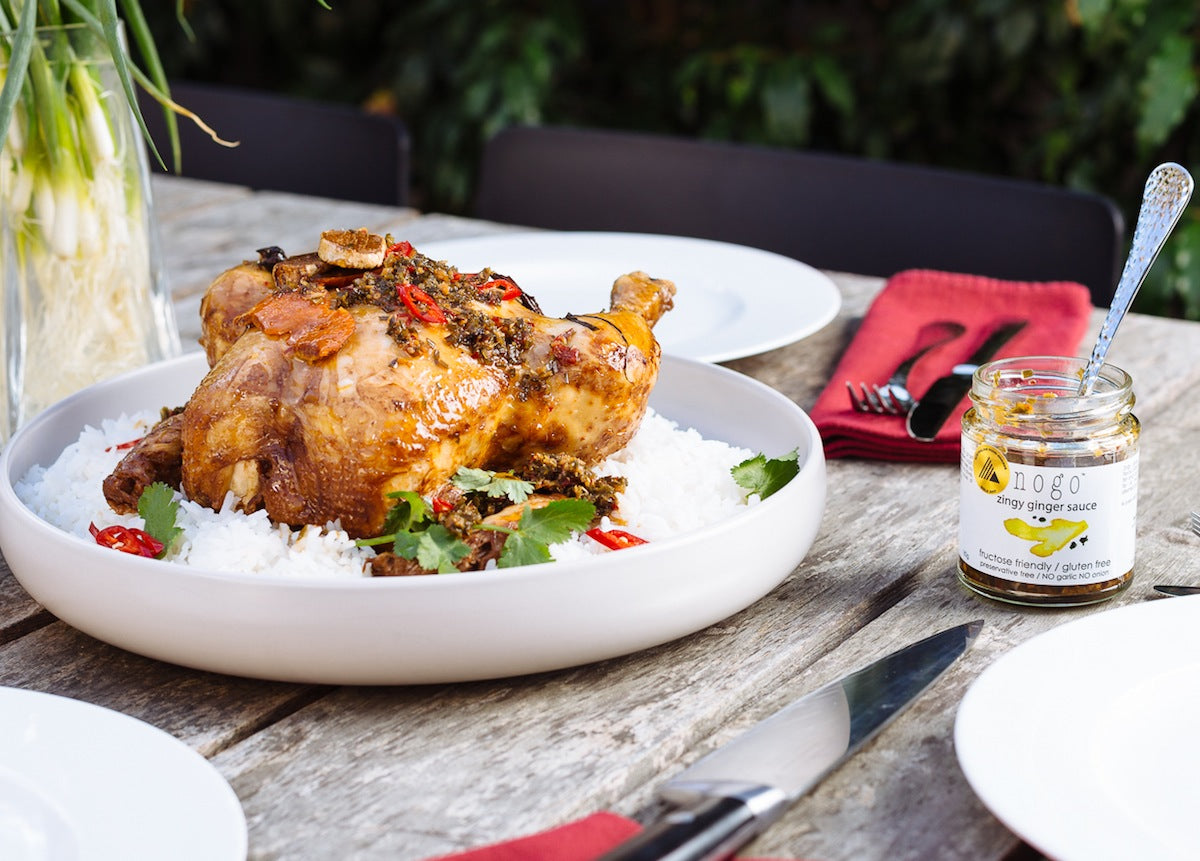 Roast Soy Chicken with Zingy Ginger Sauce
Jazz up a roast chicken dinner with this delicious soy marinade and delicious zingy ginger sauce. Create a whole roast chicken masterpiece or dinner in a flash using juicy chicken thighs.
We love the versatility of the Nogo Sauces Zingy Ginger Sauce. The zingy ginger and gentle Asian flavours pair beautifully with BBQ'd fish and chicken as seen here. You can try this now inside the new 'Wok On!'
Discovery Box
.
Roast Soy Chicken with Zingy Ginger Sauce
Ingredients:
6 chicken thigh fillets, or 1 whole chicken
1/2 cup soy sauce or tamari
1 tsp sesame oil
2 tsp brown sugar
2 cups jasmine rice
1 red chilli
1/2 bunch coriander
3 tb
NOGO Zingy Ginger Sauce
Method:
Marinade chicken in soy, sesame oil and sugar for a minimum of 30 minutes, or preferably overnight in the refrigerator.
For a full chicken, heat your oven to 220C. Place marinated chicken in a roasting pan. Roast for 1 hour or until juices run clear when chicken thigh is pierced with a skewer. Stand, covered, for 10 minutes.
If you are using chicken thighs, cook on a barbecue plate or fry pan until cooked through. Cut cooked chicken thighs into 2cm thick slices.
Meanwhile whilst the chicken is cooking, cook the jasmine rice as per packet instructions, in rice cooker, or steamer. Keep hot.
Serve the steamed rice on a large platter. Place cooked chicken on top of the rice.
Spoon desired amount of Zingy Ginger Sauce (approx 3 heaped tbs) on top of chicken and rice.
Sprinkle with sliced red chilli and coriander (use as much or as little as you would like here).
You can serve this dish alongside steamed Chinese broccoli dressed with lemon juice & 1 tsp sesame oil, or an Asian-inspired coleslaw salad.
Recipe courtesy of Nogo Sauces
As seen in our exclusive 'Wok On!'
2019 mini zine, tucked inside the Discovery Box:
Experience your very own Discovery Box now and discover the #tasteoflocal.