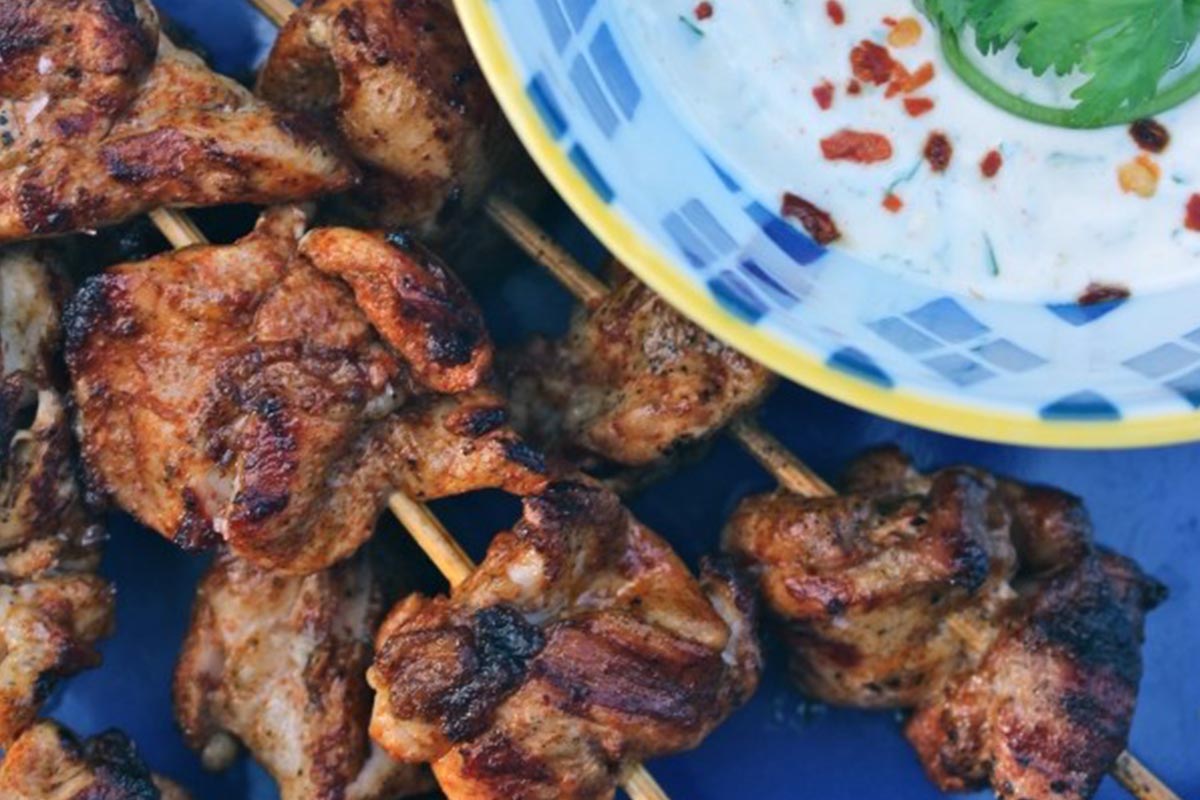 Easy Midweek Dinner - Smokey Chicken Kebabs with Yoghurt Dipping Sauce
Regardless of whether you work long hours in an office or are a busy mum at home, most of us are always on the hunt for a quick & easy dinner solution. This Smokey Chicken Kebab & Yoghurt Dipping Sauce recipe is a guaranteed crowd pleaser & can be on the dinner table within 30 mins.
At the beginning of each week there are certain things that I currently stock up on to help with those crazy week nights. You know, those days when you're short of time & energy yet want something delicious for dinner. With the below basics, I can create a range of healthy, flavoursome meals on the fly.
Bag of baby or carisma potatoes
Whole lettuce
Punnet of tomatoes
Fresh herbs
Lemon
Sweetcorn
Asparagus
Frozen peas
Eggs
Favourite cheese
Greek Yoghurt
Couscous
Nuts & Dried Fruit
Penne or Orecchiette Pasta
Can of chickpeas or butter beans
Chicken breasts or thighs
Smoked bacon rashers
Pork Cutlets
Smoked Salmon or Trout Fillet
Good Quality tinned tuna
If you're wondering what you can create with the above, here is a glimpse of what I've recently been whipping up - Omelette with a side salad topped with nuts & cheese, grilled marinated pork cutlet with a chilli buttered corn cob and chargrilled asparagus, pan fried smoked salmon fillet with a steamed baby potato and green salad full of fresh herbs or perhaps
smokey chicken kebabs
on top of a fluffy bed of couscous mixed with nuts, dried fruit & fresh herbs and salad
wink wink nudge nudge
....you can find this last recipe below.
Smokey Chicken Kebabs with Yoghurt Dipping Sauce
Free Range Chicken Thighs 4
Smoked Paprika 1 TB
Olive Oil 2 TB
Greek Yoghurt 1/2 cup
Lemon 1 (use 1 tsp zest + 1 tsp juice)
Coriander 1/4 finely chopped
Cayenne Pepper 1/4 tsp
Dried Chilli Flakes pinch
Olive Oil 1 tsp
Cut the chicken thighs into large bite sized pieces (Cut each thigh into approx 3 pieces). In a small bowl marinate the chicken with the Smoked Paprika & 1 TB of Olive Oil, ensure all of the chicken is smothered. Cover with plastic wrap and leave in fridge for a min of 15mins (leave longer if you have the time). In the meantime, soak 4-6 wooden skewers in cold water (this helps to prevent the skewers from burning on the bbq). Mix together the greek yoghurt, lemon zest and juice, coriander, cayenne pepper and olive oil. Season with sea salt & pepper. Set aside in the fridge. (You can make this the day before if you like) Remove the chicken from the fridge at least 5-10 mins before cooking to bring it back to room temperature. Thread approx 3 pieces of chicken onto 1 skewer. Repeat until all skewers are done. Heat a bbq to a medium-high heat and cook the chicken kebabs for 8-10 mins or until golden brown. Rotate skewers halfway through cooking. Serve the chicken kebabs on a serving platter with a side bowl of the yoghurt dipping sauce. Sprinkle the pinch of dried chilli flakes over the yoghurt & a final sprig of coriander. Accompany with a fresh garden salad, grilled corn or perhaps some fluffy couscous.
How do you plan your week in the kitchen? What's your go to recipe if you're stuck for ideas? Share below, we'd love to hear from you.