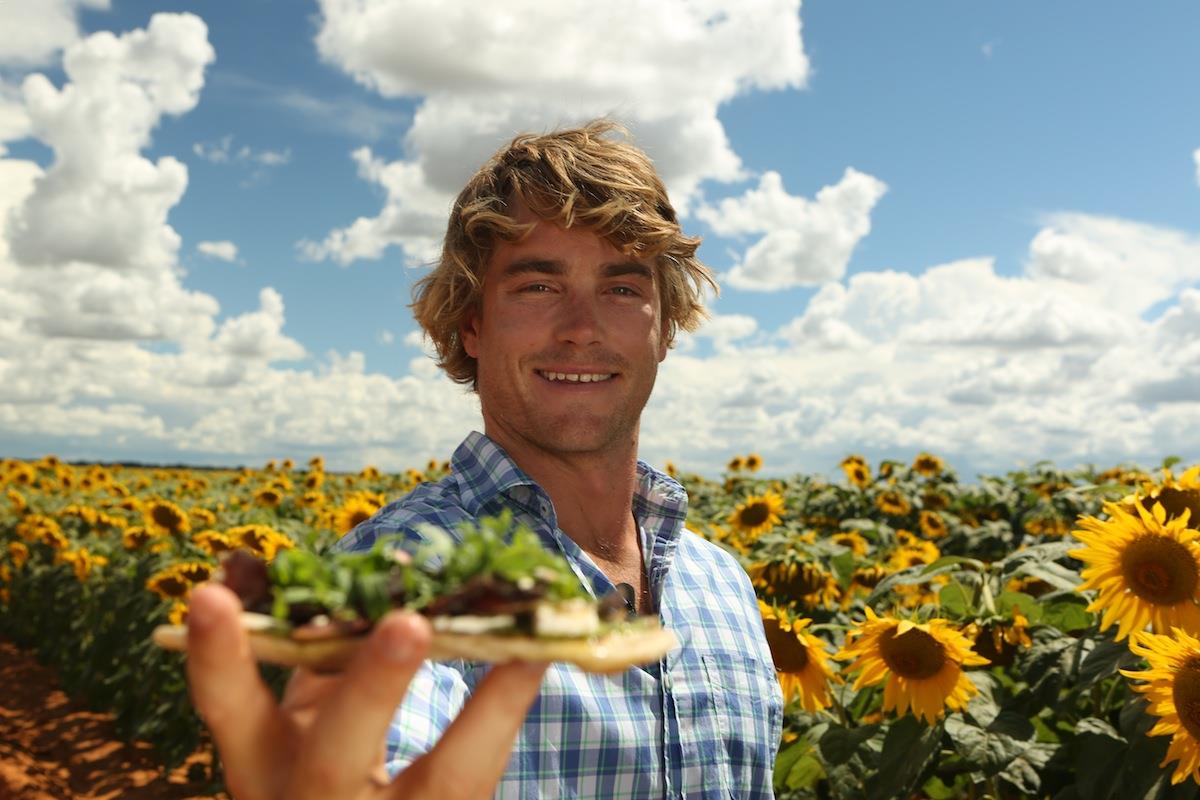 Friday Foodie In Focus - Hayden Quinn
Hayden Quinn has achieved so much already and he's only just firing up. Just hearing what he's been up to & what he's set out to achieve this year makes me exhausted....this is one determined & passionate guy!
From studying marine biology, to being a surf life guard, contending in Masterchef & launching a cookbook, not to mention being a honest, humorous & all round good guy, Hayden is an awesome role model for us all. We're thrilled that Hayden had the time to answer some questions for foodies agenda and be this weeks Friday Foodie In Focus. As a fellow Northern Beaches local, I couldn't help throw in a couple of bonus questions too...
What's your food philosophy?
Food is all about nutrition, fuel, balance, sharing and love - it's about getting people together and eating an amazing meal that will make you feel good. My food is bright, vibrant with punchy flavours! I like to be able to to cook and create food that is accessible to your everyday person, stuff my mates can have a crack at and really enjoy :)
What's the inspiration behind your mantra 'Live Life, Eat Well, Travel Far'?
I guess thats something I have held in high regard my whole life, basically since I finished high school I have tried to do just that, travel as much as I can, meet amazing people, eat incredible food and all of that basically sums up living life : ) that was 10/11 years ago haha now I am still doing it but I am so lucky and grateful to be able to share these adventures with so many others, I hope that what I do in food, in travel, in life and in business can excite people to be able to want to do the same! I guess those three statements sort of sum up my life goals.
What's your first memory in the kitchen?
ooohhh this is always a hard question! my mum was an amazing cook (home economist) she wrote recipes, tested, took demos all that great stuff waaaaaaay back the in day (she's going to be annoyed with the length of my "waaaaaaaay" haha) before it was the "cool thing". She knew her food and ensured that us as a family would have amazing meals on the table, whenever or whatever it may be, even if it was left overs or scraps or just pulling food out of thin air (mum can magically do that somehow!!!) but for me it was just being around her in the kitchen and watching what she did and being super annoying and asking a million questions. Learning that way, then when I was old enough and could reach the bench I started cooking. One of my first real memories of cooking was making "Toad in a Hole" (recipe is in my book, although you dont really need a recipe for that one haha) I used to pull it out for an after school snack or weekend breakfast. Simple, easy, fun but with a little skill thrown in as well...
What personal achievement are you most proud of?
One of my favourite things in the world and one of my proudest achievements is to be able to create opportunities for people. Through what I do with different businesses and opportunities I have I am able to provide others with not only employment (which is such a rewarding and special thing) but also opportunities for themselves to grow as individuals and professionals. I love that.
Any new & exciting projects on the horizon
Lost of awesome stuff happening!
Working on a new TV series to be shot here in Australia with another great Aussie cook - a bit of a revamp of a classic! Cant say too much but it is going to be awesome!!! I am super pumped.

Heading back to South Africa to shoot some more stuff for my show on SABC3 called Hayden Quinn South Africa. This series first went to air last year, it was 13 parts and covered all things from food, to adventure to sustainability and conservation.

Currently in the early stages of developing a second cook book idea for 2016. It's a bit of a slow process but what we - the publishers and I, are coming up with are really great fun, interesting ideas.

I also have a YouTube Channel which I am really trying to develop (I love using YouTube as a medium for sharing who I am and what I love). We have two content streams on the channel; UNREFINED which is all about going on a "food adventure" then we have Baking with Nutorious (check out video below) where I team up with @nutorious_ to learn a little more about baking (not my strong point!)
Then there are a couple of other business style ventures, one of which is Kooks Wine which is the best Aussie wine you can get your hands on!!! Its "CRAZY GOOD" we say haha so basically at Kooks we are all about social enterprise with 50% of profits going to different causes / groups / charities to make people feel good. Its a great product and we have a Barossa Shiraz and a Yarra Chardy and you can grab them at Dan Murphy's or on JetStar (and soon be be flying high in the sky on another awesome Aussie airline!) Then we have The Cube Gym which I am a partner in with two very good mates (Sam and Lewis) we started up The Cube just over a year ago and now its a very well established community of guys and girls who love to keep fit and active and try not to take themselves too seriously! We are based on the Northern Beaches check here and have some great classes for all levels of fitness :) Our instagram is pretty awesome too: www.instagram.com/thecubegym_
Always awesome new opportunities around every corner!!!
If I looked inside your fridge what would I find?
hahahaha um, beers, Kooks Wine, sweet potato, cheese (too much), macha powder, vital greens, eggs, dijon mustard, butter, miso paste, milk, broccoli, cold water, smokey bbq sauce (love that stuff haha)
What would your last supper be?
Entree: Sean Preslands Snapper Sashimi dish he does with white soy and yuzu at Sake in the Rocks

Main: Best pork ribs you could find me with bucket loads of sauce and shoestring fries, and pickles...

Dessert: Chocolate Brownie with amazing vanilla ice-cream (and someone friendly to share it with!)
Bonus Questions: Favourite Northern Beaches beach for a surf and favourite spot for a bite to eat?
Have to say The Bronx (Dee Why) for a surf, its the beach I grew up on from a tiny little fella, love the place. Fave spot for a bite (post surf) would be Little Stella Collaroy (aka Taste2Deli) they are doing some great new healthy "bowl" options after their move into a bigger space : ) What an awesome interview, such an inspiring guy. We can't wait to see what all of 2015 brings for Hayden.
To connect & follow Hayden's future adventures click below: