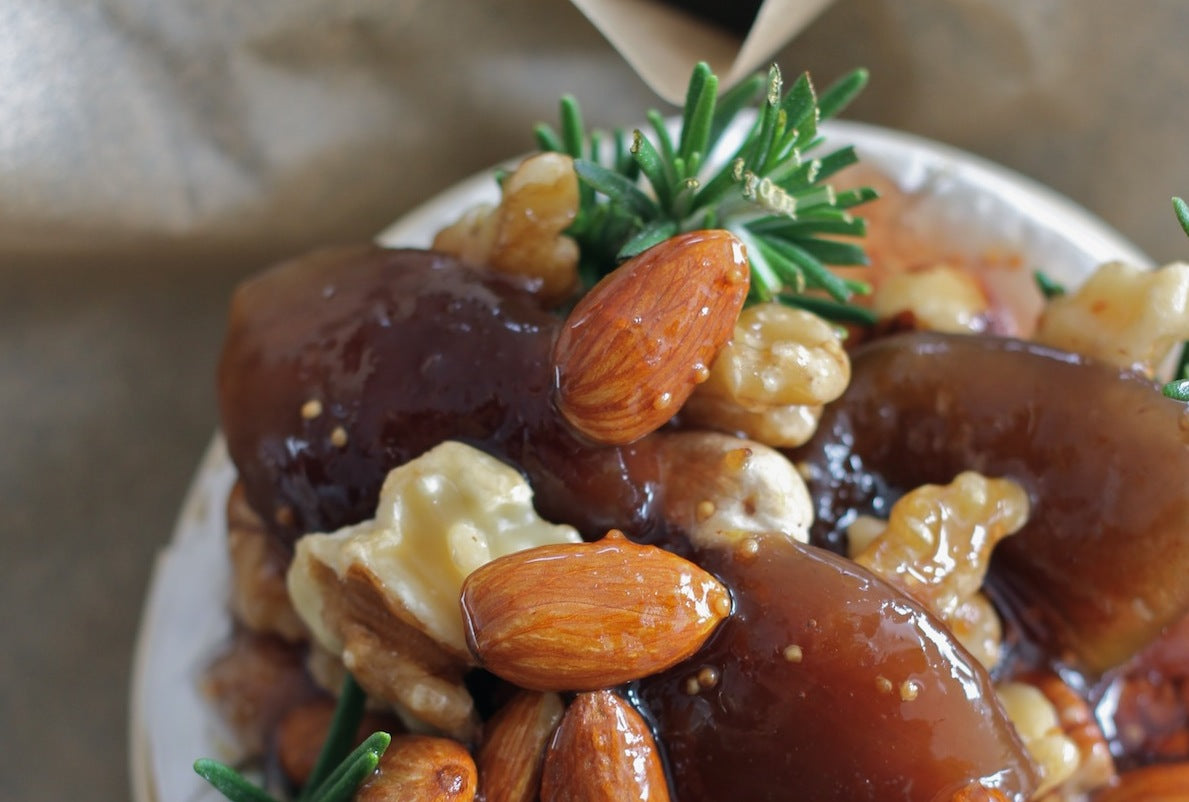 Baked Camembert with gooey fig jam & roasted nuts
Yes you read correctly, gooey fig jam. And while we're at it, the baked camembert cheese gets pretty damn gooey too. I go weak in the knees for this kind of gooey cheesy goodness. Are you with me? This baked camembert with fig jam and roasted nuts makes the ideal starter when you're short of time
(which is most of the time these days)
but you still want something that extra bit special. We may be stepping back in time with this recipe, but I have to say, I've never eaten it like this before.
This is a modern-day supercharged version of the retro classic.
Like most of our favourite recipes, the beauty is within the simplicity of the ingredients (& method). The combined flavour from the small handful of ingredients is really mind blowing.
Baked Camembert with fig jam & roasted nuts
Author:
Prep time:
Cook time:
Total time:
Ingredients
Camembert in wooden box. 1
Fig Jam. 2 TB (chunky jam if possible)
Roasted unsalted mixed nuts, 1 large handful (we used walnuts, almonds, brazil nuts, cashews)
Fresh rosemary, 1 sprig cut into 4 pieces
Instructions
Pre heat oven to 180 degrees celsius. Line a small baking tray with parchment paper.
Remove the lid and any plastic wrapping from the camembert box.. Keeping the camembert in the base of the box, place it in the middle of the baking tray. Gently score the top of the camembert using a sharp knife. Just a few shallow cuts is fine. Spread 1 TB of the fig jam on top of the cheese. Pierce the 4 rosemary pieces into the camembert, around the outside of the cheese. In a small bowl mix together the nuts and the remaining 1 TB of the fig jam until all the nuts are coated. Gently pile the nuts on top of the camembert. Bake in the oven for approx 8-10 mins. You'll see that the cheese has puffed up a little and the jam is starting to ooze down the cheese. Remove from the oven and let it cool slightly before serving.
Notes: Delicious served warm with fresh figs and crackers.
What's your 'weak at the knees' kind of food? Is it gooey cheese like this? Fess up below