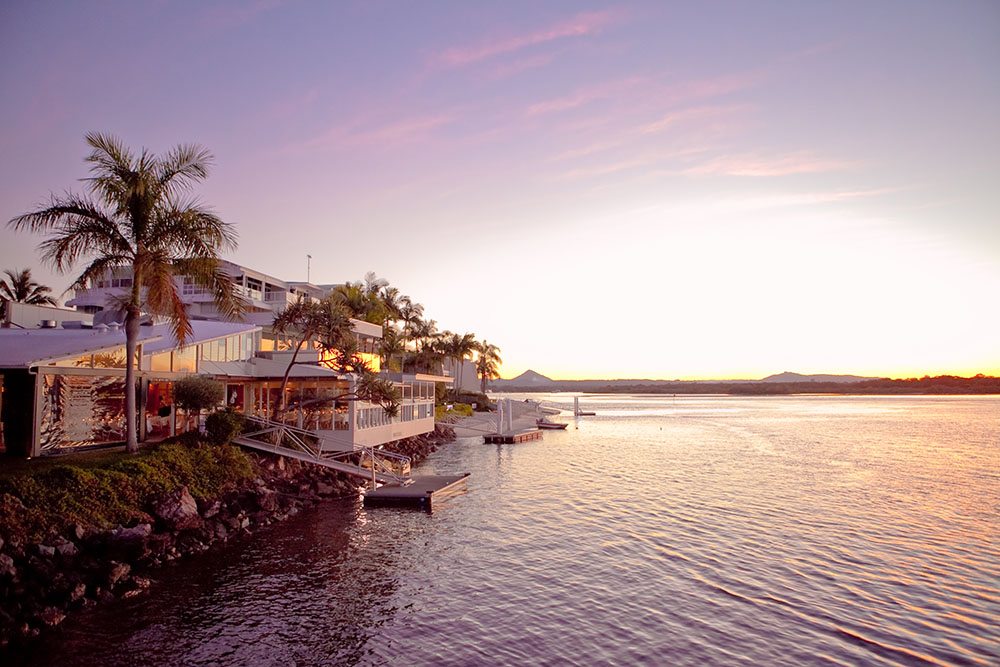 Guide to Eat, Play & Rest in Noosa
If we had to sum up Noosa in just a few words, we'd say "Noosa is Australia'a version of the Cote d'Azur". It's a mecca for foodies, a haven for sun bathers and has a scenic landscape which is up there with some of the best European coastlines. It's unapologetically one of Australia's most upmarket coastal towns & escapes. Over the past six years we've visited Noosa 7 times, so it's fair to say it's a favourite destination of ours. My hubby and I actually got married there, declaring our love to each other under the canopy of trees at Hidden Grove, so it's also a pretty special place for us (ok soppy story over now). Since it's a destination we've frequented a fair few times now, I wanted to share with you our Noosa Guide - it showcases our favourite places to Eat, Play & Rest so you too can experience the Noosa we've fallen in love with.

Eat
Indulge
Sails Restaurant
is quintessentially Noosa. It is one of the most idyllic & romantic restaurants, perfect to celebrate a special occasion or to just spoil yourself for one night. The menu is a celebration of modern Australia - 75 Hastings St, Noosa Heads
Rickys River Bar & Restaurant
has a envious position perched on the banks of the Noosa River. It's the perfect place for a leisurely long lunch or romantic dinner. The menu showcases the finest local & seasonal produce - 2 Quamby Place, Noosa Heads
Bistro C
is one of our firm favourites in Noosa for breakfast, lunch and/or dinner. It never fails to impress us with its modern australian + asian influenced food and unbeatable beach front location - 49 Hastings St (on the beach), Noosa Heads
Thomas Corner Eatery
as the name suggests is positioned on a corner overlooking the Noosa River. With its airy design it offers a relaxed yet excellent quality dining experience breakfast, lunch or dinner - 1/201 Gympie Terrace, Noosaville
Rock Salt
is one of the few middle - upper range restaurants which offer the option to byo. Their crispy roast duck alone is worth the visit - 2/2 Quamby Place, Noosa Heads
Aromas
is positioned smack bang in the middle of Hasting's Street. With its outward facing Parisian style seating, it's the perfect place to stop off at for a dose of caffeine or apperitif and watch the world pass by. Also a great spot for breakky, lunch and dinner. We found it to be a great place to eat out with bub in her pram. Aromas is a cross between Indulge and Cheap & Cheerful. 32 Hastings St, Noosa Heads
Rickys
Cheap & Cheerful
El Capitano
pizzeria is one of the newest kids on the block. With its 72 hr organic fermented pizza dough, you know you're not in for your sub standard pizza. Pizza's here are wood fired with a beautiful chewy & crisp consistency. Toppings are simple but gourmet. We tried the Local Prawn pizza and Fennel & Pork Sausage, both perfecto. A casual spot to eat in or grab takeaway & sit on the beach front. 52 Hastings St, Noosa Heads (upstairs)
iPazzi Italian
is owned & run by a Sicilian couple serving up authentic, organic, locally sourced and produced food. A real locals favourite (+ byo) - 28-30 Sunshine Beach Rd, Noosa Heads
A Taste Of Spice
is cheap & cheerful & one of the best takeaway options in Noosa. It also has a few tables for dining in (+ byo) - 4/36 Sunshine Beach Rd, Noosa Heads
Betty Burgers
Family friendly in the heart of Noosa. Our pick is Betty's Classic Beef Burger with a side of crispy shoestring fries - 2/50 Hastings St, Noosa Heads
Bean Drop
was our local for the week providing our morning dose of caffeine - 75 Noosa Drive, Noosa Heads
Little Cove Coffee
is a friendly local roaster & cafe - 4/205 Weyba Rd, Noosaville
Grind Cafe
in Noosaville is a sure bet for breakfast. Located on Gympie Terrace facing the Noosa River, it's a great spot to kick start the day. After you've fuelled up with your big breaky, take a stroll along the river promenade.
El Capitano Noosa
Play
Explore
Noosa National Park
Take the Tanglewood and Coastal tracks where you may be lucky enough to spot koalas snoozing in the fork of gum trees and turtles cruising in the waters near Hells Gate. Ask the ranger at the park office if any koalas have been spotted that day & to point you in the right direction.
Noosa Farmers Markets
are NOT to be missed. They are on every Sunday morning between 7am - 12pm.
Eumundi Markets
are open every Wed and Sat morning. Each stall holder is guided by the ethos "we make it, bake it, grow it, sew it".
Boardwalk Boats
you can hire Stand Up Paddle Boards or a range of small Boats. Anyone can hire a boat as no boat license is required. It's such a great way to explore the Noosa river and nearby towns.
Noosa Main Beach
and
Little Cove Beach
are our favourite swimming beaches in Noosa.
Shopping
Lamington
is a quirky, creative, locally inspired gift/homewares shop on Hastings St
Signature on Hastings is a beautiful homewares shop on Hastings Street that stocks unique products which are quintessentially Noosa style.
Bow and Arrow Trading
stocks his & her local and well known brands on Hastings Street
Finders Keepers
in Peregian Beach has a fab selection of homeware gifts & eclectic items
The Romantic
is a high fashion, jewellery & gift store in Peregian Beach
Tiny Style
is a trendy clothes shop for little people in Noosaville. They also have an extensive on-line store so you don't have to wait till you're in Noosa. Check them out.
Noosa Main Beach
Rest
The Sebel
smack bang in the middle of Hastings St. Self serviced apartments, two pools, spa & a gymnasium. (Ok, we have a super tip for you...there are a few apartments that are rented out privately within this complex and are therefore cheaper. Go to
Noosa Holiday Rentals
and check out the ones under Laguna on Hastings.) If you are however looking for a hotel experience, check out the newly refurbished
Sofitel Hotel
on Hastings St (previously the Sheraton). The location is perfect and since having the much needed makeover, it's worth checking out. It's also home to celebrity chef, Peter Kuruvita's restaurant
Noosa Beach House
.
The Rise Apartments
are spacious, modern and family friendly. Only a few minutes walk into Hastings St.
Sea Haven
absolute beachfront apartments on Noosa Main Beach with 3 pools.
Noosa Breeze Villa
is great value for money & is pet friendly, positioned on Noosa Heads hill. *If you're a family and are needing baby/children's hire equipment, we can personally recommend
All Baby Hire
The Sofitel Hotel
For further information visit
www.visitnoosa.com.au
*In May Noosa will be home to the International Food & Wine Festival, a huge event on any foodies calendar. Find out more details
here
. If you enjoyed this post, check out our top
Australian Foodie Escapes