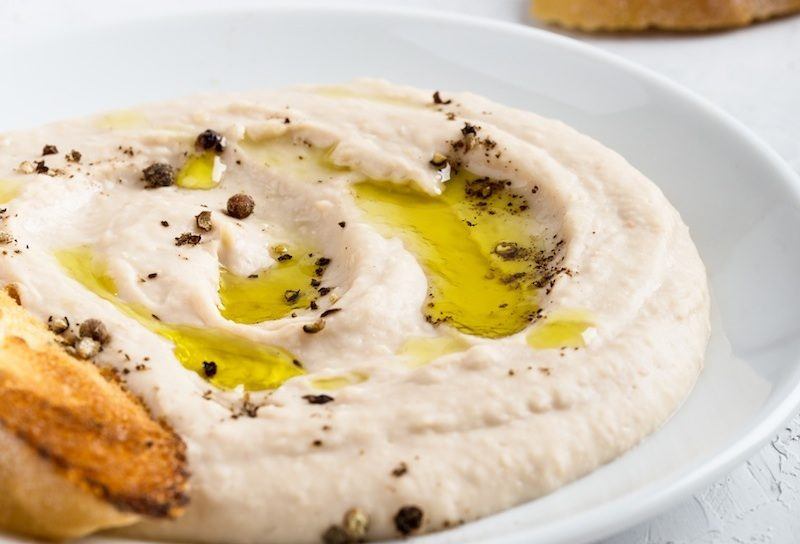 Quick White Bean & Lemon Dip
This month we're obsessed with all things 'snack' related. For us, the best snacks are of course delicious, but also easy to make, mostly because our cravings quickly creep up on us and we need a savoury or sweet fix fast!
This Quick White Bean & Lemon Dip is just this, delicious and easy to whip up.
Most of us will already have these ingredients in the pantry, so it's just a matter of blitzing them together and serving with your favourite crackers, crusty bread or fresh veggies. Happy Snacking!
Quick White Bean & Lemon Dip
Ingredients:
420g can butter beans or cannellini beans

1 garlic clove, crushed

1/2 tsp finely grated lemon rind

1 TB lemon juice

2 TB extra virgin olive oil, plus extra for serving

1 TB finely chopped fresh parsley or thyme, plus extra for serving
Method:
Drain and rinse beans.
Place beans, garlic, lemon rind, juice, oil and herbs in a food processor. Blend until smooth and combined. Season to taste with sea salt and pepper.
Transfer mixture to a serving bowl. Sprinkle with extra herbs and drizzle with olive oil.
Serve with crusty bread or the
Kitz Living Foods Rosemary & Black Pepper Crackers
(found inside the latest Discovery Box)
.
Recipe by Kate Willbourn-Trevett
As seen in our exclusive 'Snack Attack'
2018 mini zine, tucked inside the Discovery Box:
Experience your very own Discovery Box now and discover the #tasteoflocal.