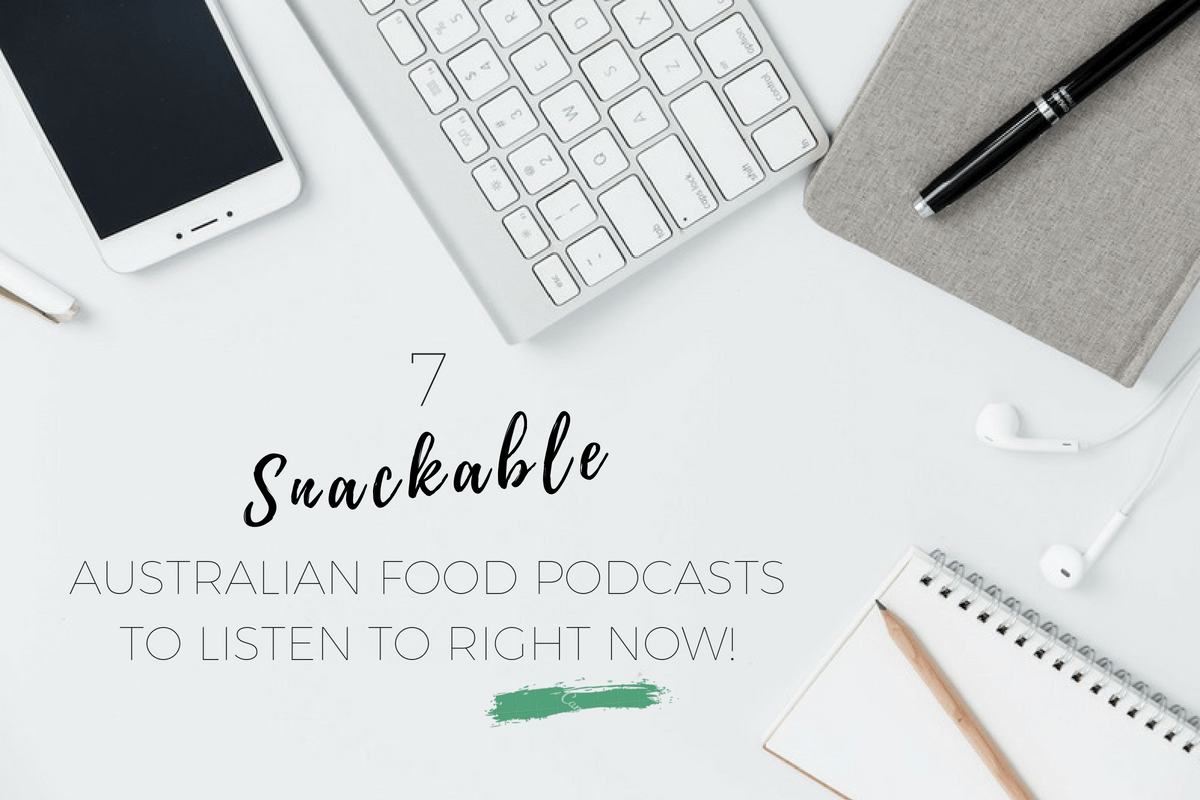 7 Australian Food Podcasts To Listen To Right Now
Foodies Collective Store Admin
The best podcasts are reinvigorating and entertaining, allowing you to escape from your day for a few precious minutes (or more!) 

We just love the fact that podcasts are a on demand, on the go tool to learn and be inspired.
They are the 21st century version of radio.
"When you talk, you are only repeating what you already know. But if you listen, you may learn something NEW." - Dalai Lama

 
So here you go foodies, our round up of the best Australian food podcasts:
One // The Pass
Welcome to Australia's freshest food podcast. The Pass is an interview-packed guide to some of the world's top eating experiences. Hosted by Magdalena Roze, the podcast ventures into the food lives of world-class chefs, food critics, writers and restaurateurs who candidly take us on journeys of their favourite places and tastes at home and away. All of the episodes are recorded outside of a studio – the sounds of pots, pans, kitchen clangs and chatter provide a real world soundtrack that makes you feel like you're smack bang in the middle of service. Executive Producer Sam Kennedy and co-hosts Magdalene Roze and Jeanine Bribosia have a hit list of high profile guests from Matt Moran, Kylie Kwong, Heston Blumenthal, Neil Perry and more! www.thepass.com.au/podcasts/
Two // The unbearable lightness of being hungry
Lee Tran Lam has been running her popular
podcast
since 2012, and it's still one of the best out there. Featuring interviews with cool people from all over the food world - the spectrum runs from Ben Shewry to Annabel Crabb - Lam's interviewing style is both probing and casual, making for excellent listening. When she's
not blogging with her mouth full, she's usually writing, prese
nting
Local Fidelity on FBi radio
,
making zines or producing podcasts.
www.theunbearablelightnessofbeinghungry.com/category/podcast/
Three // Ingredipedia
Ingredipedia is a self-declared "factual food fight" in podcast form. Every episode, Melbourne food writers & hosts Emily Naismith and Ben Birchall choose one ingredient and present three mind-blowing facts, anecdotes or uses for it. From processed cheese, tea, mandarins to pasta and apples. For food nerds, this Australian podcast takes the cake. If you're fascinated about a particular ingredient they haven't covered yet, you can jump onto their website and suggest one to be featured. They welcome and encourage all social media interaction and voting.
www.ingredipedia.com.au
Image Credit : The Pass Podcast
Four // The Gong Show
The team behind Quicksand Food Publishing have started a new project, The Gong Show. Their books are more than just recipes; they are the stories of Australia's regions (so far from Canberra, NSW South Coast, Illawarra & the Southern Highlands). Working with chefs and producers, they were struck by just how interesting and diverse these stories were. This podcast series of interviews with culinary personalities is a celebration of passion and perseverance. Hosts Stef, Andy & Simon manage to weave the political with the porcini into episodes that run approximately 90 minutes. www.quicksandfood.com
Five // My Open Kitchen Podcast
Hosted by Sophie Hanson and Skye Manson, My Open Kitchen is all about storytelling, farming, food, community and connections. It is friendly, warm and informative and perfect for those who work within the food industry and want to up their social media, marketing and storytelling game.
www.my-open-kitchen.com
Six // The Intrepid Wino
Vincast by The Intrepid Wino is for the self confessed winos. A podcast about wine, wine culture and wine people. Every episode a different guest from the wine industry joins host James Scarcebrook (aka The Intrepid Wino) to share their backgrounds, their influences, and their philosophies on wine. Nothing too technical, just a casual chat between a few people who happen to work with wine. www.intrepidwino.com
Seven // Cooking The Books Podcast
Founded by City Larder's Robbie Bell, Cooking the Books wants to take you behind the velvet curtain of the food industry and give you the opportunity to meet the people working in it every day. This is a hospitality podcast delving into all aspects of the food industry; from restaurants to butchers, chefs to sommeliers, cheese mongers to brewers, and everything in between. Telling you the hows, whys and how they got there.
www.anchor.fm/cookingthebookspodcast
What do you think of this round-up? Have you discovered any other amazing Australian food podcast? Share with us below!