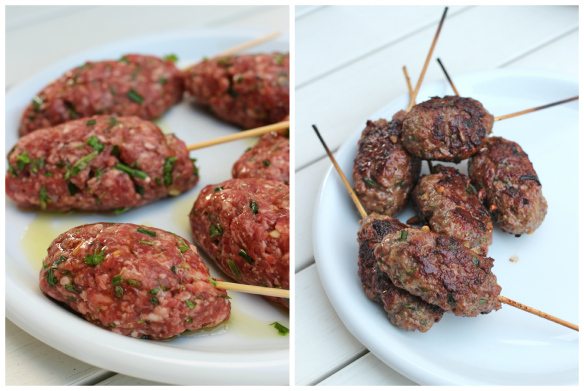 Saltbush Lamb Koftas + Saltbush Leaf Salad
From the traditional lamb roast to lamb chops on the "barbie", Australia's love affair with lamb has been long standing. But have you ever tried saltbush lamb? We adore it due to its natural salty seasoning and plumpness. Saltbush lamb is a speciality product which is uniquely Australian. Lamb, which graze on the Old Man Saltbush plant, are nourished with a rich source of nutrients and minerals not readily available from other forages. Not only does it return a fuller, richer flavour, Saltbush has minimum impact on the environment as it's an Australian native plant and requires very little water to grow. It also encourages native wildlife to co-exist with the lambs.
Now what you may not know is that the leaf of the Saltbush plant is now available for us to eat too!! Mike Quarmby, from Outback Pride, has developed a special selection especially for the food industry. He had realised that after years of overgrazing, the best types of Saltbush had been removed and only the tougher bitter plants were left. After a long drawn out search, he traced natural strands of the Old Man Saltbush, established trial plots which resulted in a well-balanced salty & creamier larger leaf. Saltbush leaves can be used within stir-frys, salads, tarts, the list is really endless. To help kick-start you experimenting with Saltbush Lamb and Saltbush Leaves, try our recipes below.
BBQ Saltbush Lamb Kofta
Saltbush Lamb mince (or other good quality Lamb mince) 500g
Parsley leaves 1 generous handful, finely chopped
Mint 1 TB, finely chopped
Coriander 1 TB, finely chopped
Chilli Flakes 1 tsp
Ground Cumin 1 tsp
Olive Oil 1 TB
Breadcrumbs 1/4 cup
Pine Nuts 1 TB toasted, roughly chopped
Garlic 1 clove, minced
Soak 8 wooden skewers in cold water. Pre-heat the BBQ plate on a medium-high heat. Smoosh together all of the above ingredients in one bowl. Season with salt & pepper. Divide the meat mixture into 8 even parts. Roll each part into a cylinder shaped patties. Insert a skewer into the centre of each patty of lamb (don't let the skewer piece through the top). Place lamb onto the bbq hot plate and cook for approx 8 mins, turning occasionally so each side is browned. Serve with a wedge of lemon and a dollop of yoghurt* (*I love to mix the yoghurt with a squeeze of lemon, splash of olive oil and sprinkle of sea salt) Serves 3-4
Saltbush Leaf Salad
Saltbush leaves 1 bag, washed (we bought ours from Outback Pride at SMH Growers' Market in Sydney)
Red Capsicum 1, halved, seeds removed
Haloumi Cheese 8 slices
Asparagus 8 spears
Butternut Squash, 1/4 chopped roughly
Pine nuts, 1 TB toasted
Lemon Juice
Olive Oil 1 TB
Honey 2 tsp
Thyme leaves 1 tsp dried or fresh
Firstly, pre-heat oven to 180 degrees celsius. Place the chopped butternut squash into a roasting pan with a drizzle of olive oil. Place in oven and roast for 20 mins. Now add the capsicum and roast for a further 15 mins, adding the asparagus spears into the pan for the last 5 mins. All ingredients should be soft and slightly charred. Remove from oven and allow to cool slightly. Slice the capsicum into thin strips & leave aside with the butternut squash and asparagus. In a dry frypan (no oil), toast the pine nuts over a low heat. Remove from heat when they start to brown as it can turn ugly very quickly! Remove from pan and leave aside. Over a medium heat, place the haloumi cheese into the fry pan with a drizzle of olive oil. After 2 mins turn over the haloumi cheese and top with the honey and thyme leaves. Sizzle for another 2 mins then remove from the heat. Place the washed Saltbush leaves into a salad serving bowl. Top with the butternut squash, capsicum, asparagus and haloumi cheese with any juices left from the frypan. Mix to combine then top with the toasted pine nuts with a squeeze of lemon juice, drizzle of olive oil and season with salt & pepper . This salad compliments the Saltbush lamb kofta's perfectly. Serves 4
Check out these websites for further information on where you can buy Saltbush Lamb and Saltbush leaves near you:
http://www.saltbushmeats.com.au/about
http://www.outbackpride.com.au/species/saltbush