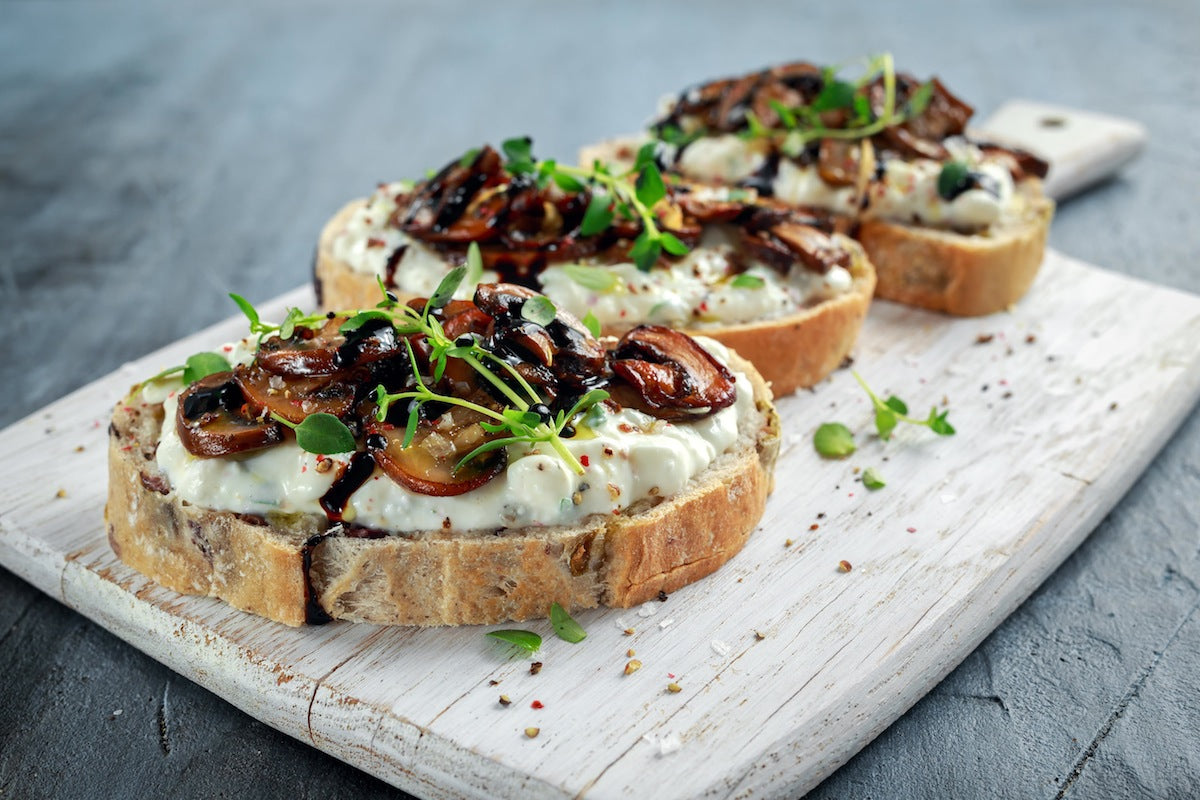 Truffle Mushroom Bruschetta with Creamy Goats Cheese
Whilst we created this recipe for our recent BRUNCH Discovery Box, this Truffle Mushroom Bruschetta actually makes the perfect breakfast, snack, lunch or dinner when you want to whip up something simple but soooo delicious. The truffle infused olive oil used here is your secret weapon to supercharge this and many more dishes. If you're yet to cook with truffles, this is a great starting point and introduction to its unique, earthy flavour. Enjoy!
Truffle Mushroom Bruschetta with Goats Cheese
Ingredients:
1 French Shallot, finely diced

A couple of thyme sprigs, leaves picked

200g assorted mushrooms, chopped roughly

1 TB Pukara Estate Truffle Extra Virgin Olive Oil + extra for serving

2 TB balsamic vinegar (can use caramelised balsamic)

4 thick, large sourdough bread slices

Butter

100g soft goats cheese
Method:
Heat 1 TB of the truffle extra virgin olive oil in a small, heavy based pan. Cook the French shallot over a low heat until translucent, but not brown. Turn the heat up high and add the thyme and the mixed mushrooms and cook for approx three minutes or until the mushrooms have softened and caramelised. Stir in the balsamic vinegar and remove from heat.
Slice the sourdough loaf into thick slices and spread with butter. Place them under the grill for a few minutes till toasted and golden, or pan fry them on a griddle pan. Spread the goats cheese on the slices and top with the mushrooms. Drizzle a bit of the truffle extra virgin olive oil over the top with freshly cracked pepper and sea salt flakes.
Serves 2 or use smaller bread slices to create a sharing platter
Recipe by Kate Willbourn-Trevett
As seen in our April/May
2018 mini zine found inside the Discovery Box:
Experience your very own Discovery Box now and discover the #tasteoflocal.