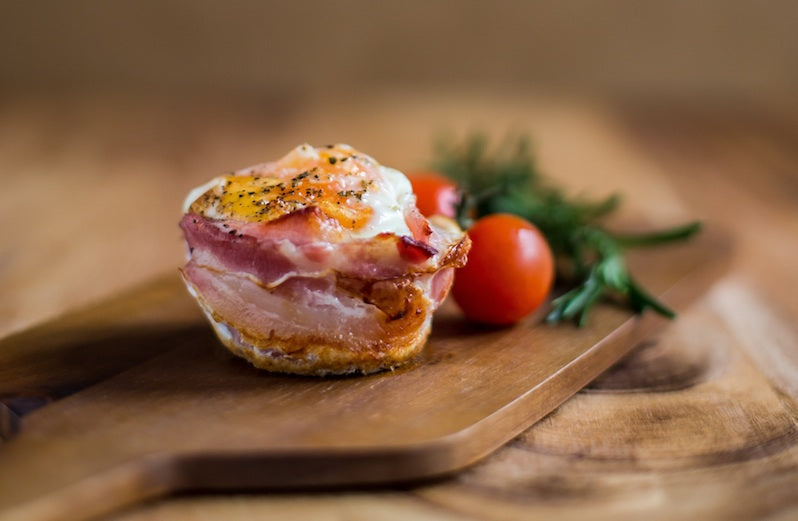 Baked Egg & Bacon Cups with Dukkah
Inspired by our current BRUNCH edition Discovery Box, these easy Egg Bacon Cups are ideal for a brunch gathering with friends, breakfast for two or a delicious & nutritious treat for the kids!
We love the addition of the deliciously nutty Dukkah, made by Australia's largest hazelnut producer in Victoria. This simple extra touch adds a bit of wow factor.
Egg Bacon Cups with Dukkah
Ingredients:
4 large good quality middle bacon rashers

4 large free range eggs

50g cheddar cheese, grated

50g baby spinach leaves

Carboor Harvest Dukkah* for serving
Method:
Preheat oven to 180 degrees celsius.
Grease a large muffin tin and line 4 holes with the bacon rashers.
Place tin in oven for 5 mins or until the bacon has started to crisp. Remove from oven.
Fill each of the four holes with half the cheese and baby spinach. Crack an egg into each of the holes. Season with pepper and a touch of salt (go easy as these will be naturally salty from the bacon). Top with the remaining cheese and bake for approx 10 mins or until the eggs are just cooked and lightly golden. Leave in tin for 5 mins before removing and serving.
Sprinkle with dukkah. Serve with toasted buttered soldiers.
*If you can't source Carboor Harvest Dukkah, use any other good quality dukkah.
Makes 4
Recipe by Kate Willbourn-Trevett
As seen in our April/May
2018 mini zine found inside the Discovery Box:
Experience your very own Discovery Box now and discover the #tasteoflocal.