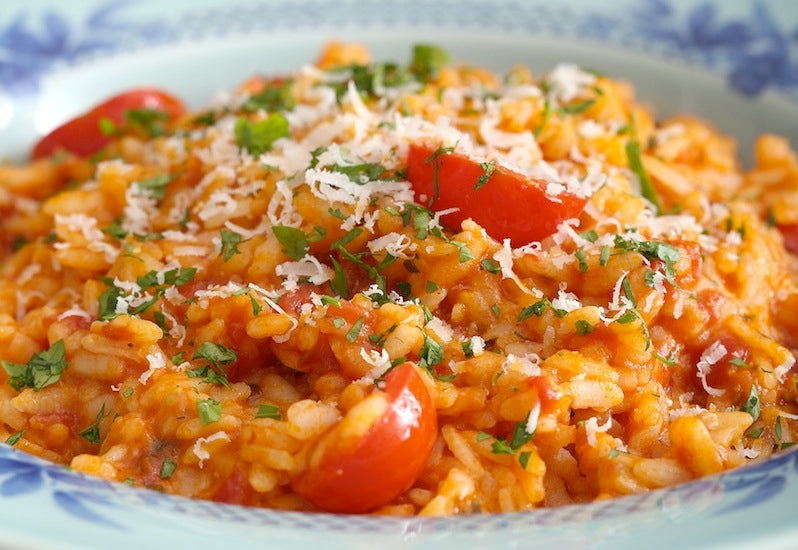 Fresh Tomato Risotto
Sometimes the simplest things in life are the nicest. Take this Tomato Risotto for example. Using the freshest and best ingredients, this minimal recipe is sure to satisfy.
With a little love and patience, you'll have a delightful meal for 4. Now all you have to do is choose the wine.... This risotto recipes uses our favourite, 100% natural, Mormor Foods vegetable stock concentrate, recently featured in the 'Spring Harvest'
Discovery Box
.
Tomato Risotto
Ingredients:
800 ml water

4 tsp parsley Mormor Vaxtkraft

400g fresh tomatoes, finely chopped

20g spring onion, finely sliced

1 tbsp extra virgin olive oil

300g arborio rice

1 tbsp tomato puree

1 tsp castor sugar

200 ml dry white wine

50g unsalted butter

100g parmesan cheese, finely grated

Garnish - top with basil, fresh nasturtium flowers and micro herbs (optional)
Method:
Bring Vaxtkraft and water to boil in a saucepan then reduce to a low simmer.
In a pan, saute the spring onion in olive oil until transparent. Add the rice and cook for a minute or until rice is translucent at edges. Stir in the fresh tomatoes, tomato puree, sugar and wine and cook for a couple of mins or until the wine has evaporated. Add the Vaxtkraft stock, one ladle at a time stirring constantly until the liquid is absorbed, repeat until all the stock has been added and the rice is al dente.
Add the butter and parmesan cheese and stir until combined.
Garnish with fresh nasturtium flowers and leaves, cress, rocket or micro herbs and fresh basil leaves.
Serves 4.
Recipe courtesy of Mormor Foods.
As seen in our exclusive 'Spring Harvest'
2018 mini zine, tucked inside the Discovery Box:
Experience your very own Discovery Box now and discover the #tasteoflocal.