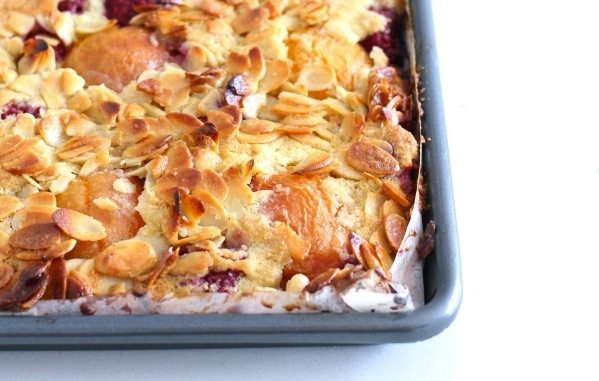 Raspberry, Apricot and Almond Slice
This fruity, buttery slice of indulgence makes the perfect afternoon treat with a hot cuppa or an impressive dessert with a scoop of vanilla bean ice-cream, either way this Raspberry, Apricot & Almond Slice is a seasonal show stopper.
I know I've written about my love for raspberries before, however I don't believe I've ever featured the velvety sweet & slightly tart Apricot before? As we're in the middle of Summer & these perky little orange bites reach their peak about now, I thought it was only right to put them in the spotlight. Although dried and canned apricots are available all year round (and therefore a super convenient way of adding a subtle sweetness to your sweet & savoury meals anytime), apricots are truly best eaten fresh when in season from November to February. They are an incredibly versatile fruit. Fab as a..
Quick on the go snack
Sliced & tossed into a salad
Slow cooked in middle eastern inspired casserole
Poached in a sweet syrup with hints of cinnamon and star anise
...to name a few ideas. Similar to carrots, Apricots are rich in beta carotene (a substance the body turns into Vitamin A) which as you know is important to protecting eyesight from ageing-related damage. Apricots are also rich in Vitamin C & in particular soluble fibre. Soluble fibre helps to maintain healthy blood glucose and cholesterol levels. They are also low in calories....but to be honest, if you're monitoring your calorie intake, today's recipe is probably not for you (sorry!). And here's one last interesting fact about Apricots for you. They are originally from China. Due to international trade and exchange, they entered into Europe via Armenia which gives reason to its scientific name Prunus Armenaica.
So let's get on with the show. This slice is best described as having a warm gooey frangipane filling with bursts of sweet and slightly tart fruit, a chewy toasted almond topping and a crisp buttery biscuit base. What more could you want?! It's definitely an occasional treat....more wicked than wholesome but at least it features beautiful fresh fruit and you know exactly what's in it vs store bought goods! There are 3 components in making this slice, each one being really simple to make so please don't be put off.
Raspberry, Apricot & Almond Slice
Biscuit Base
Cornflour 1/3 cup, sifted
Plain Flour 1 3/4 cups, sifted
Vanilla Extract 1/2 tsp
Butter 150g, softened
Raw Sugar 1/2 cup
Chewy Almond Topping
Flaked Almonds 110g
Raw Sugar 2 TB
Butter 20g
Vanilla Extract 1/2 tsp
Milk 1 TB
Frangipane & Fruit Filling
Ground Almonds 1 1/4 cups
Sugar 1/3 cup
Free Range Eggs 2
Plain Flour 2 TB
Butter 115g softened
Apricots 6, halved & stoned
Raspberries 1 punnet (125g)
Preheat oven to 180 degrees celsius. Line a 30 x 24 cm tin with baking paper. For the almond topping, add all ingredients into a small saucepan & place over a low heat. Once the butter has melted gently stir everything together. Remove from heat and set aside. Now onto the biscuit base. In a medium sized bowl, beat together the sugar, butter & vanilla extract until pale & fluffy. Combine the sifted plain flour & cornflour and gradually add to the creamed butter until it comes together. Press mixture into the base of the lined baking tin, keeping it level and pressed into all corners. Bake in oven for approx 12 mins or until golden brown. Remove from oven and allow to cool slightly. Finally, for the frangipane filling beat together the sugar, butter & eggs. Stir in the almond meal & flour, mix well. Spread half of the frangipane filling on top of the cooled biscuit base. Press the halved apricots (face down) & raspberries into the frangipane filling, then dollop the remaining frangipane filling around the apricot mounds and on top of the raspberries. Lastly cover with the flaked almond topping. Bake in oven for approx 25 mins or until the frangipane filling has puffed up & the almond topping is golden brown. Serves 10-12.