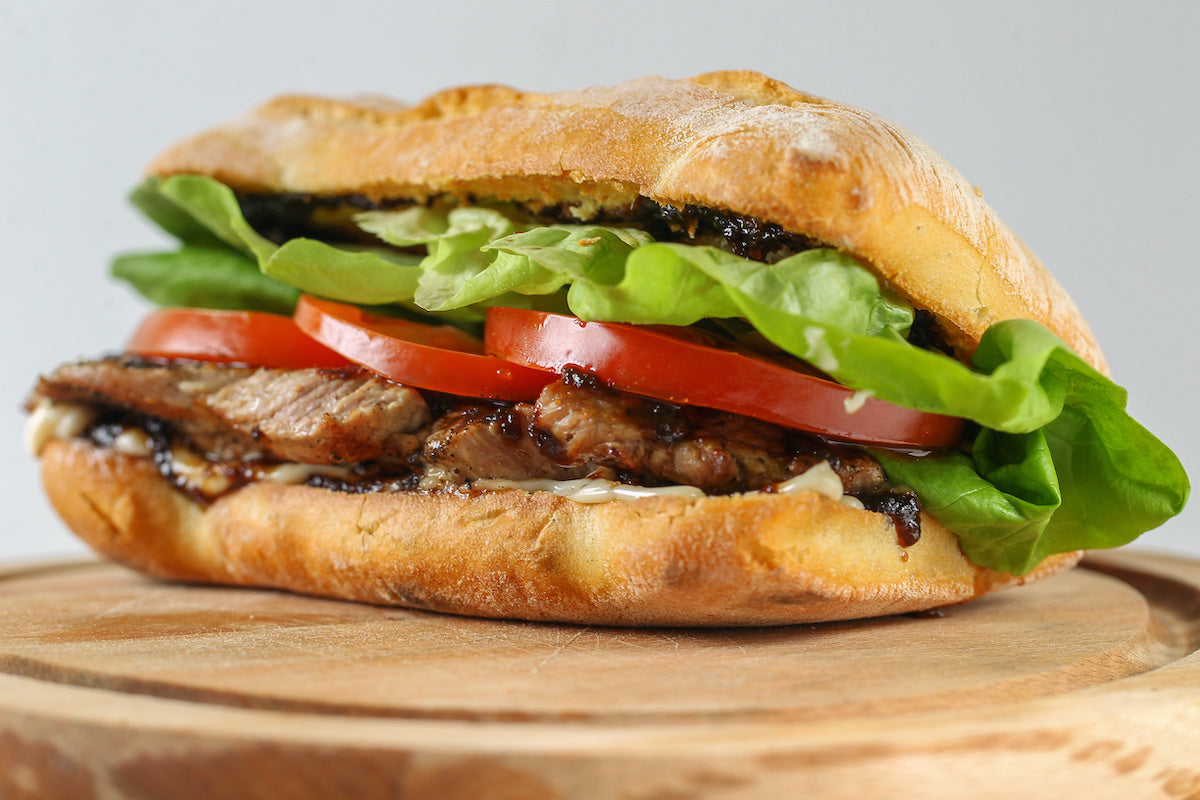 Summer Steak Sandwich
This is the ultimate gourmet Aussie Summer Steak Sandwich! Steaks on the barbie, lashings of BBQ Sauce and a good smear of Beetroot Relish...perfection :)
>> Quick side note: If you're new around here, a huge HELLO to you! Our mission is to help foodies like you discover new & exciting Australian made artisan foods every season! Come check out our ABOUT US page or say hi on our socials @foodiescollective 
Summer Steak Sandwich
Ingredients:
2 x Scotch fillet steaks

2 x long Turkish bread rolls

1 large red onion, sliced into thick rounds

1 TB Balsamic Vinegar

2 handfuls baby spinach

Women's Work Beetroot Relish

1/2 cup roasted red capsicum strips (available from your local deli)

1 x cup toasted, mixed seeds (optional)

8 baby cos lettuce leaves, torn

Grunds Gourmet BBQ Sauce

Aioli to serve
Method:
Remove the steaks from the fridge and bring to room temperature.

In the meantime, heat a pan over medium heat and add the onions, olive oil and a good knob of butter and cook for 5 mins. Reduce heat and add a splash of balsamic vinegar. Cover and cook on a low heat for a further 15-20 mins until the onions have softened and caramelised. Set aside. 

Preheat the barbecue to high then cook the steaks for three minutes on each side or to your liking.

Slice the bread rolls in half lengthways and place these cut-side down on the barbecue for the last minute or so of the steak's cooking time to warm and toast the bread a little.

Let the steaks rest for a few minutes under foil while you assemble the sandwiches.

Top each piece of toasted bread with a good covering of Beetroot Relish. Top with baby spinach, roasted capsicum, onion and lettuce. Slice the steaks across the grain into 1-2cm thick strips then divide these among the open sandwiches. Top with a good drizzle of the BBQ Sauce and Aioli, and finally a sprinkling of the toasted seeds.
Best served with a side of sweet potato wedges.
* The highlighted Australian made ingredients are products featured inside our 'Discovery Box'. We love sharing recipes including the products found in your box as it makes it easier for you to enjoy them! You can substitute these with other quality products. The Beetroot Relish + Grunds Gourmet BBQ Sauce in this recipe was featured in our 'Summer 2022' Discovery Box