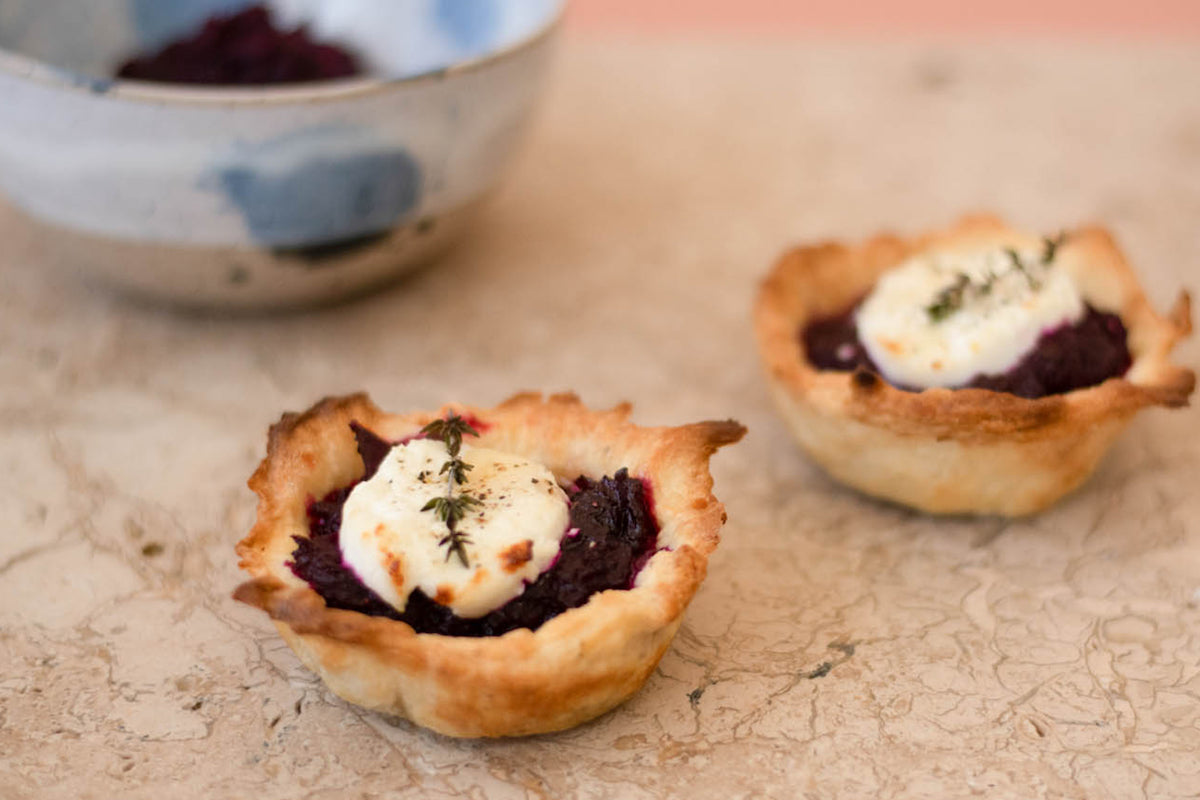 Beetroot & Goats Cheese Tartlets
These ruby red beetroot & goats cheese tartlets make the perfect appetiser or great to bring along to a picnic gathering :)
>> Quick side note: If you're new around here, a huge HELLO to you! Our mission is to help foodies like you discover new & exciting Australian made artisan foods every season! Come check out our ABOUT US page or say hi on our socials @foodiescollective 
Beetroot & Goats Cheese Tartlets
Ingredients:
4-6 sheets of Granny Ida's shortcrust pastry

330g jar Women's Work Beetroot Relish

Soft Goats Cheese (we love Holy Goat cheese)

Good quality olive oil spray

Pinch of salt & cracked pepper

Fresh thyme

Honey
Granny Ida's shortcrust ingredients:
250g plain flour

Pinch salt

100 -150g room temp butter

Cold water

Pastry Method:
Sift flour into bowl

Add salt

Cut butter into cubes and rub into the flour using the tips of your fingers until mixture resembles breadcrumbs.

Gradually add small amounts of water and mix with the blade of a knife until the pastry pulls together.

Briefly knead and add more flour if too sticky and more water if too dry.

Let pastry rest in fridge for 1 hour.

Roll out on a floured board and use as required.
Tartlet Method:
Preheat oven to 180°C.

Grease or line a tartlet tray

Use a water tumbler or cookie cutter to cut as many circles as you can out of your pastry and press them gently into your tartlet tray – the walls don't need to be too deep

Par- cook your pastry in the oven for 8-10 minutes or until very lightly brown 

Remove your pastry from the oven and while still warm add a good tablespoon of Women's Work Beetroot Relish to the middle of each tartlet

Top the relish with a good slice of goat's cheese, a sprig of thyme and a sprinkle of salt and pepper to taste.

Back in the oven for 10-15 minutes or until the pastry is golden and the cheese slightly browned.
If you like a little sweetness (guilty), these are beautiful with a drizzle of honey, add when still warm from the oven for a heavenly sticky glaze *drool*
Best enjoyed warm!
Recipe courtesy of the team at Women's Work
 
* The highlighted Australian made ingredients are products featured inside our 'Discovery Box'. We love sharing recipes including the products found in your box as it makes it easier for you to enjoy them! You can substitute these with other quality products. The Women's Work Beetroot Relish in this recipe was featured in our 'Summer 2022' Discovery Box