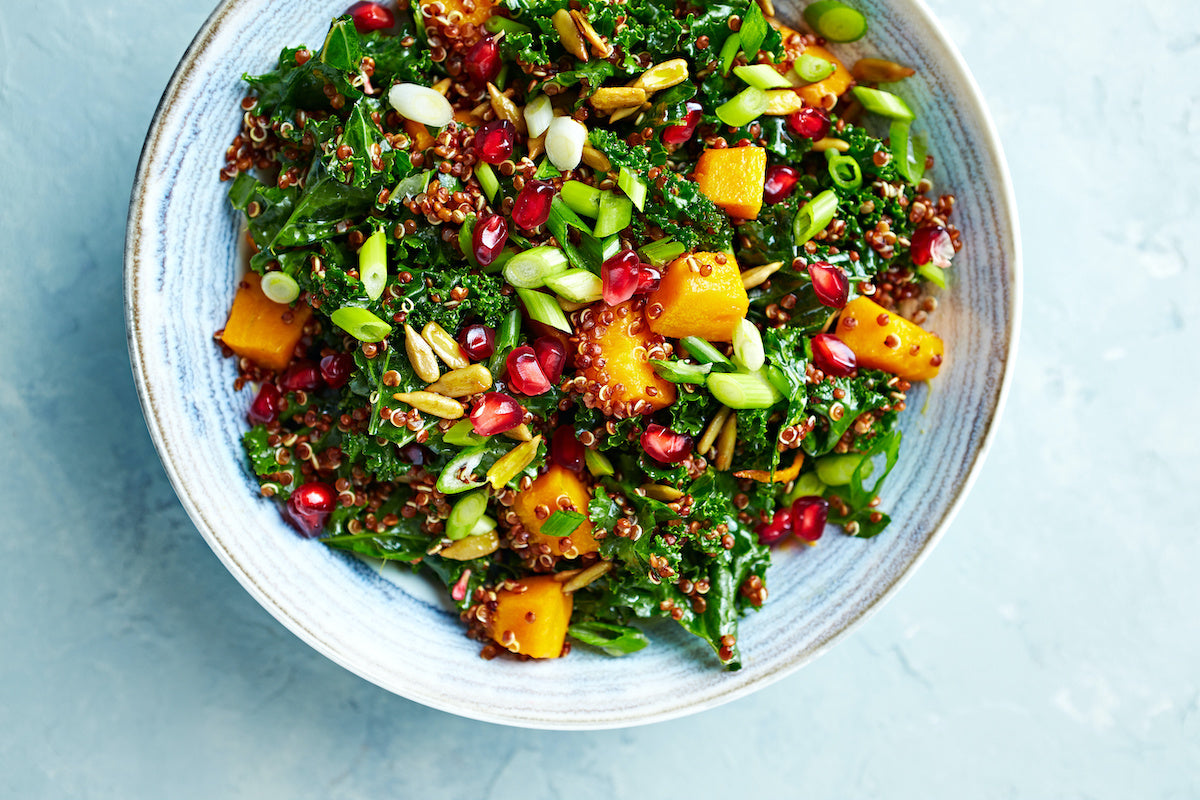 Pumpkin, Pomegranate & Haloumi Salad
This delicious warm salad makes a great gourmet lunch or the perfect side to a roast chicken or fish main. 
Side note: The highlighted Australian ingredients are featured inside our Discovery Boxes, as we love showing you ways to use your box. You can substitute these with other quality products.  
Ingredients:
1/2 cup quinoa
1 cup vegetable stock
1 large butternut squash, peeled cut into bite sized cubes
1 whole head garlic
1/2 cup extra virgin olive oil
1/4 cup fresh lemon juice 
2 teaspoons pure maple syrup
2 tablespoons Dijon mustard
1 large bunch kale, trimmed & thinly sliced
1 cup pomegranate seeds (from 1 large pomegranate)
180g haloumi, thickly sliced (optional)
1/4 cup Pimp My Salad super seeds
Method:
Preheat oven to 180 degrees celsius
Cook quinoa in vegetable stock according to package directions
Place butternut squash in a roasting pan, drizzle with a little olive oil and season with salt and pepper. Drizzle some olive oil over the head of garlic and wrap in a piece of alfoil. Add it to the roasting pan and bake for approx 40 mins. Remove the garlic and butternut squash from the oven and set aside to cool.
Cut off the top of the garlic head and squeeze all of the softened garlic into a mixing jug. Whisk in the lemon juice, maple syrup and mustard then whisk in olive oil in a slow, steady stream. Season with salt and pepper.
If you're using the haloumi, pan fry the slices over a medium heat until golden brown.
In a large mixing bowl, combine the kale and quinoa with about 3/4 of the dressing.
Finally, add roasted squash and pomegranate seeds to the kale mix; toss together to combine, and season with salt and pepper to taste. Transfer to a serving bowl, and sprinkle with your Pimp My Salad super seeds, haloumi slices and a final drizzle of the dressing.
Serves 4