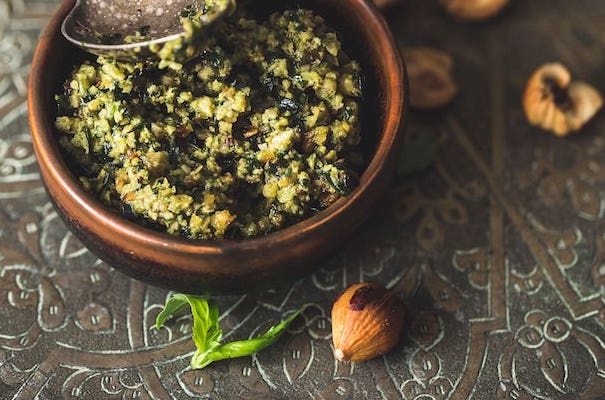 Hazelnut Pesto
Love pesto? Try this twist on the classic using roasted hazelnuts and fresh parsley.
Side note: The highlighted Australian ingredients are featured inside our Discovery Boxes, as we love showing you ways to use your box. You can substitute these with other quality products.  
Serving suggestion: Stir pesto through pasta. Top with dried chilli flakes and a drizzle of olive oil.
Ingredients:
3/4 cup Carboor Harvest hazelnuts
50g parmesan cheese, grated
4 Budgee Garlic Crisps or 1 clove of garlic, peeled 
2 cups flat leaf parsley
¾ cup olive oil
Sea Salt
Zest and juice of half lemon
Method:
Add the hazelnuts, garlic crisps, parmesan cheese and parsely leaves to the bowl of a food processor. Process until a coarse texture is achieved (not too fine). With the motor running, slowly drizzle in the olive oil. Add the lemon zest and juice. Continue to process until everything is blended together well. Season with sea salt to your liking.

If you plan on freezing the pesto-- I'd make a double or triple batch. Fill wide mouth pint or half pint mason jars with the pesto leaving at least 1 inch of head space. Drizzle with a little oil on the top before placing the lids on and freezing for up to 6 months.