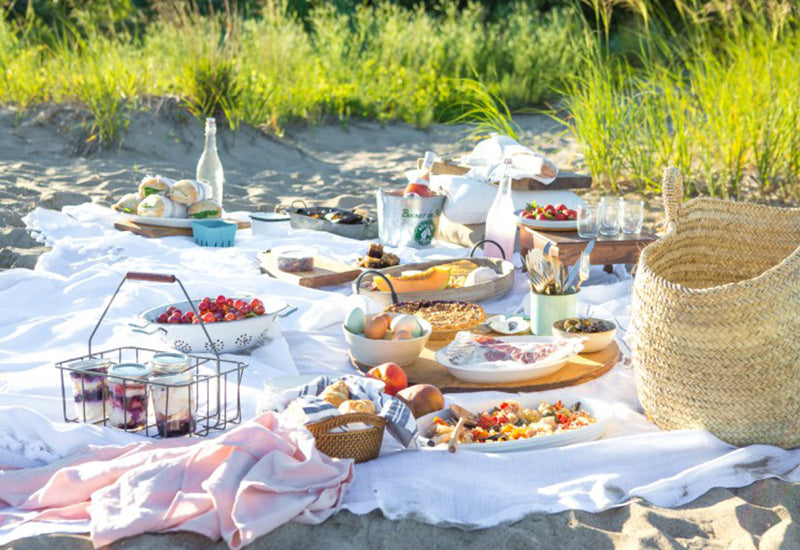 Everything You Need For The Perfect Picnic
Luckily for us in Australia, it's picnic season all year round. There is however something extra special about those Summer good time vibes which makes it our favourite season to pull out the picnic rug, chill the wine and create the perfect picnic with friends and family.
Want to know the
must haves
for the ultimate picnic? Our essentials list below includes everything you'll need for the perfect picnic.
"Happiness is...fresh air, good friends & a Summer picnic"

Foodies Collective
One // Location.
Location, location, location, it's a big part of the experience right. Whether it's seaside or in the country, the perfect picnic spot offers plenty of shade, soft grass or dry sand and a view. You'll also need to consider who you're picnicking with. Do you need a nearby playground for the kids, toilet facilities or solitude for a picnic for two? And instead of reverting to your usual go to spot, why not travel a little further afield and explore the great outdoors outside of your local area. If you're in Sydney, check out our list of
best picnic spots
.
Two // The basket or bag.
Whilst wicker baskets look pretty impressive, more often than not they're impractical. Unless your basket is something like
this
, opt for a insulated tote, backpack or bag with compartments to help you fit everything in effectively. When packing your bag ensure the heavy & cold items are at the bottom to avoid squashing soft items and making things soggy.
Image: Heinens
Three // The rug.
Pick a rug that's comfortable to sit on, machine washable and can easily shake off grass, food crumbs, sand etc. A waterproof underlining is even better incase the grass or sand is damp. We love
Pixie rugs
made by an Aussie mum.
Four // Keep the food easy, but amazing.
As with most things, it's best to focus on quality vs quantity when it comes to the perfect picnic. Visit your local deli and select a range of beautiful cut meats, a couple of cheeses and some fresh fruit and veggies. Bite sized, picky food is ideal in our eyes. Plump cherry tomatoes, sweet strawberries and a fresh loaf of bread which you can DIY sandwiches. If you have the time pre make individual quiches like
these.
Five // Keep it cool.
Pack a large bottle or two of frozen water to keep the rest of your contents inside your bag cold plus you'll have chilled water to drink throughout the day as the ice melts. Bring some frozen grapes to pop into your wine glass to keep it chilled. You can also pop some ice-cubes inside a large thermos to have on hand throughout your picnic.
Six // Mason Jars.
Not only do they look awesome,
they are an easy way to separate ingredients and avoid things getting soggy. Make a simple salad in advance with the dressing at the bottom then stack it with crunchy vegetables, grains or pasta, meats or cheeses then your leaves, nuts & seeds on top. Your salad remains crisp and is an easy assembly on site. Mini jars are great for your sauces so you don't have to bring full bottles. You could even use mason jars as tealight candle holders if you're having a romantic picnic at dusk.
Seven // Condiments.
A picnic isn't complete without an array of delicious condiments. Think a beautiful chutney, pickles, mustard, mayo etc. Don't forget the salt & pepper!
Eight // Stem free wine glasses .
We've all done it, knocked a freshly poured glass of wine over a plate of food or the rug. Avoid this easy mishap by using stem free glasses.
Nine // Throw Cushions.
We know, this sounds very Instagrammy, but think of the extra comfort you'll have as you lie back with your head buried in a plush pillow as you gaze up into the blue sky. (Ok, they do also help to make an awesome Instagram snap).
Ten // Kitchen utensils.
Don't have a tear your hair out moment when you've realised your bottle of wine has a cork or you can't properly cut through that hard block of cheese without your disposable knife snapping in half. Remember to pack a small cutting board & cutting knife, serving spoons, bottle opener and corkscrew.
Eleven // The clean up - wet wipes, bin bags and zip lock bags.
The more organised you are to begin with, the easier and faster the clean up will be (which let's be honest everybody hates). Zip lock bags are great to take leftovers home in.
Twelve // Bio-degradable plates & cutlery.
No-body likes carrying home dirty plates or worst of all, extra plastic landfill which is why bio-degradable plates & cutlery are the perfect solution to overcome both these issues. Available at some supermarkets, grocers and readily available to buy online.
Thirteen // Other bits & bobs.
Sunscreen, hats, outdoor games like a frisbee, ball, bubbles etc
Download this checklist & start planning the perfect picnic