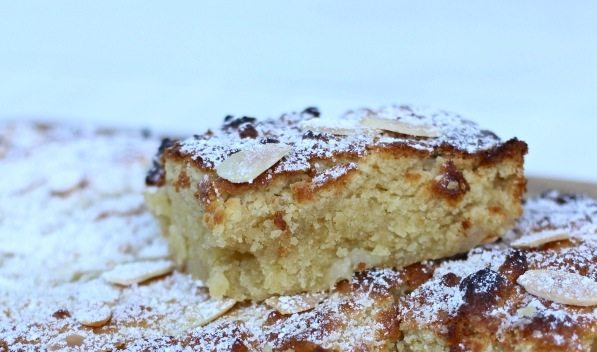 Pear, Almond & Ginger Cake Slice
Sometimes in life, eating cake is the only answer. This is exactly how I've been feeling lately. I have been on one crazy emotional roller coaster. But the good news is, I've been told it's a very normal part of being pregnant. Yes, pregnant! Hubby and I are expecting our first bub in January & we couldn't be happier (eeeeeek). What have I learnt so far? That I absolutely LOVE cheese, soft cheese to be precise. The saying "you don't know what you've got until it's gone", is so so true. In my case, it's soft cheese and coffee and wine and cured meats and sashimi. I will never take these for granted ever again. As a foodie, it's torture! (I know, I know, #1stworldproblems). No honestly, I am filled with pure happiness and can't wait for our little one's arrival. So what does this mean for foodies agenda? Well our recipes over the next few months may be missing the above adored ingredients (sorry), but instead there will be lots of healthy, nutrient rich food.......with a side of cake of course.
This Pear, Almond & Ginger Slice does more than the job when cake is required. There is something so incredibly comforting about it. It could be the soft, sweet pieces of pear or the hint of warm ginger spice or perhaps the moist almond sponge? Either way, it makes a true Autumn/Winter treat. I highly recommend eating this cake whilst it's still warm and the top has a golden crunch to it. A small scoop of vanilla bean ice-cream wouldn't go astray either.
Pear, Almond & Ginger Cake Slice
Unsalted Butter 175g
Caster Sugar 1 cup
Free Range Egg 1
Plain Flour 1 cup, sifted
Baking Powder 1 tsp
Milk 2 TB
Almond Meal 150g
Ground Ginger 1 tsp
Pears 2 large, peeled & cored (grate 1 & roughly chop the other into cubes)
Lemon 1/2 juiced
Flaked Almonds 2-3 TB
Icing Sugar for dusting
Pre-heat oven to 180 degrees celsius. Line a 18cm x 28cm tin with baking paper. In a small saucepan, add the chopped pear, juice of 1/2 lemon and a sprinkling of some of the sugar. Cook for approx 5 mins over a medium-low heat until softened. Add the grated pear for the last minute. Drain and set aside. In a large mixing bowl, beat together the butter and sugar until light & fluffy. Beat in the egg, then gradually add the sifted flour, baking powder and milk. Stir in the almond meal, ground ginger and pear. Spoon the cake batter into the tin. Place the tin on the middle shelf of the oven and cook for 25 mins. Remove from oven and sprinkle the flaked almonds on top, pressing them into the cake. Place back in the oven for a further 10-15 mins or until the top is golden brown and a skewer comes out clean. The middle of the cake should still be nice & moist, but not overly wet. To serve dust with icing sugar. Serves 8-10
Eat Cake & Be Happy!