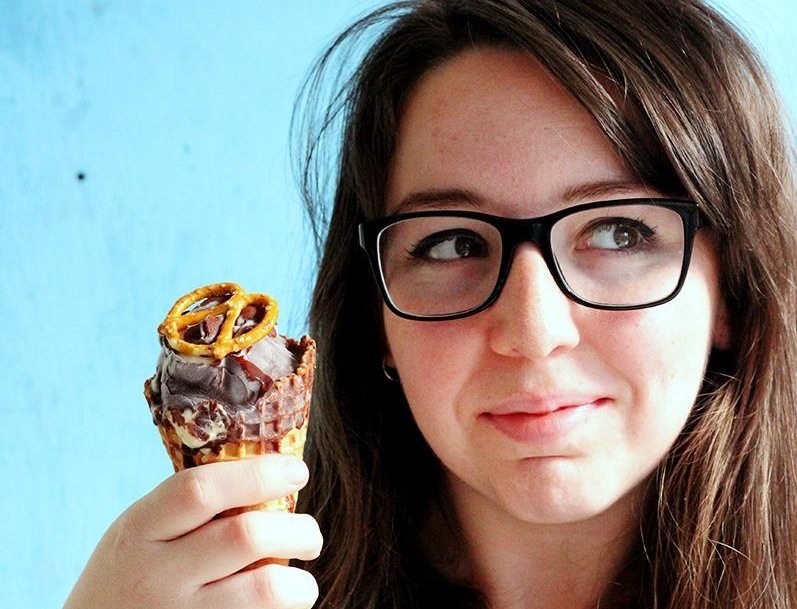 Friday Foodie In Focus - Sarah from The Sugar Hit!
Today I have the sweetest pleasure in introducing you to Sarah Coates, full time blogger, freelance writer, photographer & food stylist. If you have a sweet tooth, you're probably already a fan of her hugely successful blog,
The Sugar Hit!
Her journey is a brave one. In 2010 Sarah first launched the blog, but it was in 2013 when she quit her job & used all of her savings to give blogging full time a real go. At the time The Sugar Hit only had 200 Instagram followers, it now has over 24,000! As they say, the rest is history. Read our interview below to find out about Sarah's Jamie Oliver moment, what other exciting projects are on the horizon and finally what would her last supper be (this is a mighty one!)?
What's your food philosophy?
My food philosophy is, I don't have one. I don't like to over think it in the kitchen! Baking and cooking is where I go to have fun, be creative, and try whatever I want, without any rules. Contrary to how it may seem, I do like to strike a balance in my diet, but the green juice end of the scale is equally balanced by Salted Bourbon Caramel Apple Pie...just not quite in the same quantity. So maybe my philosophy is everything in moderation, especially moderation? Sorry about the cliche!
What's your first memory in the kitchen?
I have distinct memories of a few things...sitting up on the bench while my mum cooked dinner, her actually chopping vegetables while I hack away at a carrot with a butter knife. I remember the first time I burnt my hand after dropping a Smartie onto the cooktop (again, I was sitting on the bench) and reaching in after it, I didn't do that again. But the thing I remember with the most happiness is the pancakes that my parents would make once in a blue moon, me and my brother and sister fighting over the little pancake spatters leftover at the end. I have a secret, nostalgic love of fake maple syrup because of those pancakes.
What's your proudest moment or achievement to date?
Only last Monday I held the very first print copy of my book in my hands...so that's pretty much the proudest I've ever felt! But the second biggest is easily getting a shout-out from one of my cooking heroes, Jamie Oliver, who posted about me and my blog on Instagram. Both instances resulted in me running around my house like a nutter.
When it comes to writing, styling, photography and cooking, do you have a favourite 'child' or love each aspect equally?
Like children, I think it depends on the day! On days when the light is good, photography is a dream. On days when the Queensland sun produces nothing but hot, bright light and harsh shadows...not so much. When the words are flowing, I love to write. When I have a great vision, styling is my absolute favourite. But the one that I never have a bad day with is cooking. The kitchen and I just always seem to get along.
If I looked inside your fridge, what would I find?
You would find about forty different kinds of mustard, lots of eggs, at least a kilo of butter, some chunks of cheese (cheddar and parmesan), maybe a little salami and, I'm sorry to say, not much else! My boyfriend and I are terrible at keeping the fridge stocked. We tend to buy things - especially fresh fruit and vegetables - and then just eat them straight away, leaving the fridge looking sad again. But we do always have green apples! Can't forget the apples.
Any new & exciting projects on the horizon?
Well, my first cookbook
The Sugar Hit!
is coming out September this year! You can pre-order it here:
Amazon
–
Book Depository
–
Booktopia
–
Dymocks
–
Barnes and Noble
. Other than that, I'm really excited about my Youtube channel which is launching later this year!
What would your last supper be?
I don't know if this is allowed, but I would totally skip the entree. Entree's never make any sense to me, too small, too fiddly, I want the real deal. Also, please excuse the total lack of refinement in my menu, but this is end-of-the-world, last-supper stuff. So I'm going all out.
Give me a darkly seared, but pink centred double cheeseburger, topped with melted swiss, bacon, lettuce, tomatoes, pickles, onions, mustard, ketchup and mayo. An unholy pile of not-too-thick, not-too-thin french fries, each and every one of them perfectly crisp and salty.
Crunchy buttermilk fried chicken with herby ranch dip, succulent and tender with a hint of spice. A pile of lightly, tangy, perfectly sliced and dressed coleslaw, and a couple of extra pickles.
Finally (and keep in mind, this is the end of IT ALL) a hot fudge sundae - perfectly perfect vanilla ice cream, shards of crunchy feuilletine, smoked almonds, hot fudge & salted caramel sauce, whipped cream, and of course, a cherry on top.
To discover more & connect with Sarah, click below:
Website:
www.thesugarhit.com
Facebook:
https://www.facebook.com/TheSugarHit
Instagram:
https://instagram.com/thesugarhit
Twitter:
https://twitter.com/thesarahcoates
Pinterest:
https://www.pinterest.com/sugarhitsarah
Read more interviews with our favourite foodies
HERE