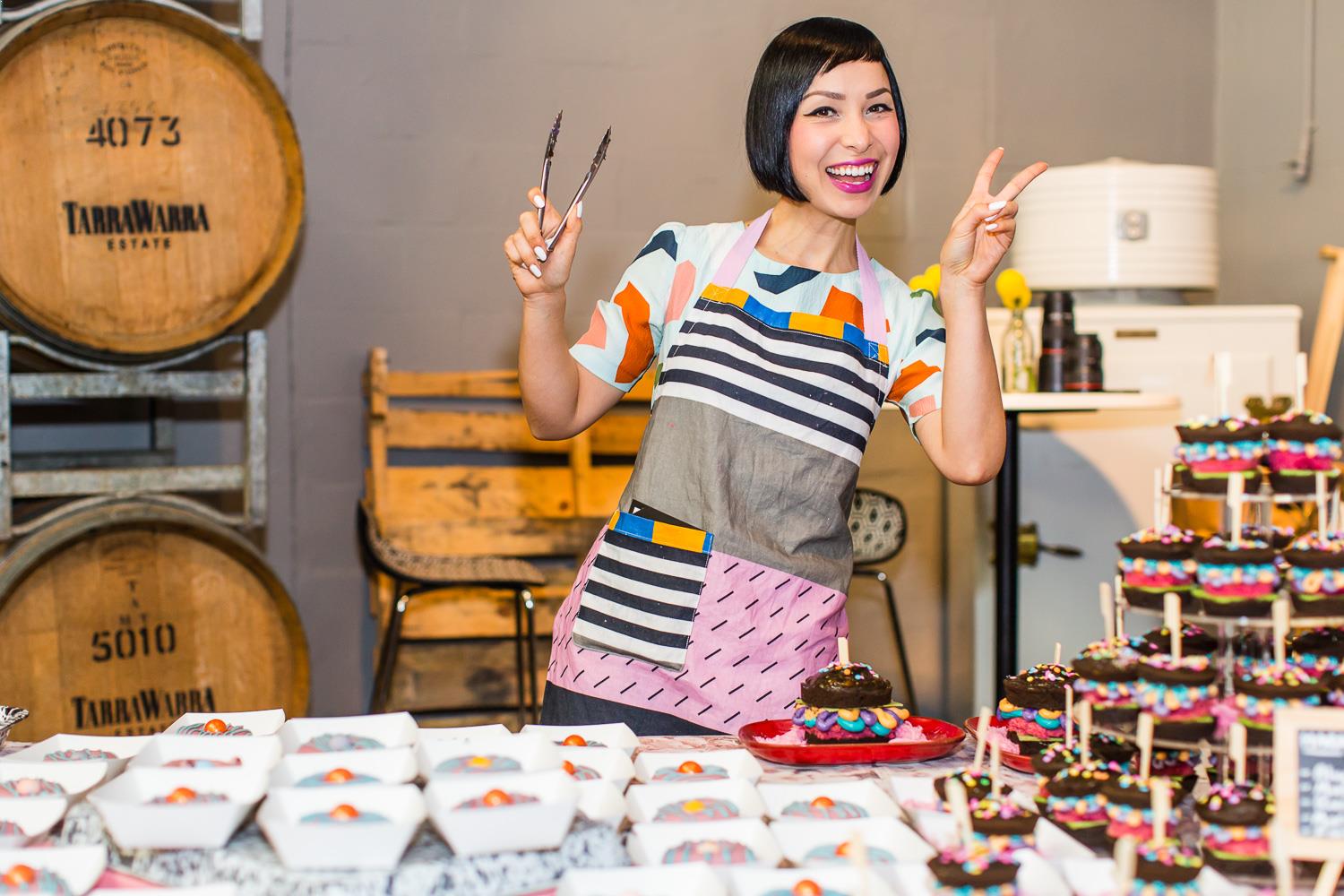 Friday Foodie In Focus - Katherine Sabbath
Happy Friday Foodies! Seeing as our last post featuring the
Pear, Ginger & Almond
cake slice was such a success, I wanted to stay in the sweet zone. Today's Friday Foodie In Focus is the cake baker extraordinaire, the one and only Katherine Sabbath. To put it simply, Katherine's cake creations are on another level. Until recently Katherine was a high school teacher. It was her Instagram feed full of colourful cake explosions that helped propel her into the spotlight & allowed her to realise her baking entrepreneurial dreams . The self taught baker now has over 395,000 followers (& counting!) and a growing demand of public appearances, collaborations, classes & cooking demonstrations. We're fortunate to have Katherine share some baking tips, which celebrity she'd love to invite over for dinner and what her last supper would be in this weeks Friday Foodie In Focus interview.
What's your food philosophy?
Cherish only the best quality ingredients you can afford at the time (and preferably local), cook with consideration and cook passion, taste test your food every single step along the way and don't EVER compromise on flavour! Food should always taste as magical as it looks.
What is your proudest moment or achievement to date?
Working alongside the brilliantly talented Anna Polyviou, executive Pastry Chef of the Shangri-La Hotel in Sydney for our series of (sold out!) dessert degustations and also during the "Markets in the Courtyard" as part of Vivid Festival, 2015. I have the utmost respect for Anna and her team of pastry chefs (they work SO HARD and create insanely delicious masterpieces) and having the opportunity of bringing my humble home baking skills to a wider audience at the Shangri-La Hotel was actually quite unbelievable for me! All of our events were a huge success and I feel so very lucky to have played a part.
For our home baker readers, can you share any special tips or advice?
Invest in a trusty cake scraper and definitely a cake turntable - they both can be found at very affordable prices in cake decorating supplies stores and make life so much easier when it comes to decorating cakes!
What is your source for inspiration?
For me, inspiration comes from absolutely everywhere! To reign in it a little bit for you, a favourite source of inspiration close to my heart is the 1971 film,
Willy Wonka and the Chocolate Factory
originally written by Roald Dahl and directed by Mel Stuart. I remember seeing that movie at a very young age and just being completely blown away by the fun and wacky possibilities of dessert!
Any new & exciting projects on the horizon?
I'm actually answering these interview questions whilst on a plane, en route to Dubai! I'm travelling there for a two-week working holiday, teaching cake classes at a famous bakery and I couldn't be more excited! I even have my beautiful Mummy, Yen, here with me along for the ride! Travelling as part of the 'Cake Life' is definitely a huge turning point in my home-baking journey.
If I looked inside your fridge what would I find?
Lots of Philadelphia cream cheese, assorted cheese varieties and cheese crackers (haha, what can I say? I love cheese!), natural Greek yoghurt, Spicy Ajvar (a type of thick capsicum relish which I eat all of the time), lots of free-range eggs, natural crunchy peanut butter, thousands of condiments, cherry tomatoes and baby spinach leaves (I do love my spinach and veggies). Oh and of course, the odd giant rainbow cake or two!
If you could invite any celebrity/famous person over for dinner who would it be & why?
The one and only Heston Blumenthal, but he'd have to cook for me! His wacky and carefully considered approach to food just blows my little mind grapes.
What would your last supper be?
I love Japanese-style tapas, so my entree would have to be grilled scallop aburi nigiri with agedashi tofu.

My main meal would be something colourful, fresh and delicious, like a lavish feast of Mexican food - Don't hold back on that guacamole and hot sauce, either!

Dessert would definitely have to be the most decadent, fudgey, dark chocolate brownie construction to have ever graced this Earth. I love rich, dark chocolate treats!
To discover more & connect with Katherine, click below:
Website:
katherinesabbath.com
Instagram:
instagram.com/katherine_sabbath
Read more interviews with our favourite foodies
HERE