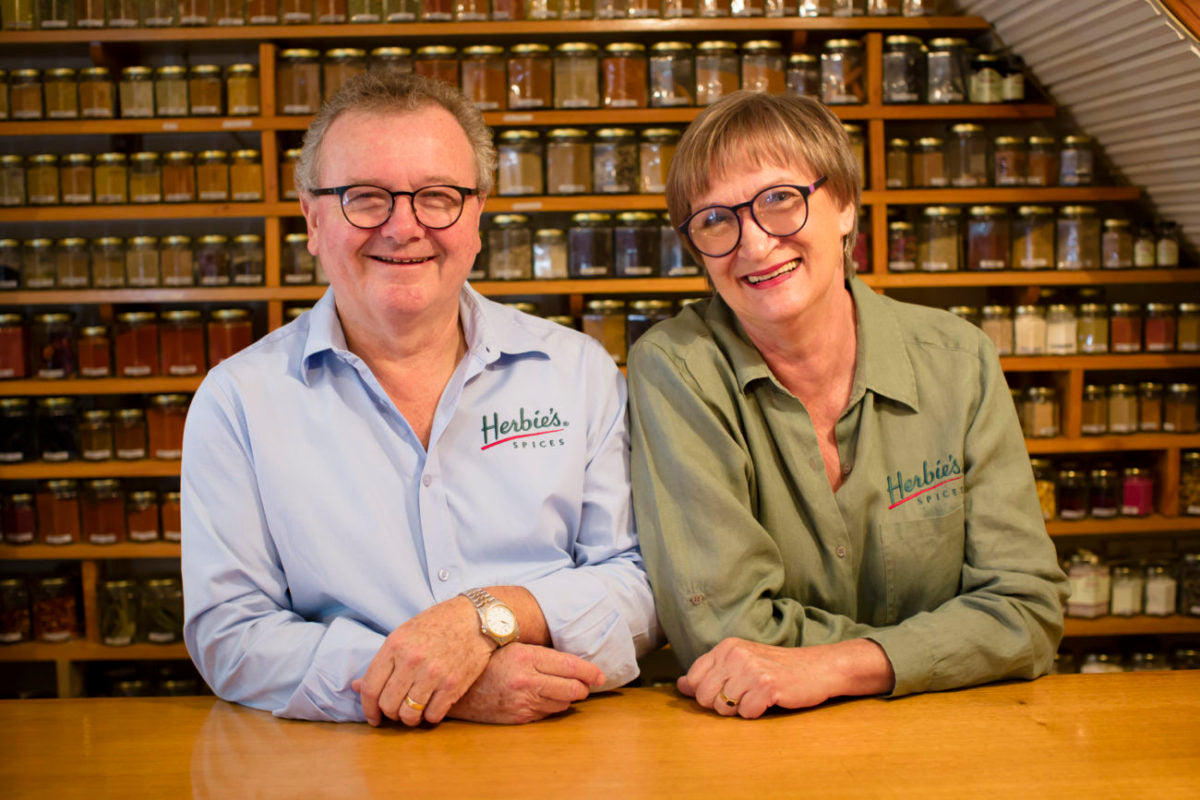 Meet The Locals - Herbies
Ian Hemphil is the founder and spice expert behind the iconic brand Herbies, which also happens to be his nickname.
Ian shares with us some background information on the Herbies Spices Australian Fish Seasoning included in the December 16' Discovery Box, his thoughts on Australian native herbs and the spice he's most excited about right now.
What's your food philosophy?
The food we eat should be minimally processed and as close to it's original form as possible. Good food is a result of a cook's desire to care and share with others. I don't believe it should be a competition. No matter how basic a meal is, I appreciate and respect whatever someone has done to serve it to me.
What was the inspiration behind the Aussie Fish Seasoning? (included in December's Discovery Box)
Most of the Australian native herbs and spices have strong primal flavour notes that have not been manipulated by unnatural selection or plant breeding. Therefore, these flavours that have not changed for millennia, can be bitter and dominating when used on their own. My objective was to use that great Australian grown spice Coriander seed, to soften and amalgamate the wonderful flavours in Wattleseed, Lemon Myrtle and Tasmanian Pepperberry. These flavours compliment seafood beautifully, no matter what cooking method is used.
Can you share with us the steps you go through to create a new seasoning/spice blend?
First a blend must be balanced. I divide herbs and spices into five main categories, Sweet, Pungent, Tangy, Hot and Amalgamating. I write down the flavours that will complement the dish, whether it is a traditional blend like Garam Masala or Ras el Hanout, or a 'made-up' combination like Aussie Fish Seasoning. Next, the proportions are decided; modest amounts of a sweet spice (eg cinnamon), very little pungent spice for some liveliness (eg lemon myrtle), some tangy spice for acidity (eg sumac), hot spices depending on the preference for the heat of chilli or pepper, and lastly lots of an amalgamating spice to bring all these flavours together in harmony (eg coriander seed and sweet paprika).
Whilst Australian native herbs are appearing more and more on restaurant menus, what do you think the barriers are when using them within the home?
The only barrier is to make the mistake of thinking of these as 'bush tucker'. They all have wonderful unique flavours that will complement a wide variety of meals. I use lemon myrtle in a Laksa and actually prefer it to lemongrass. Wattleseed goes with roast vegetables and in chocolate brownies…...the possibilities are endless.
How would you recommend home cooks best use Australian native herbs and spices in their cooking?
Continue to make the recipes they are familiar with, and add some Australian native herbs and spices. Smell the spice, think of the aroma and what it reminds you of, and use your instinct by trying a small amount to begin with. In addition to the above, try making a Lemon Myrtle Cheescake with a Wattleseed Crust (P.361 The Spice & Herb Bible 3rd Edition), sprinkle Saltbush on food instead of salt, use Lemon Myrtle instead of lemongrass, add Bush Tomato Ground (Akudjura) to baked goods (both sweet and savoury).
What herb or spice from anywhere in the world is most exciting you right now and why?
Chillies originated in Mexico, and were not known in any other part of the world until Columbus bumped into the Americas 500 years ago. We have recently acquired a supply of the most wonderful Guajillo Chillies which are highly aromatic, not very hot, and can be used in Spanish Romesco Sauce, curries, soups and casseroles. People often think of chillies as just being for heat, however the caramelisation of the sugars during drying of a fresh chilli, develops amazing deep, rich flavour notes that I'd liken to a deluxe Paprika
.
What would your ideal last supper be?
India being the world's largest producer, consumer and exporter of spices, I'd have to say an Indian curry. Naturally it would be accompanied by saffron rice, vegetarian sambar, chilli and lime pickles, yoghurt and dhal with hand made pappadums on the side.
To discover more and connect with Herbies, click below:
Website:
www.herbies.com.au
Instagram:
@herbiesspices
Facebook:
@HerbiesSpices