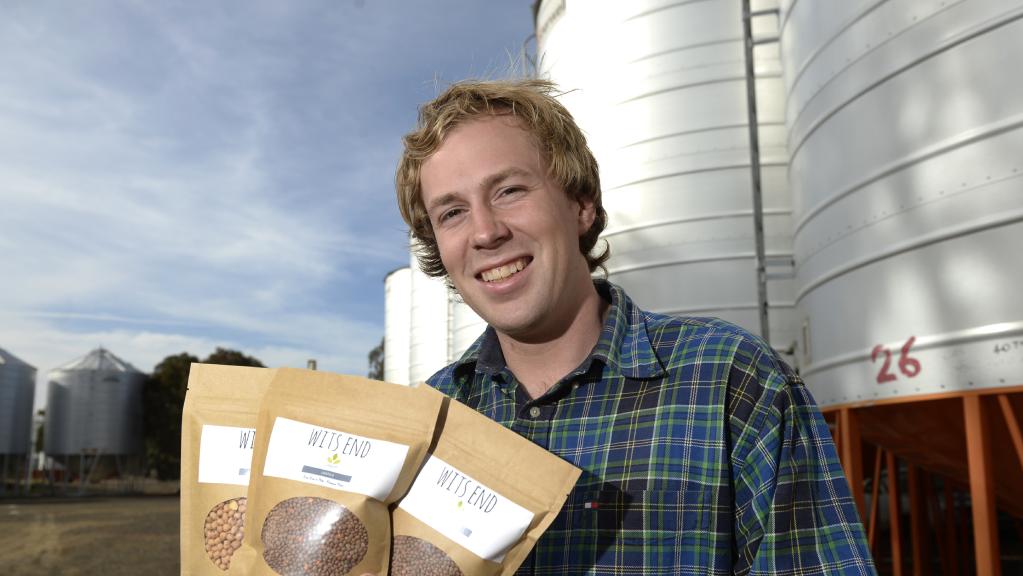 Meet The Locals - Wits End Pulses
Wits End Pulses produces premium pulses using sustainable farming methods with a 'pod to plate' food philosophy. Their lentils and chickpeas are sourced directly from their 6th generation family farm in Victoria's Wimmera region.
In this interview family and business member Scott Niewand tells us what the most rewarding & challenging parts to his job are, their food philosophy and what his ultimate last supper would be.
Wits End Pulses 'Red Hurricane Lentils' is featured in the Oct-Nov 17'
Discovery Box
. (limited boxes left)
Scott Niewand holding their pulse range (prior to their recent packaging revamp). Image credit: The Weekly Times
What's your food philosophy?
At Wits End we are all about local. As growers ourselves we see the huge benefits in supporting Australian grown produce.
Wits End Pulses has a rich family history, can you tell us a little about its beginnings and what inspired you to work with pulses?
Our family has been farming for a while now. In fact we are now a 6th generation family farm which we think is pretty special. We started growing pulse crops as a rotation alternative in the early 80's to the more traditional cereals. The methods in which to farm these pulses have improved dramatically since their inception and are now an integral part of our farming operation. And they taste great, who doesn't love chickpeas & lentils.
Tell us a little about the region you farm in?
Our farm is located south of Rupanyup in Victoria's Wimmera region. This small regional town sits 300km northwest of Melbourne. This thriving metropolis of 300 odd people, has plenty of ticker with the town slogan of 'a town with a pulse'. A cheeky play on words for the very pulses we ourselves produce! Some have even called it the pulse capital of Australia. There is no doubt the noble title has been self appointed but we are certainly happy to endorse it!
Lentils growing
As a small batch producer, what's the most challenging aspect to your job?
As with any job there are many challenges. I think everyone would want more hours in the day but overall we really enjoy what we do!
And the most rewarding?
We love seeing people enjoy the pulses we have worked so hard to grow and receiving that feedback firsthand. Even better is seeing the amazing creativity that stems from our raw produce and ends in an amazing dish in a restaurant or a family meal. We think it is pretty neat to think what can start as a seed in the ground on our family farm can finish as a tasty meal for a whole host of people.
If you weren't a farmer, what would you be or doing?
I think I would have to be outdoors somewhere!
What's your favourite season for food?
Winter!
What is one thing you couldn't work without?
Rain!
What's been your biggest achievement to date with
Wits End Pulses
?
We have been lucky enough to have been awarded a Gold Medal at the Australian Food Awards for the last two years. We are absolutely stoked to have been given the nod!
Would your ultimate last supper be?
A tasty falafel wrap would be the way to go! Hopefully i've got a few suppers to go though.
To discover more and connect with Wits End Pulses click below:
Website: www.witsendpulses.com
Instagram:
www.instagram.com/witsend_pulses
Facebook:
www.facebook.com/witsendpulses