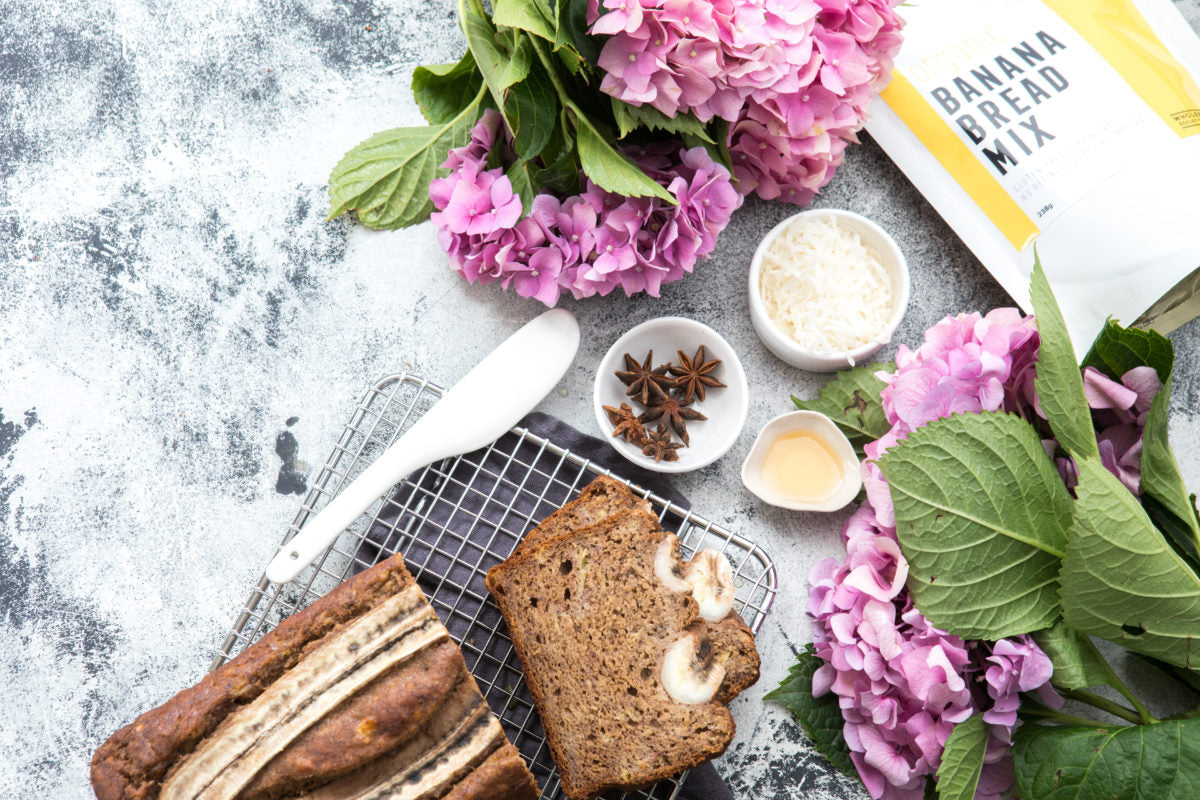 Meet The Locals - Wholefood Society
Wholefood Society baking mixes are handmade with love by wholefoods guru
Nadia Felsch
.
All products are 100% organic and made from natural, real food to maximise their health benefit. We love Nadia's relatable approach to real food - nourishment, enjoyment and ultimately, eating freedom.
Nadia shares with us how her past significant health issues led her down a path which not only transformed her own health, but helped create a career which she is so wildly passionate about. >> Wholefood Society's Banana Bread baking mix was featured in the April 17'
Discovery Box
.
What's your food philosophy?
Human nutrition is a complex and still vastly misunderstood world.
But enjoying simple, glorious real food isn't.
It's what we're both set up for, and respond best to.
Making wholefoods with our own hands and enjoying the nourishment, energy and life that brings us.
Because even the 'healthy' foods that so many of us eat are from a packet, can or jar – made by someone else, in a factory and worst of all, with all kinds of non-food ingredients.
Processed food eating is a loop that's hard to 'get off' when it continues at every meal. It also means we have no idea what our bodies are actually asking for and how simple this can all be.
This way of eating that's completely 'normal' in our world hasn't been around that long but it's certainly done its damage. Heavily processed and refined foods make up to 70% of the contents of any given supermarket in a developed country, but they're not what we're setup to thrive on.
And we know it.
Though we also have limited knowledge, time and interest in doing anything about it. Point blank – it all seems too hard.
And so that's where I come in. Because I've been there. Little by little, I figured it out – the hard way.
What and when did your story with wholefoods begin? What was the inspiration behind creating WholeFoods Society?
I experienced some significant health concerns and subsequent diagnoses in my early 20's (I'm now 31) including Panic Disorder, Polycystic Ovarian Syndrome (PCOS) and Ulcerative Colitis (an autoimmune condition that affects the colon).
Over the years that followed, I began listening to, and following my own natural instincts more and more.
And that started with a simple aim to remove processed foods and assist my less-than-ideal health.
By consuming more alive, real, simple wholefoods, I altered my epigenetics (which is the modification of a gene's expression as opposed to its code) and reversed my conditions with lifestyle modifications, including exercise.
Less cans, packets and bottles. More real wholefoods.
I've personally experienced how it can change a life and have also witnessed countless clients, and even my husband go through the same – what appears to be turning back the clock! Lucky me!!
And hence my love for wholefoods.
This love turned into spending the past couple of years establishing and building my personal brand in the nutrition space. Throughout that time though what kept coming up for me was how to reach people in their homes.
Working predominantly online is wonderful though having my philosophy, beliefs and knowledge in a tangible product seemed like the missing link.
It was my now-business partner (and wonderful husband!) Tippy, who had actually been on the product bandwagon for a number of years prior to us launching the Wholefood Society. And in May 2016 it all clicked and away we went!
Our first Wholefood Society products – 2 x healthy baking mixes – launched in December 2016 and it's been an incredible period of growth since then.
You're one of the busiest people we know - from studying nutrition, writing a magazine column, running an online Path To Wholefoods program and now having your very own product range - how do you do it all?!!
It should be said though that I certainly don't always do it all. And being "ok" with that is an art in itself I think and something I'm working on.
I do however think that it comes down to priorities, no matter how you want to break it down and ensuring that above all else – you're taking care of you first. Nothing is more important than that.
I feel fortunate to have the opportunities now that I've worked really hard for and I'm continuing to grow, evolve and learn so it's never really a case of, 'I'm here now,' nor do I think it should be.
All my avenues are incredibly complementary to each other and I think bring out the best in me, for instance I'll go from a Nutritional Medicine Clinic Lecture at university to reviewing best-practice evidence which will turn into program content for my clients and magazine column content.
Being immersed in up-to-the-minute nutritional science discussions one day and developing healthy recipe guidelines for my blog and our Wholefood Society products, is pretty much the perfect combination so it all works very well together.
What makes the Wholefood Society products so special?
The Wholefood Society product range currently includes 2 x healthy baking mixes. They're as simple as MIX & BAKE to ensure no fuss, stress or spoiled mess at home! You only need to add common household ingredients such as coconut oil or water and voila you're a master healthy baker in no time!
Both Wholefood Society Mixes are 100% Natural, Organic, Gluten and Grain-Free and all about convenient, tasty health because real food is at the core of healthy eating and your best life.
Our Nut & Seed Loaf Mix includes natural prebiotic fibres to support digestive function and therefore overall health, has no sugar and is high in both protein and dietary fibre. It can be enjoyed either sweet or savoury and is ideal for those wanting to avoid gluten and grains though still ensure sufficient fibre, vitamin and mineral intake in their diet.
Our Banana Bread Mix is commonly referred to as "delicious, light, healthy and foolproof baking!"
With no gluten, grain or refined sugar, it's a wonderful option for any Banana Bread lover (so everyone right?!) and makes an ideal healthy pantry staple.
And we're already working hard on the next products to be released as well!
What advice would you give someone who's looking to launch a food product?
Start with something you know, say a recipe or ingredient and formulate how that idea would present to the consumer market.
And once you've honed in on that, really test it.
Observe your target, listen to your target and see if your product can either answer their questions or solve a key problem they have.
And above all else, aim high! With quality across every facet of your product - ingredient(s), composition, manufacturing, packaging, distribution, service and everything else!
As a small batch producer, what's the most rewarding and challenging parts to your job?
Feeling confident and proud of everything we ship to customers is incredibly rewarding and being a small batch producer this is something we can really closely manage.
As we continue to grow and up-scale, this is a key component that we're working to ensure always remains.
On the other side, it's challenging to actually back off as many small business owners would know.
Although not the greatest term, I am a classic Type-A and have been learning more so in the past 6 months what the downside of that is. Hello burnout, stress and potentially then a larger impact on my health.
What I've been working on to prevent this now, is the art of prioritising.
No one can do everything (although I try!) and being crystal clear on what's most important to me, where my time is best invested and what brings me the most value and joy is what I need to focus on.
So it (and me!) are a work in progress you could say!
Between @nadiafelsch and @wholefoodsociety, you have a huge following on Instagram (15k+). What does social media mean to you?
Who doesn't like looking at pretty pictures right? I find Instagram especially a wonderful platform to browse gorgeous images of areas I find interesting - say photography, yoga, design, travel and of course food! It's an aesthetically-pleasing, insightful and rapid snapshot in time.
Aside from that, I also feel really grateful to have connected with so many incredible humans (including you lovely Kate!) on social media.
Especially when this online space can be so isolating, to connect with like-minded people, to find common ground, be inspired by, work on rad collaborative projects and find ways to support each other, is something I'm really grateful for.
For instance, just this week I got to meet a fellow Aussie "insta-friend" who lives in Sweden after years of a social media friendship. It was so surreal and completely normal all at the same time.
It's also a fabulous thing to be able to directly and instantly communicate with your audience - in a two-way scenario. Right from the beginning of my social media journey, even prior to launching businesses, I've absolutely loved connecting so authentically with virtual, like-minded strangers from all around the globe. It's led me to discover people, places and ideas I may not have found otherwise and I think that's something to celebrate.
What would your ultimate last supper be?
Ooooh that's such a tough one!
I love different tastes and textures in my meals so would go with a taster table of sorts.
On the table there would be a really simple pasta dish - Cacio e Pepe, saganaki with honey, iceberg lettuce salad with sheep's milk cheese, roast vegetables and a roast chicken with epic stuffing.
To discover more and connect with Wholefood Society click below:
Website:
http://nadiafelsch.com
Facebook:
https://www.facebook.com/nadiafelsch
Instagram:
https://instagram.com/nadiafelsch/