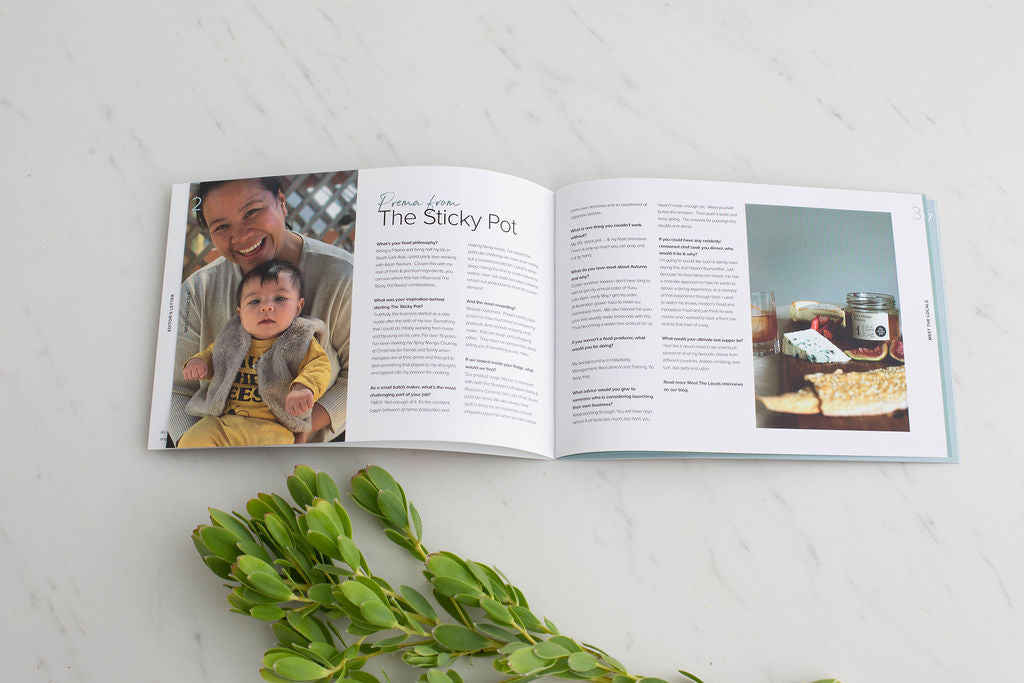 Meet The Locals - The Sticky Pot
The Sticky Pot story began more than 10 years ago when Prema Green created her first batch of preserves; her now famous 'Spicy Mango Chutney.' Her range now includes fresh, homemade jams, preserves and chutneys in a variety of innovative flavours.
The Sticky Pot's Australian-made creations are based on the concept of fun, easy and most importantly, delicious food – perfect for entertaining family and friends!
 In this interview Prema shares with us her inspiration for starting what once was just a side hustle, what she can't work without and advice for those wanting to start their very own food biz.

>> The Sticky Pot Strawberry, Rhubarb & Vanilla Jam is featured in the Autumn 2021  Discovery Box (final boxes selling now!)
What's your food philosophy?
Being a Filipina and living half my life in South-East Asia, I particularly love working with Asian flavours.  Couple this with my love of fresh & premium ingredients, you can see where this has influenced The Sticky Pot flavour combinations.
What was your inspiration for starting The Sticky Pot?
Truthfully, the business started as a side hustle after the birth of my son. Something that I could do initially working from home and focusing on his care. For over 15 years, I've been making my Spicy Mango Chutney at Christmas for friends and family when mangoes are at their prime and thought to start something that played to my strengths and tapped into my passion for cooking. 
As a small batch producer,  what's the most challenging part of your job?
TIME!!!  Not enough of it. It's the constant juggle between at home production and making family meals.  I've solved that particular challenge as I have been renting out a commercial kitchen. I used to stress about having the time to create volume for orders, now I set aside two days a week to smash out production to meet the current demand.   
And the most rewarding?
Repeat customers.  People coming back to tell me how much they've enjoyed my products. And my kids enjoying what I make.  Kids are tough and unforgiving critics.  They have no compunction about telling you if something sucks. Haha.
If we looked inside your fridge, what would we find?
Our product range. My son is obsessed with both the Strawberry Rhubarb Vanilla & Blueberry Coconut Jam. Lots of hot sauces (chilli fan here). We also always have stuff in there for an impromptu cheese/antipasto board for when we have people come over. Kimchee and an assortment of Japanese pickles!
What do you love most about Autumn and why?
Cooler weather means I don't have long to wait to get my annual order of Yuzu. 
Late April / early May I get my order of Australian grown Yuzu to make our marmalade from.  We also harvest the yuzu juice and usually make lemonade with this.  Thus becoming a waste free product for us.
What is one thing you couldn't work without?
My 45L stock pot …. & my food processor.  There is only so much you can prep and cut by hand.
If you weren't a food producer, what would you be doing?
My background is in Hospitality Management, Recruitment and Training. So likely, that.
What advice would you give to someone who is considering launching their own food business?
Keep pushing through. You will have days where it all feels too much, too hard, you haven't made enough etc.  Allow yourself to feel the emotion.  Then push it aside and keep going.  The rewards far outweigh the doubts and stress.
If you could have any celebrity/renowned chef cook you dinner, who would it be & why?
I'm going to sound like such a wanky loser saying this, but Heston Blumenthal. Just because his food ideas are insane. He has a child-like approach to how he wants to deliver a dining experience, or a memory of that experience through food. I used to watch his shows, Heston's Feast and Fantastical Food and just think he was mental and I wanted to have a front row seat to that level of crazy.
What would your ultimate last supper be?
I feel like it would need to be a banquet spread of all of my favourite dishes from different countries. Adobo, rendang, som tum, dak galbi and udon
To discover more and connect with The Sticky Pot click below:
Website:  www.thestickypot.com.au
Insta: www.instagram.com/thestickypot
Facebook: www.facebook.com/thestickypot