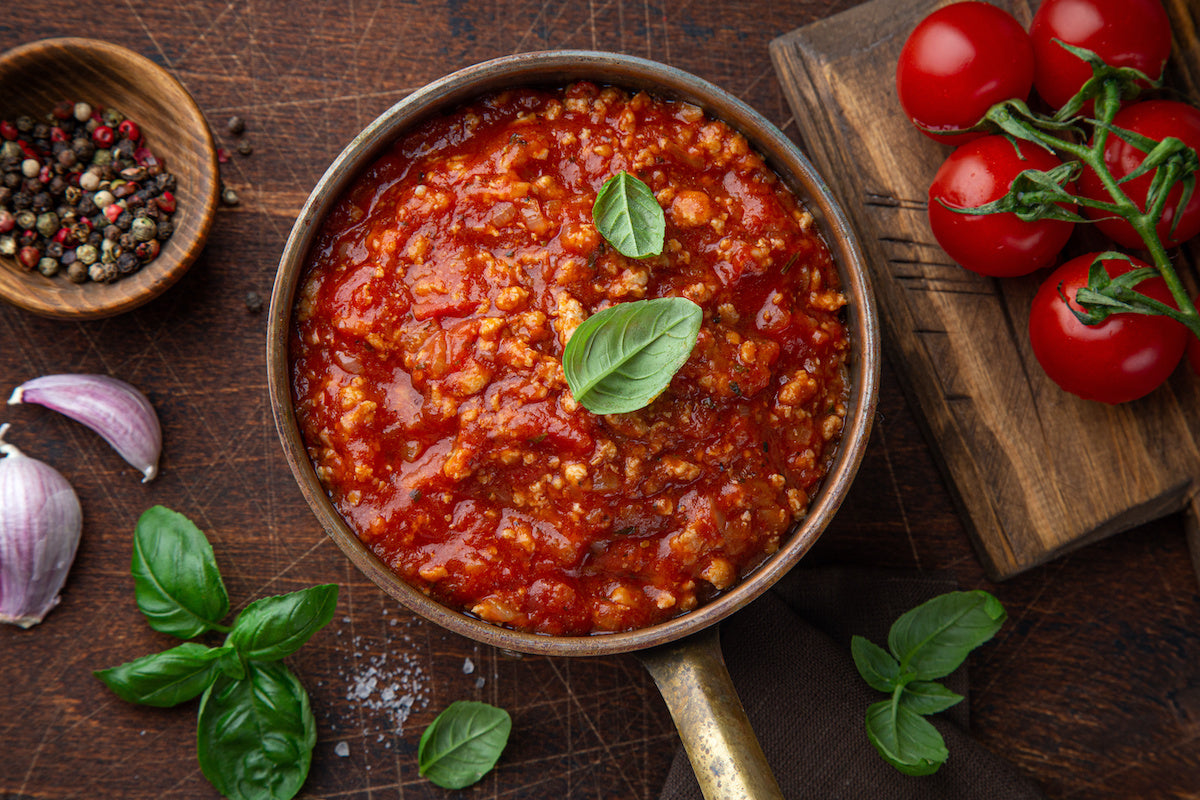 Meet The Locals - Sourced Food
Foodies Collective Store Admin
Based in Sydney, Sourced Food's mission is to help you create your own tasty gourmet meals at home with minimum fuss.
Their delicious concentrated sauce bases like Stroganoff, Butter Chicken, Green Thai & Rich Italian Tomato, are hand cooked by chefs, using only the finest ingredients, reduced slowly to provide depth and flavour. 
In this interview we get to know founder Kirsten a little more. Enjoy! 
>> Sourced Food 'Stroganoff' was featured in the Autumn 2020 Discovery Box
What's your food philosophy?
"People are at their best connected through food, the beauty is being able to inspire others to create, using fresh locally sourced produce"
What was the inspiration behind starting Sourced Food?
Whilst I was a working single mother, I struggled with inspiration for quick nutritious meals at the end of the day. I noticed a gap in the market for a high quality natural ingredient range of ready made sauces. Everything I picked up from the shelf either had too many unrecognisable ingredients or too much sugar in it.
As a small batch producer,  what's the most challenging part of your job?
We hand cook our range to order using mostly locally sourced ingredients, so meeting our customers lead time expectations can be challenging.
And the most rewarding?
When you are in store and see a customer lift your product from the shelf and pop it into their trolley.
If we looked inside your fridge, what would we find?
Loads of fresh produce, and far too many condiments!
What do you love most about Autumn and why?
Bringing out the Slow Cooker, I had never used one until a friend suggested it would change my world. I now have a range of adapted recipes which I can prepare the night before, switch on in the morning and Voila when you walk in after a long day of work. Dinner is Cooked and smells and tastes divine.
What is one thing you couldn't work without?
My Chefs knife. 
If you weren't a food producer, what would you be doing?
Working in the Food industry somehow.
What advice would you give to someone who is considering launching their own food business?
Be prepared to work hard, know your customer, delegate what you can and trust your gut instinct.
What are your BIG goals for 2020?
To minimize food wastage. This is part of the reason Sourced was created. Having Sourced on hand in the pantry made it easy to create a meal from the assortment of leftover produce.
If you could have any celebrity/renowned chef cook you dinner, who would it be & why?
It would have to be a collaboration between Massimo Bottura and Dan Hong. Can you imagine what they could create" Italian- Sichuan banquet"….Count me in !
What would your ultimate last supper be?
I have always envisioned a table sitting at the edge of water, The first course would be Sichuan Bug Tails, followed by Mudcrab with Blackbean and Chilli sauce and a chilled bottle of Champagne.
To discover more and connect with Sourced Food click below:
Website: www.sourcedfood.com.au
Instagram: www.instagram.com/sourcedfood
Facebook: www.facebook.com/sourcedfood