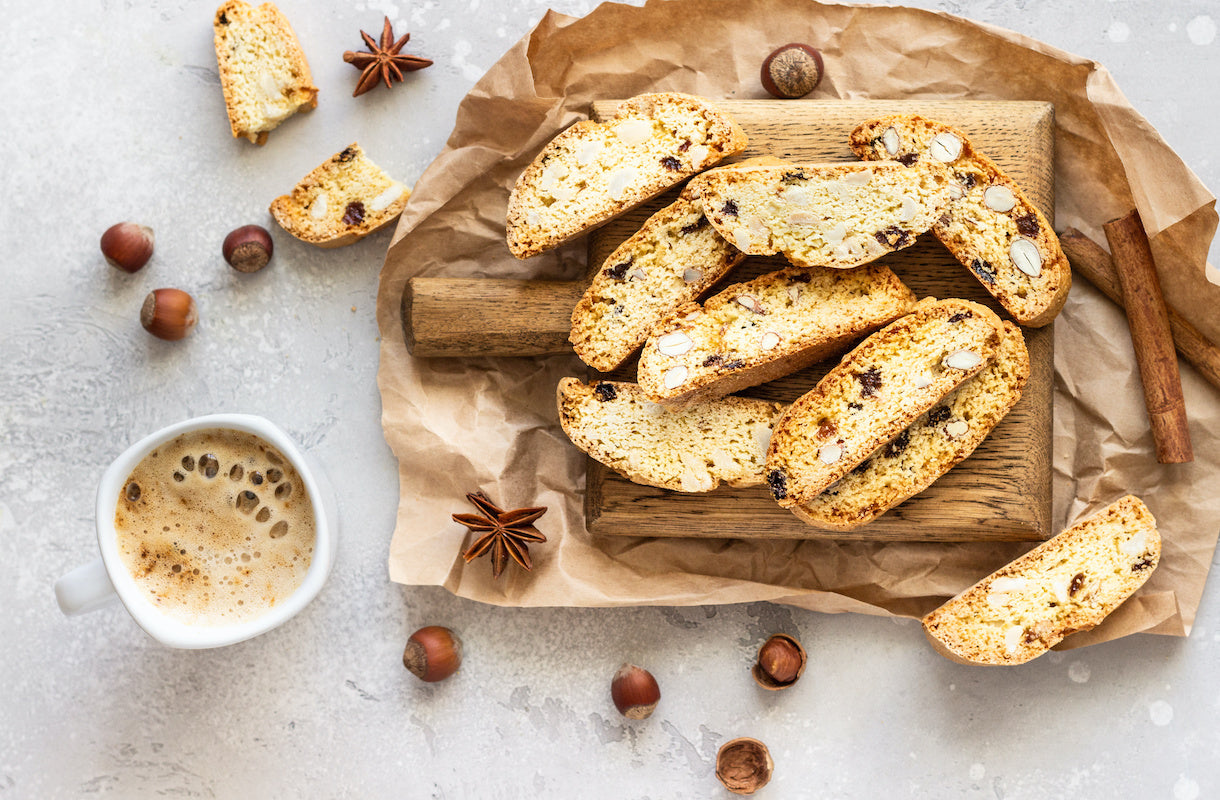 Hazelnut, Orange & Cinnamon Biscotti
A nutty, crunchy & zesty afternoon biscuit. This recipe is a simplified version to make biscotti. And what's best, they keep for 2-3 weeks in an airtight container. 
Side note: The highlighted Australian ingredients are featured inside our Discovery Boxes, as we love showing you ways to use your box. You can substitute these with other quality products.  
Ingredients:
2 cups (250g) plain flour
1 cup sugar
1/2 teaspoon baking powder
1/4 teaspoon salt
100g unsalted butter, softened
2 large eggs (and one extra egg for glazing)
zest of one orange
½ cup dried currants
1 teaspoon ground cinnamon 
1/2 teaspoon vanilla extract

1 cup (100g)

Carboor Harvest

roasted hazelnuts, skinned & roughly chopped
Method:
Preheat oven to 180 degrees celsius. Grease a baking tray or line with baking paper.

In a medium bowl cream together butter and sugar until light and fluffy. Beat in eggs, orange zest and vanilla extract. Sift together the flour, cinnamon, baking powder and salt then mix into the egg mixture gently. Careful not to overwork the dough.

Stir in the hazelnuts and currants. Shape dough into two equal logs approximately 30cm long. Place logs on the prepared baking tray and flatten out to about 1cm thickness.

Bake until golden brown for approx 30 minutes. Remove from the oven and slightly cool on the trays.

When loaves are cool enough to handle use a serrated knife to slice the loaves diagonally into 1cm thick slices. Place the biscotti slices cut-side down and return to the oven for another 5-7 minutes. Turn biscotti over and bake for a final 5- 7 minutes. They should be firm and golden brown on both sides. 

Cool completely and store in an airtight container at room temperature. The biscotti will keep for 2-3 weeks.