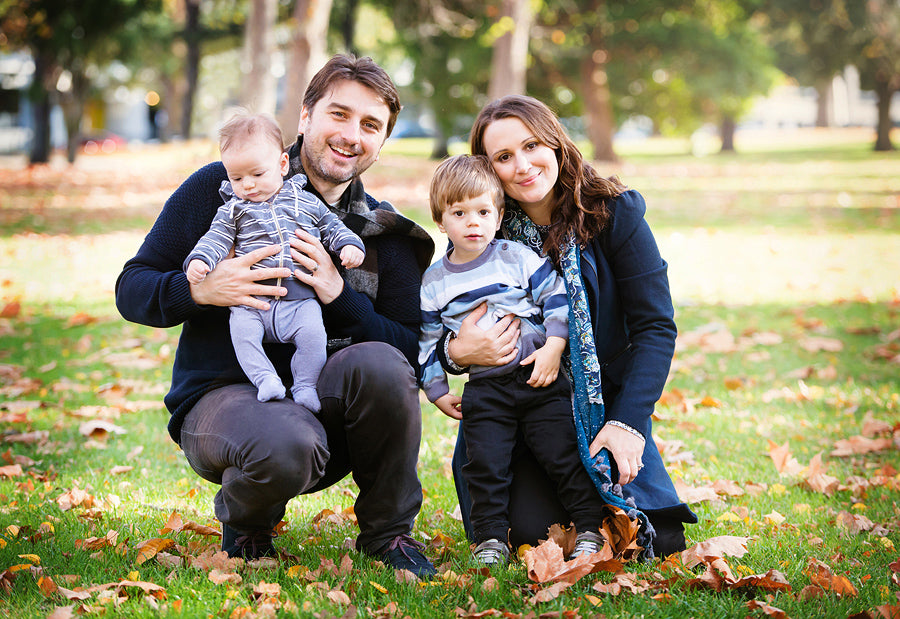 Meet The Locals - San Elk
Meet the beautiful family behind the artisan brand San Elk.
After years of research and sourcing the best certified ingredients, founders Arthur & Loredana worked hard to perfect their artisan stock recipe to ensure it added a deep, smooth and delicious flavour when added to your daily meals. Each batch is individually hand-crafted to ensure attention to detail, consistency and freshness.
San Elk Beef Stock was featured in the June/July 19 'Winter Feast!'
Discovery Box
What's your food philosophy?
When it comes to food our philosophy is simple. It's about delivering premium quality certified organic food products that are full of flavour and cater to various dietary requirements. We believe that flavour comes from real food, using real ingredients that not only tastes good but is easy to incorporate into your daily life. We don't use any preservatives, artificial colours or additives in our products to boost flavour. We believe that anyone can cook delicious flavoursome food at home and that a good stock is the foundation of every great dish. It can lift the flavour of any meal and turn an ordinary meal into a delicious meal. It's our mission to inspire our customers to get creative in the kitchen, try new recipes and transform their meals into something amazing. Our products are handcrafted and made the old school way, not mass-produced in a factory. Quality is very important to us, we make our products in small batches to preserve the integrity and fresh flavours of our natural ingredients. We are there every step of the way from the selection of ingredients right through to the production to ensure nothing but the best quality ingredients goes into each and every container of stock. We're proud to support local farmers and producers and try our best to source certified organic ingredients locally where possible.
How did your business journey begin? What was the inspiration behind starting San Elk and its name?
We've always had a special connection with food and family, as it brings us together. Our European heritage has been very influential in our love of food, allowing us to experiment and create various meals and recipes to share with our family and friends. We're passionate about cooking healthy and nutritious meals for our family and are conscious of the hidden chemicals in many food products. As a result we wanted to create all natural stock made with fresh certified organic ingredients. We starting making our own vegetable stock using certified organic vegetables, herbs and spices. We worked hard to perfect our recipe to provide a stock with a smooth, natural and delicious flavour when added to meals. We started selling our stocks at markets, health food stores and independent grocers and received a lot of positive feedback from consumers regarding the flavour it would add to their meals, they really noticed a difference when cooking with our organic stock. This inspired us to share our passion for cooking and love of food with everyone and launch the San Elk brand. The name comes from our combined love of travel, food and nature. It's inspired by a holiday in Argentina, our encounters in the wilderness and various streets we stumbled across that had the most amazing food and restaurants.
As a small batch producer, what's the most challenging aspect to your job?
Reliably sourcing certified organic ingredients can be challenging at times as a bad harvest, droughts and other weather conditions can impact a harvest and make an ingredient scarce for a period of time so we need to plan in advance and find backup suppliers. Trying to keep up with demand. Our products are hand made from scratch so we need to take into consideration lead times, ensure we have sufficient ingredients for production runs, forecast orders for each flavour and ensure we have sufficient stock on hand to fulfill orders. New product development and designing packaging generally takes longer than expected.
And the most rewarding?
It means so much to us when we receive positive feedback from our customers that use our products. We also love seeing all the different recipes and creative ways in which our customers use our stock when cooking.
If we looked inside your fridge what would we find?
Our fridge is usually full of fresh fruit and vegetables, fish, meat, small goods and cheese. There are also jars of homemade spreads, condiments, dips, sauces and sauerkraut as I love experimenting with new recipes and flavours. Although I'm starting to run out of jars and room in the fridge.
What's your favourite season for food and why?
Ok, so this is something we actually disagree on. I would have to say my favourite season for food is summer due to the feast of fresh fruit and vegetables that is available during summertime. I love taking the kids berry picking, making ice creams, smoothies and desserts and also enjoy making light meals and salads in summer. Arthurs favourite season for food is winter as he loves comfort foods like pierogi, beetroot, cabbage, potatoes and enjoys making various soups from winter root vegetables.
What is one thing you couldn't work without?
My husband! I really value his input in the business as he plays such an important role behind the scenes. I admire his advice and knowledge on how to run a successful business, assistance in planning production runs and expertise in new product development. Together, we both bring complimentary skills to the business. We wouldn't be where we are now without the support of wonderful suppliers, distributors, retailers and customers.
A lot of people are hesitant to work with family, how do you make it work (and keep the peace!)
My family and friends often tell me that I'm crazy for starting a business with my partner and although we've been faced with many challenges, we've managed to find a way to make it work.
Tips on how to survive going into business with your partner or (better half):
The wife is always the boss
All jokes aside, it is important to clearly identify the roles of each person in the business so you are both clear on the different responsibilities associated with each role and what to expect from each other. Before launching and diving in together, make sure you both agree on the vision and big picture for your business.
Communication and planning becomes a key component to maintaining sanity.
I can't stress the importance of planning and communicating regularly so you both know where things are at in the business. Make sure to listen to each other's ideas even if you disagree, try to provide positive feedback and suggestions on any areas that could be improved on. Sometimes we try to juggle too many tasks at once and can easily get stressed out and feel overwhelmed. I've now learnt to focus on the most important tasks, as one person can't do everything.
Compliment one another's key strengths
Understanding how to compliment one another's key strengths and talents will help you become a lot more productive and precise in your work. It's important to respect each other's ideas and opinions (in simple terms, agree on everything if you want to keep the peace, just joking!). Try to understand your partner's viewpoints and concerns and support each other to achieve goals.
Making work-life balance a priority
As hard as it is to switch off sometimes it's essential to make time for family, exercise and try to live a healthy lifestyle. This is also vital for your mental well-being and overall health. With a bit of readjustment, patience and flexibility, it is possible to start and run a successful business with your partner.
If you weren't a food producer, what would you be doing?
Arthur would probably open up a small microbrewery or distillery and I would be the taste tester. I've always wanted to open up a small gourmet food store and wine bar in our local area and support fellow food and wine producers.
If you could have any celebrity/renowned chef cook you dinner, who would it be & why?
It would have to be Jamie Oliver as I admire his passion for cooking simple, wholesome and healthy meals using fresh ingredients. I really enjoy cooking recipes from his cookbooks and we also share his love of Italian cuisine and culture which is something we could talk about for hours.
What are your BIG goals for 2019?
We are planning to add a new flavour to our organic stock range later this year. We are also working very hard to grow the San Elk brand and add new products to our range that can be used all year round.
What advice would you give to someone whose considering launching their own food business?
Have a plan, start on a small scale, test the demand for your product by talking to suppliers, customers, consumers and attend markets, get a good understating of your target market and work out financials. It's important to believe in yourself and your business, be confident, resilient and learn from your mistakes. Give it a few years for your business to grow as it takes a lot of hard work, persistence and dedication to make this happen.
What would your ultimate last supper be?
Slow braised beef cheek ragu with pappardelle, followed by a pork belly roast, a mix of winter root vegetables and a beetroot, feta, pear and walnut salad. Then for dessert, a warm sticky date pudding with caramel sauce. Food is what brings us together, it's a good reason to gather your closest friends and family around the table to share delicious food, good wine, share stories, laughs and create beautiful memories.I can see our friends putting in a special request to make our ultimate winter feast menu at our next gathering, better start cooking.
To discover more and connect with San Elk click below:
Website: www.sanelk.com.au
Instagram: www.instagram.com/san_elk
Facebook: www.facebook.com/SanElk