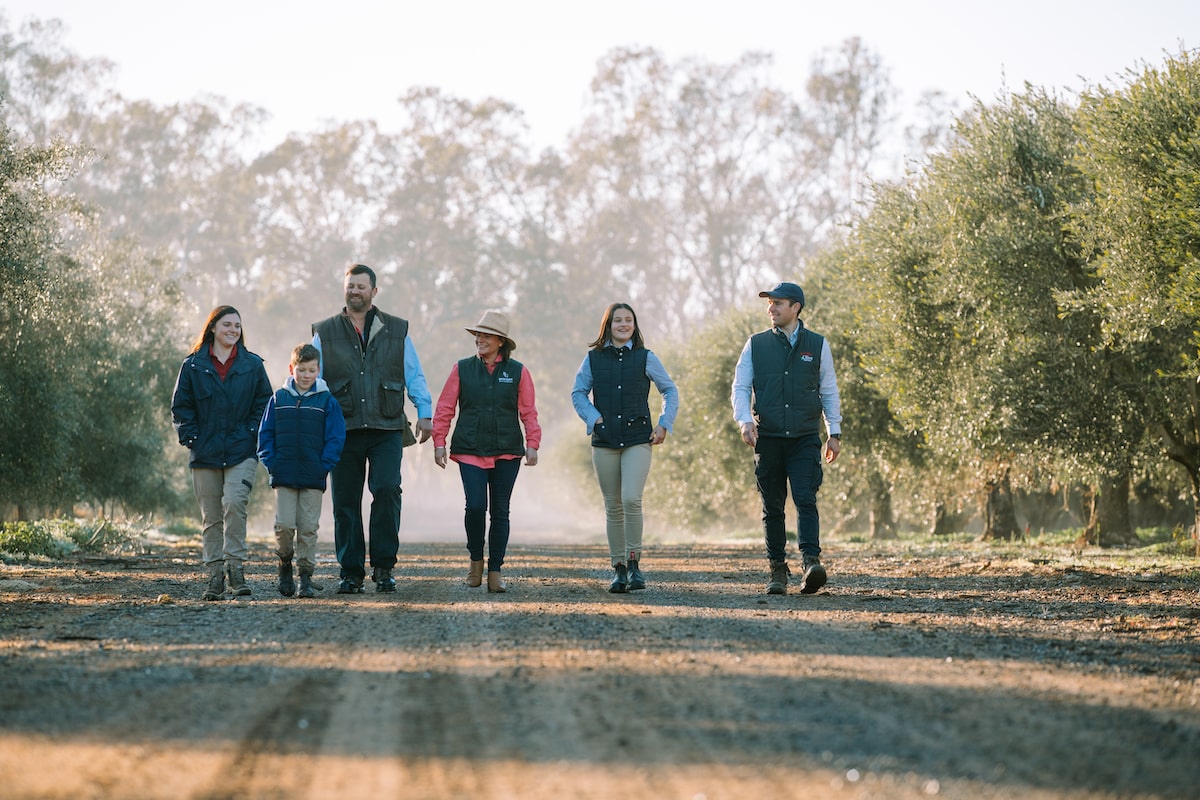 Meet The Locals - Rich Glen Olive Oil
What once started as a small hustle from the back room of their Edwardian home, Ros & Daimien Vodusek now produce 150 olive-oil based food & skincare products on the family's estate. It was in the year 2000 they took over the estate from Daimien's parents and before they knew it, word spread, and the business grew taking over the entire house! 
Combining their talents as a trained chef and butcher they had the right recipe to create a thriving provedore business.

>> Rich Glen Olive Oil Truffle Oil + Mint Sauce was featured in the Winter 2021 Discovery Box 
What's your food philosophy?
Fresh from the farm... There is nothing that compares to growing and harvesting your own food. Understanding where our food comes from is extremely important to me. Food has this incredible way of connecting people together and is at the heart of creating special memories. 
Food is the new souvenir!
Rich Glen Olive Oil has a beautiful rich history. How would you describe the brand and what makes it unique?
Three generations working together on the family farm, continuing to grow and develop products that we love and use ourselves. The fact that we make our entire range of over 150 products right here on the property with lots of love is truly something unique. Our passionate journey will continue for generations to come, value-adding, zero waste.
Tell us a little about the region you produce in and how it impacts/influences your products?
We live on a 1000 acre property situated on the banks of the Mighty Murray River in North East Victoria, where the soil is productive, rich and fertile. We are surrounded by ancient redgum forests, sandy white inland beaches, and have the incredible opportunity to source what we think is the freshest produce in Victoria.  
Being situated in the middle of Victoria's 'food bowl' allows me to be constantly inspired by what is in season, with farmers thinking 'outside the box and trying new things. When I was growing up, my Dad was quite traditional but loved to try new ideas out. He experimented with growing jojoba nuts and breeding buffalo… pretty awesome in those days.
As a small batch producer, what's the most challenging part of your job?
We are passionate about keeping the small batches going. Consistency and quality are paramount. The fact that we are able to manufacture, package and distribute over 150 products worldwide, all from our farm in Yarrawonga, is something we are immensely proud of. 
One of the more challenging aspects of small batching is sourcing fresh, local ingredients year-round to ensure we never compromise the quality of our finished products.
And the most rewarding?
Bringing our kids up on the farm. Connecting them to the land where they learn to appreciate the generations before us, and the hard work and passion that goes into producing quality food. All four of our kids are creative, hard-working and foodie entrepreneurs!
If we looked inside your fridge, what would we find?
We always have two-three different varieties of olives, both marinated and naturally fermented. 

All the fresh in-season fruit and vegetables on offer from local farmers. 

Full-cream unpasteurised milk, almond and oat milk, greek yoghurt, butter, cheese, pickled vegetables and an extensive lineup of condiments. 

Free-range chicken, beef, pork and lamb produced from our farm. 
What do you love most about Winter and why?
Olive harvest… Shaking the trees in the frosty early hours of the morning when the fog is hovering over the olive trees… Caring for the little orphan lambs and the Bonfires by the Murray River.
What is one thing you couldn't work without?
Each other, Our family, Our Team. We are so fortunate to have such a dedicated, passionate, hard-working team that all work towards one goal, 'Premium products made on-farm, all starting with the essential ingredient... OLIVES.
If you weren't a food producer, what would you be doing?
I have such a passion for being productive. I love to be involved in helping others to innovate and unlock their potential.… 50 per cent of our business is now skincare, so I will continue to evolve that side of the business.
What advice would you give to someone who is considering launching their own food business?
Tell their story… Everyone has one, and this is where the connection begins. Embrace an opportunity that comes their way!
If you could have any celebrity/renowned chef cook you dinner, who would it be & why?
Maggie beer, she cooks from her heart with so much love for her region, the beautiful Barossa.
What would your ultimate last supper be?
Cheese, truffles and olives!
To discover more and connect with Rich Glen Olive Oil click below:
Website: www.richglenoliveoil.com
Insta: www.instagram.com/richglenolives
Facebook: www.facebookcom/richglenoliveoil