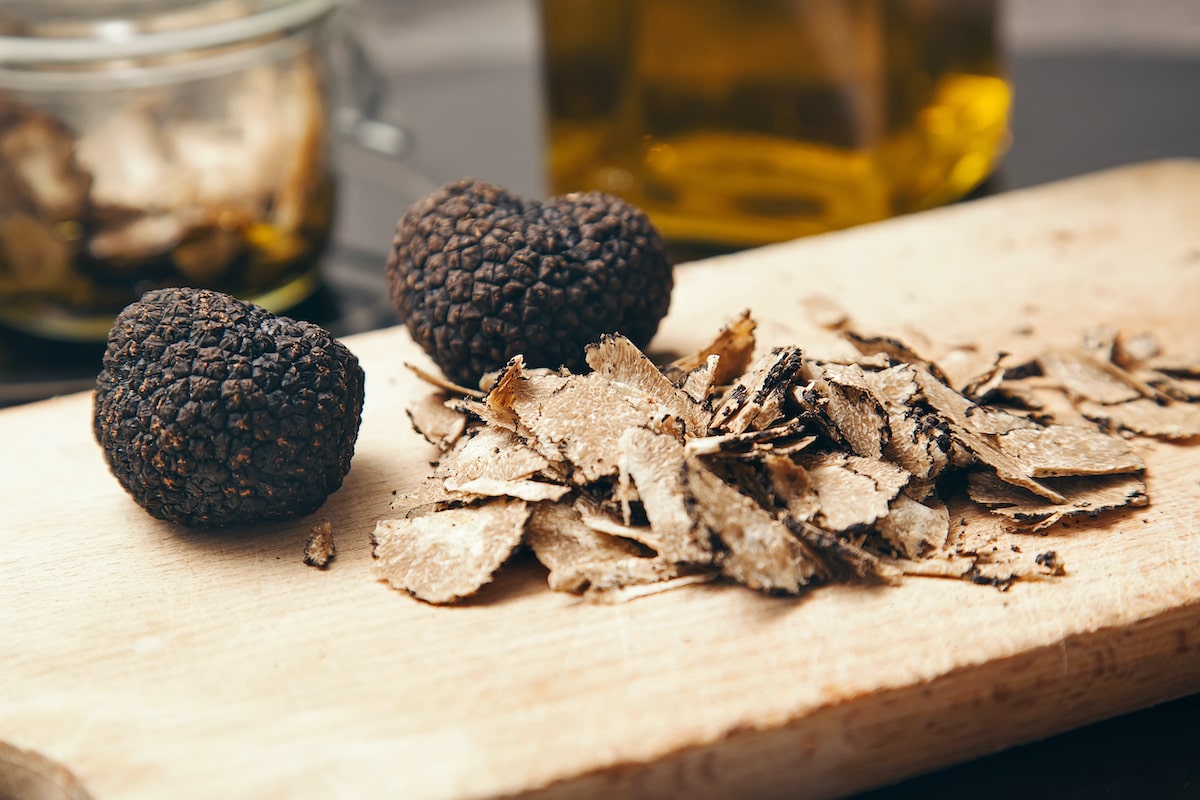 8 Ways To Use Truffle Oil
Truffle Oil, a decadent gourmet ingredient that's adored by many. However despite its appeal, for most the question is still asked...
....How Do I Use It?
An easy rule of thumb is to remember that Truffle Oil is a finishing oil. You can cook with it, but the delicate flavour of the truffle will be lost. Just drizzle & toss when your meal is ready to enjoy it at its best.
Here are 8 Ways To Use Truffle Oil adding some luxury to your everyday cooking:
1. MAC & CHEESE
Mac & Cheese is a firm favourite in our household. There are a few golden rules to making it EPIC. Use mature cheese, some good quality bacon, a sprinkling of Panko crumbs on top and finally, serve with a drizzle of Truffle Oil. 
2. PARMESAN POLENTA
Whether you like making creamy soft polenta to go with a rich ragu or love polenta fries, the combination of polenta, parmesan cheese and a final drizzle of Truffle Oil is heavenly.
3. SCRAMBLED EGGS
Probably the easiest way to use your Truffle Oil. Scrambled eggs (or even a omelette) tastes even more delicious with a drizzling of Truffle Oil.
4. ROAST CHICKEN
You can simply brush your cooked roast chicken with Truffle Oil, or take it to another level and make a Truffle Garlic Sauce. You'll need :
1 TB Olive Oil

1 TB butter

2 TB (30 ml) cognac

1 shallot finely sliced

1 garlic clove finely sliced

1 Cup (250ml) cream

1 TB (15 ml) Truffle Oil
In a small pan add the olive oil, shallots & garlic and cook until softened. Add the cognac cook until the alcohol has evaporated. Add the butter, swirling it around pan and cooking until it just starts to turn a pale brown. Add the cream and simmer gently until the cream has thickened, it should coat a wooden spoon. Stir in the Truffle Oil and mix until combined – heat through for a few seconds. Tip: You could even saute a few mushrooms with the shallots & garlic to transform it into a creamy mushroom truffle sauce. 
5. CREAMY MASH

To take mashed potatoes to the next level, try roasting some garlic cloves then mixing the soft gooey cloves into the mash. Then use cream, salt & a drizzle of Truffle Oil to create the most indulgent creamy mash. 
6. POPCORN
Popcorn is the perfect blank canvas to experiment with different flavours. If you're craving a decadent savoury salty kick, try adding some finely grated parmesan, melted butter, sea salt & a drizzle of Truffle Oil. 
7. FRIES

Give your homemade fries an earthy herby boost. Once your fries are cooked & crispy, remove from the oven and toss with finely chopped rosemary, sea salt & a drizzle of Truffle Oil.
8. MUSHROOM PIZZA

Whether your pizza is homemade or takeaway, simply drizzle your Truffle Oil and enjoy :)

And just for good measure, here are a few extra ideas to use your Truffle Oil:
Carbonara Pasta

Mushroom Risotto

Roasted Brussel Sprouts

Grilled Asparagus with Shaved Parmesan

Potato & Leek Soup

 Prosciutto & Burrata Cheese Grazing Plate

Goats Cheese & Mushroom Quiche
Enjoy!