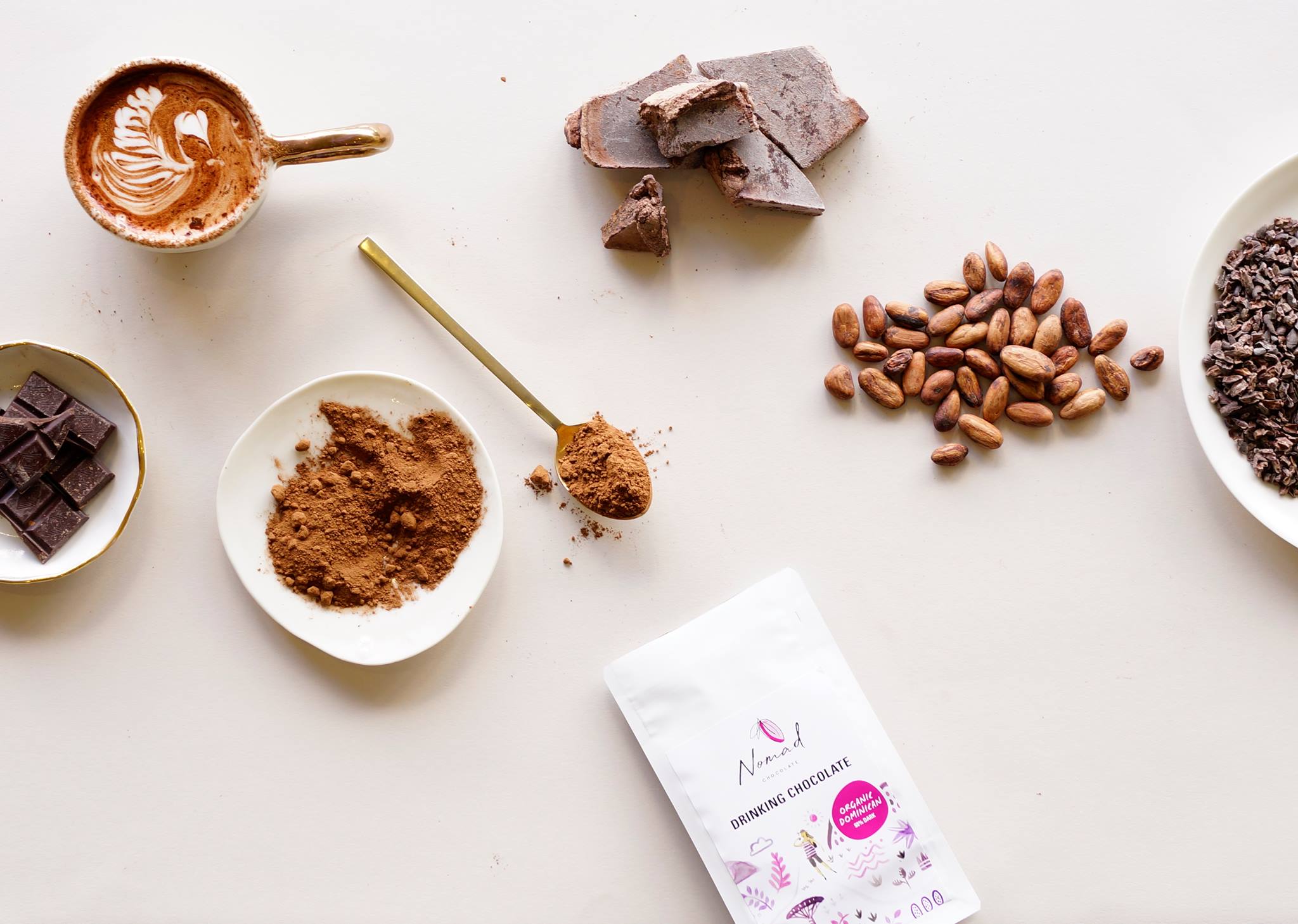 Meet The Locals - Nomad Chocolate
Inspired by her love of coffee, founder Nadja Malovic, travelled to South America and found herself on the slopes of Machu Picchu. Here, she was offered a hot chocolate by locals and the rest is history. It was a transformative moment for her. Nomad Chocolate was formed and they now t
hey search the world for the finest ingredients to create truly unique, quality and delicious chocolate products for you to enjoy at home.
In this interview Nadja shares with us how her upbringing in Bosnia inspired much of Nomad Chocolates values today, why collaborations in business are important and the one thing she couldn't work without, plus more!
Nomad Chocolate West Africa Hot Chocolate is featured in our Aug/Sep 18'
Discovery Box
.
What's your food philosophy?
I believe in wholesome, simple and delicious food. I love home-made products and strongly believe in everything in moderation. I shop at local markets and try to buy as much as I can local produce.
What was the inspiration behind starting Nomad Chocolate?
My upbringing fostered a respect for the slow, thoughtful creation of high-quality and natural products. Growing up in Bosnia, I would assist my grandmother roasting coffee beans, then spend weekends with my dad creating fresh homemade cosmetics or picking up wild berries for homemade preserves. 7 years ago inspired by my love of coffee, I travelled to South America and found myself on the slopes of Machu Picchu. On a small coffee farm in Quillabamba in the Cusco Region I was offered a hot chocolate. It was different to anything I had ever tasted – it was transformative. With a great balance of sweetness and bitterness, full of aroma and complexity, I was left craving more. I wanted to recreate this flavour experience and bring it home for others to enjoy.
This experience began my exploration into the world of chocolate.
The combination of my values embedded in me and inspiring experience in Peru gave me courage to start creating products that do reflect my values; creating beautiful food made from premium ingredients and free from preservatives.
As a small batch producer, what's the most challenging aspect to your job?
Doing everything on your own and having to think about everything is the most challenging part. Everything is on a small scale so it becomes hard to get suppliers excited about your business. The cost of goods are higher, the packaging, the batch tracking, food safety, production planning ... So many things to think about.
And the most rewarding?
Nothing can beat the feeling of having the final product in front of you and getting feedback from customers. Suddenly the long hours and challenges just disappear like they never existed and the joy and feeling of being proud overtake your heart and mind. It is amazing, it gives you energy to continue.
Can you tell us a little more about the regions you source from and how you manage this process?
Ingredients for our drinking chocolate are sourced from selective importers. I have relationship with three companies that ethically source cacao from the Dominican Republic and Africa . I have created code of conduct I use - questions that help me select suppliers.
For our chocolate bars, the ingredients are sourced from Ecuador. I spent 3 weeks in Ecuador last year exploring the region, meeting cooperatives and factories.
I have a girlfriend in Ecuador, she is well connected with cacao farmers. She is my link with cooperatives and an artisan factory. She coordinates the supply chain. I am fascinated by Ecuador. Ecuador has 5 growing regions and cacao from each regions taste so different. It is a combination of soil, weather and the way they process cacao that makes it different. The team in the factory in Ecuador understands cacao so well, they adjust roasting method to get the best of each cacao. The product is than sent to Sydney and this is where the fine chocolate bar is made.
Earlier this year you partnered with Brasserie Bread to revamp the traditional hot cross bun. How important are collaborations like this to your business?
This was an amazing opportunity for Nomad. Partnering with the companies that have similar values and promote quality food made by smaller business is very important. It allows businesses like mine to learn about my own product, to create new products that I can not make on my own and learn more on what else can be done. Meeting new people, sharing the experience. It also give consumers the opportunity to try something different.
If we looked inside your fridge what would we find?
I love dairy and have a sweet tooth so there is always variety of cheese in my fridge, kombucha, base/coulters for yoghurt, kefir, homemade jams, last night dinner, bottle of rose, bits and pieces of vegetable for salads or stir fry.
Most of fruit and vegetable I buy weekly at the markets and keep outside of fridge.
What is one thing you couldn't work without?
My phone has become my office, I use it for everything; from recipes collection, photography, invoicing, meetings with Ecuador …
What's your favourite season for food and why?
This is such a hard question. Every season has some fruit and vegetable in season. If I have to choose that it would be end of spring to mid summer. Markets are packed with season fruit and vegetable. From cherries to stone fruit, tomatoes, salads …
If you weren't a food producer, what would you be doing?
Hmm, I would make natural cosmetics. I have stacks of recipes from my teenager years when my Dad and I were spent weekends together creating natural masks and soaps and selling them to friends and family.
What advice would you give to someone whose considering launching their own food business?
Surround yourself with people that will support you through the journey. You need to love what you do and believe in it, it will come handy when the times are tough. Work hard and have fun and celebrate every win, especially the small ones.
What would your ultimate last supper be?
My mum's Sunday lunch; beef rissoles, baked potato and mixed salad followed freshly picked forest fruit.
To discover more and connect with Nomad Chocolate click below:
Website: www.nomadchocolate.com
Instagram: www.instagram.com/nomadchocolate
Facebook:
www.facebook.com/nomadchocolate